Paris Je T'aime
On a return trip to the city of romance, post pandemic, Kalyan Karmakar & his wife, Kainaz, went café hopping and wrote out a diary along the way. UpperCrust brings you this exclusive dining feature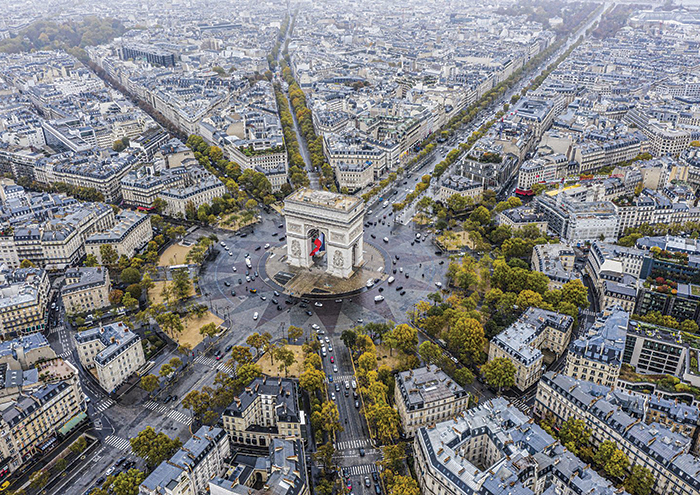 Text: Kalyan Karmakar
We will always have Paris, said K (my wife) to me when we took our flight back home from Paris in June 2016. She went to attend the Cannes Lion International Festival and I joined her and went to Paris for a holiday. We fell in love with Paris. Not just the food, its tourist hotspots, or the arty aggrandisement of Montmartre where our hotel was. We were overwhelmed with the warmth that we received through our trip. Be it at the airport, at the hotel, in its 100-year-old cafés, its macaron and cheese shops (K did some shopping too but that's the part of a trip that I try to blank out), at its tourist spots, the metro or even when we got lost on its streets. Completely different from the reputation that Parisians have for being snooty.
Turning Poison into Medicine
Let's fast forward to four years later. The world was under siege. Mumbai was under lockdown. K and I sat at home for days with no company. We spent our time cleaning the house, cooking meals, washing dishes, cleaning the litter boxes of our newly adopted cat babies. Not that work stopped. It went up if at all. It was only late at night that we found some respite. We were too tired to do anything but watch TV. Our favourite genre was travel. Somebody Feed Phil – where we travelled with the cheerful Phil Rosenthal across the world. Travels With My Father by Jack Whitehall. And Emily in Paris which brought back fond memories of our time in Paris. 'Let's go back,' I said to K and she looked back and said, 'let's'. This seemed like a pipedream at a time where we could not even step out of our apartment except to dump trash into the garbage bins at night!
Now let's fast forward to two years later. The world had just begun to open up. K was going to Cannes for the Cannes Lions in June 2022. The plan was for me to join her in Berlin and for us to take a much-needed vacation. We booked our flight tickets and hotel. My mother-in-law was to come and babysit our cats.
Then came an unexpected spanner in the works. While K had a valid Schengen visa, I did not and it turned out to be near impossible to get a Schengen visa with every country having huge backlog. I was resigned to the situation and suggested options such as Rajasthan and Kerala for our annual holiday. K tenaciously looked for solutions and I finally managed to get a Schengen from the French thanks to her efforts. There was a small problem. I would have to go to France first and stay an equal amount of days there as I would in Germany.
Problem? What problem? This was a godsent opportunity! We decided to go back to Paris. K would join me a couple of days later. We would do a little Parisian holiday and then to head to Berlin after that and return to Bombay. Tickets were changed. As were hotel reservations. We were all set for Paris. Emily had turned out to be our lucky star.
Paris Central
We stayed in the arty district of Montmartre the last time at a hotel called Joke. The staff were warm and cheerful; and at any point smiled as if they had heard a nice joke. We decided to base ourselves at Champs Elysées this time as we wanted to rest and not move around much. The hotels here are the most expensive but we picked up a hotel with a really good Tripadvisor rating. Hotel Splendid Etoile.
1 Avenue Carnot, 75017 Paris, France
+33 1 4572 72 00
French Frost
The drive from the airport to the hotel reminded me of Calcutta, the city I have grown up in. Is this because of the close cultural ties between the French and Bengalis? After all President Francois Mitterand came all the way to Calcutta to bestow the Legion of Honour to Satyajit Ray. Not really!
It was hot and sunny. I requested the taxi driver to switch on the air conditioner in a mix of English and pantomime. He said a firm no. Just as the Uber and Ola drivers in Calcutta had when we went there in November 2021. Things have changed in Calcutta since then, but the French? Well they are French!
The location of the hotel was fabulous. It had Arc-view rooms from which you could see the Arc De Triomphe. And courtyard-view rooms which we had booked as they were cheaper. I went to our matchbox-sized room and could only see the walls of the next building when I opened the window. Not a courtyard!
This after we had been checked in by a dour-faced gentleman who spoke little English, apart from the time when he adamantly made it clear that room service was not available even though the website showed it. There went my hopes of having a good shower and then a ham sandwich. Talking of shower the bathroom got flooded when we used the shower. What would K say, I worried. I was the one who chose the hotel.
Welcome to Paris
Things changed after that thankfully and it soon felt as if I was back in the Paris we had fallen in love with. I stepped out of the hotel in search of food. I saw a café facing the Arc and walked up. I went through the menu placed on the pavement by which patrons were sitting and sipping on wine and smoking. "Can I help you?" asked a cheerful young waitress who came up to me. "I want to do a takeaway. Do you that? And what would you suggest?"
"We would happily do so. Sandwiches as well as falafel wraps are a good idea. Please sit inside and we will get your order ready."
I went back to the hotel carrying a box with a croque monsieur and 2 kilos of fries. I don't think they call it 'French fries' in Paris but fries and a house salad came with most things we ordered during the stay. I settled down in my room and ate as if this was my first meal in days. Which was not true as the food in Lufthansa lounge at Frankfurt was rather sumptuous. I ate, showered and slept. At night I went to a café located just opposite the hotel called Le Vin Coeur, had a rather dodgy steak tartare. The service however was very effusive.
The staff at the hotel next morning were the opposite of the man of few words whom I encountered on day 1. They were very helpful and suggested better places to eat in the vicinity after I told them about the previous night's experience. I requested them to change our room in a couple of days to one with a better view. 'My wife is reaching in a couple of days'. That almost became my slogan for the next 24 hours till they gave in and moved us to a room with a beautiful view of the Arc AND a small balcony WITH a bathroom that did not become a swimming pool after a shower. "Ah, you are the wife," they exclaimed when K finally arrived. 'They must be wondering who is this strange person who travels his wife and not his mistress', I quipped to K later.
She walked into the room and exclaimed that the view took away all the stress of the ad festival she was in. Made it all worth it.
A Plateful of Paris
Paris is considered to be the gourmet capital of the Western world and we had quite a few memorable meals on both trips. We went back to a few of the iconic places we went to on our previous visit and to some that were new to us. Cafés, bistros and pâtisseries formed our beat. Michelin-starred restaurants or long chef's tasting menus are not our thing.
Here's a list of the places that we went to on this trip. And liked! Unlike in our previous trip which was longer and where we explored different parts of the city, these are largely around the Champs Elysées area.
1. Inform Café:
I literally smelt the coffee and reached here. I'd stepped out from the hotel to have breakfast at a bakery located at the end of the road on the first morning. I was in for a rude shock when I went to the bakery. Everything looked stale and tired and the place was nothing like the gorgeous boulangeries we had been to earlier in Paris. That's when I smelt the lovely aroma of coffee wafting in from the opposite side of the road. I crossed and came across a small and modern café which was nothing like the century-old cafés of Paris (which we love). This was run by young folks who spoke fluent English. Were well versed with 'modern' coffee forms such as the cortado and had lovely croissants and cookies on offer and Hokkaido milk buns in which they could stuff eggs, avocado, bacon, goat cheese and/or pastrami, plus salads. The vibe was warm and welcoming. It seemed as if were back home in Bandra. I went there everyday for breakfast and took K with me after she joined me. She returned to Paris a few months later to shoot an ad film with the GOAT (Lionel Messi) and went to Inform Café with her colleagues every morning and they loved it too.
25 Rue des Acacias, 75017 Paris, France
+33 1 4575 54 09
2. Ladurée:
People go here to buy macarons but you will also find a long queue of people at the gate. This is to go to the tea room where you can sip on an espresso and have a macaron or some elegant savoury treats, and see the world pass you by on the most expensive shopping stretch in the world.The experience reminded me of Flurys in Calcutta and sitting by the window seat with a book in my hands and coffee, 'heritage' baked beans and chilli and toast and a pink strawberry cube. Looking on as life passes me by at Park Street. I went there for a late lunch. Ordered a plate of sandwiches. You could choose from the options given and I went for pastrami, crab, ham, and salmon finger sandwiches with soft bread. These were some of the best sandwiches I have ever had. I got talking with a couple from Sydney who were sitting beside me. They were kind enough to take a picture of me and my sandwiches on their phone and WhatsApp it to me as my phone battery had died. I brought K to Ladurée the day she landed.The queue was even longer that day. She got really impatient but forgot all her complaints once she got her plate of sandwiches. She liked it so much that we went back one more time and the queue was even longer. Once again, she was keen to leave and go, but all was forgiven once those sandwiches arrived.
75 Avenue des Champs Elysées
75008 Paris, France
+33 1 4075 08 75
3. Angelina:
This was another place that we had gone to previously and returned to. This time after spending idyllic hours on a bench at the Jardin des Tuileries. Phones kept aside. Reading our respective books. Island of the Missing Trees by Elif Shafak in my case, Serious Men by Manu Joseph for her. We had the hot chocolate that Angelina is famous for. I was eyeing the Quiche Lorraine on the menu but wondered if it would be too much of a dietary extravagance given that I was trying to bring a COVID-induced blood sugar spike under control. Exasperated with my soliloquising, K placed an order for one with the young waitress with a warm smile who was attending to us. She commended us on our choice and added that in Paris mothers make it once a week for their kids. The Quiche Lorraine at Angelina turned out to be the best I've ever had and I have clogged my arteries with many across Paris, Montreux, Sydney and even Amchi Mumbai.
No. 226, Rue de Rivoli
+33 1 42 60 82 00
4. The French Bastards:
If you are one for indulgent bakes, specifically croissants and babkas, then The French Bastards is your answer (I had a tough time convincing my editor that this is the name of a boulangerie and not language unsuitable for this august magazine). It was recommended to me by Shikha Jain. A Calcutta girl who had gone to the Culinary Institute of America to be a pastry chef. She had come to Paris to get work experience before she went home. She got us croissants and babka from The French Bastards when she joined K and me for breakfast at Ladurée. It was most kind of her as she knew how disappointed I was when I went to the boulangerie the day K was flying in. K wanted croissants and I thought I will get her the very best. Turned out they were over. I asked the lady at the counter when the next batch would be ready. She shrugged her shoulders and said, 'tomorrow'. This was at 11am! We got a taste of them finally thanks to Shikha and it lived up to her high praise.
61 Rue Oberkamp, 75011, Paris, France
181 Rue Saint-Denis, 75002, Paris, France
35 Pl Saint-Ferdinand, 75017, Paris, France
Instagram: @the_french_bastards
5. Publicis Drug Store:
This is run by the famous French communications network, Publicis. They have a departmental store on the ground floor with many arty souvenirs and a café too. I ordered a steak. Medium rare. The chef was so confident of his work that he sent it with no mustard, ketchup or jus. It indeed needed nothing on the side. It was perfectly cooked and seasoned and the meat was phenomenal.
133, Avenue des Champs-Elysées 75008 Paris, France. Metro Stop: Charles de Gaulle-Etoile,
George V. +33 1 4443 75 07
6. Les Deux Magots:
This café, which dates back to 1884, was strongly recommended by the folks at the hotel. It was once the haunt of Simone de Beauvoir, Jean Paul Sartre, Ernest Hemingway, Albert Camus, Pablo Picasso, James Joyce and now, of Mr and Mrs K. It retained its old-world charm and the food was more expensive compared to the other places we went to on the trip. We decided to splurge and order the two dishes that make us miss Paris the most when we are back home. Steak tartare and foie gras. Both made sure that the restaurant lived up to its starry reputation.
Les Deux Magots, 6 Place Saint-Germain-des-Prés, 75006 Paris, France
+33 1 4548 55 25
We left Paris for Berlin the next morning. Well-fed and satiated. Till next time.