All Things Wine
Karishma Grover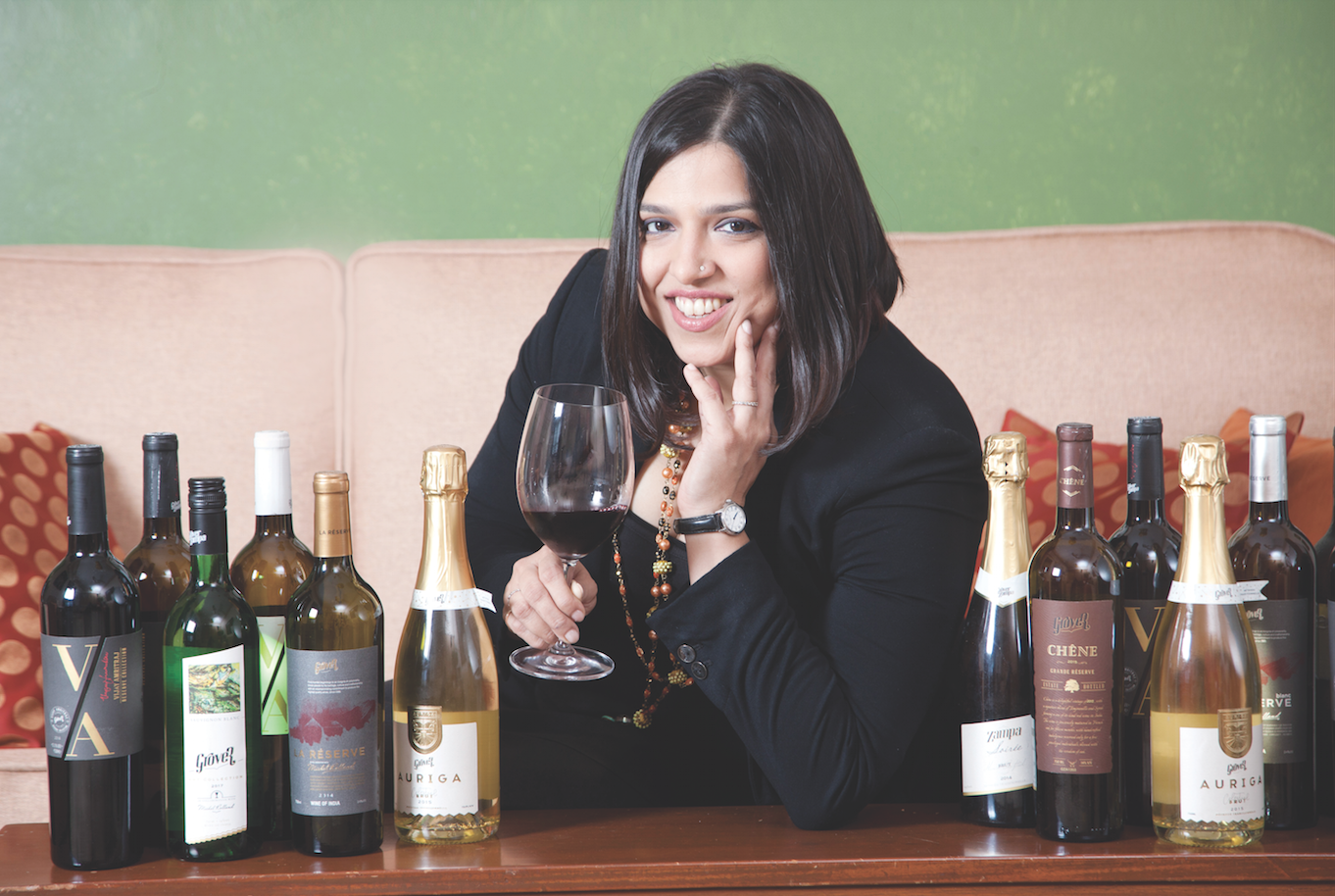 Wine is a glass apart. To enter and take charge in this unique industry, unlike any other alcohol and beverage segment, is setting yourself up for a challenging life ahead, running against the clock and keeping pace with the evolving terms of the grape and a connoisseur's palate. Above all, you have to lose yourself in every sip and let passion take you over, else it's a mission unaccomplished. A winemaker's mission, that is, to know your vineyards and tend to each grape as a shepherd would his flock. Karishma Grover has it flowing through her veins and has stepped into the role of winemaker at Grover Zampa with elan, equipped with the technical knowledge to keep her abreast with the fast-paced production of the vino industry. She celebrates a decade already, at the ripe age of 33!
With the demeanor of a woman who commands the room, Karishma saunters onto the enormous verandah of the Grover's Nepean Sea residence with the sprawling Priyadarshini Park and the sea's view to draw you in and keep you there. She begins, "As you can see, I am busy packing for my trip to Bangalore tomorrow for harvest season beckons, from Feb to May, and that's where you'll find me every year this time. As well as in Nashik, our second vineyard." The University of California (UC) Davis degree holder in Viticulture and Oenology (2008) knew her calling from her sweet 16 year itself when the one and only, the Bordeaux-based oenologist Michel Rolland visited the Bangalore winery on a five-day visit and Kapil Grover took his daughter along on the one condition she stay quiet and behave herself. As Karishma's fate would have it, Michel took to her instantly and had her record the minutes of that meeting, one that would set her mind in motion and her vision in stone. A decade later, she is well-entrenched in the Grover house, as associate winemaker, overseeing the production and technical aspects and supervising a sizeable team under her.
While her role is in viticulture, her father remains Chairman and Financial Director, carrying on the legacy for 26 years right from the inception of Grover Wines with his father Kanwal Grover. "That's 25 years of making mistakes," quips Kapil in his cool yet reticent mien, choosing to shy away from the limelight. Kapil, the tall, thin man who enjoys golf, sports on the tele, strawberry and champagne at Wimbledon, and Bridge nights with his dearest wife Jayshree; and who plays devoted father to Neha and Karishma, never enforcing the family business on them. "Karishma showed a keen eye from a very young age whereas Neha had her sights elsewhere. An MBA Economics graduate, she now serves as Asst. VP (Sourcing & Brand Management) at Nykaa."
That said, the ingress of Karishma into Grover Wines will remain most significant of occasions for it commemorated the first woman in charge, a daughter of the Grover lineage herself, trained in the very heart of Napa Valley, ready to take on the hurdles that lay ahead. And boy, are there a ton! Smiles the young woman, "My role is technical where I, along with French winemaker Mathias Pellissard, have to supervise the production of our wines at both vineyards, be it the 400-acre Nandi Hills estate or the smaller 100-acre Nashik winery, especially during harvest season which involves my absence from home for all these months. Viticulture calls for mornings that begin at 7 am with inspection of the farms till 11 am and then work as usual. 9-5 days are slower days and there's a whole lot of coordination involved with our team and the growers. I learn each and every day about the business and have my dad to handle his side of it. Our roles are complimentary." Pipes in dad, "It's a 70-crore valued business! I have to employ my expertise as a CA and MBA graduate in my role as chairman and financial director, exports manager, brand ambassador… As for the production aspect, Karishma shares my eye for quality and detail. That's what we are defined by, Grover stands for quality consciousness above all."
Proud as ever of the progress that Grover has made and both his daughters, Kapil looks back on his hey days, right down to 1981, when he entered the family business – specialising in advanced technological equipment and machinery and space programme and defence production, which involved the import of products directly and solely from France. His father would travel frequently and soon be mesmerised by the French gastronomy of lore, especially fine wines. One thing led to another and before you could say 'Jacques', Kanwal Grover had Champagne Mumm's Director of Technical Production Georges Vesselle make a trip down to our shores, perhaps open a bubbly, and talk wine and vineyards, thus facilitating the plantation of French grapes and the subsequent winemaking revolution in India.
"From 1982-89, we experimented with the most favourable regions and found the best results in Bangalore. Three years later, Grover Wines set soil and the rest is history!" exclaims Kapil. Milestones – and rocky roads, too – have defined the company's trajectory, from Michel Rolland's entry in 1995 as consultant winemaker (post Georges' exit) to champagne house of LVMH group Veuve Clicquot's stake from 1996-2012; the unveiling of the iconic La Reserve label in 1998 – our personal favourite – to the Nashik-based Vallee de Vin merger resulting in the formation of Grover Zampa in 2012 and the acquisition of fertile land in Nashik. Grover was back on track, stepping foot into Maharashtra and breaking its dry spell after a few years of said 'rocky road' inclusive of its fruitless association with Brindco in 2008. Thereafter, the launch of the Zampa range with the 2009 Zampa Soiree and the delightful VA selection in 2014 by tennis great Vijay Amritraj gave us more fine wines to toast with at our choicest moments.
Wine is educative, wine is poetry in a glass and wine goes on forever. In this industry of longevity, you must immerse yourself wholly or not at all. Karishma reinforces the declaration with, "My favourite destination to travel is home!" There is no juggling her personal and professional sides as the latter rules, yet an annual month-long getaway in the country and an international trip once in two years are necessities. "I need the time off where I can kick back with my favourite shows – This Is Us, Handmaid's Tale, a bit of reality TV, movies out with my pals and a nice glass of vino to soothe my nerves. Wine is drunk by the occasion, the mood. So it's a Rosé by the pool on a beautiful night, certainly a sparkling at early evening time and a La Reserve with dinner. Wine is my passion, it is my love!"
Which would imply less time for any other kind of love, and Karishma is content. "A relationship would be a challenge, honestly." Right now, she's 'the woman', in charge of expansion plans for the vineyards which revolve around increased capacity at both Bangalore and Nashik, setting an example to follow as she goes along, with the insistence that the attitude towards women in the wine industry must adapt. While our perceptions are changing undoubtedly, we should motivate, drive and encourage dynamism to flourish in our country, no matter the gender. The fair number of women employed at Grover Zampa Vineyards, 10-12 of whom are in senior positions, are evidence to the testimony. Let us drink to that, shall we!