Oleander Farms: Nature's Bounty
All things food, nature, shelter... Oleander Farms is 100 acres of plush green bliss. Just 60 kms outside of Bombay, it's the perfect getaway where the journey itself doesn't tire you out. The restaurant, Saltt is a major attraction, FYI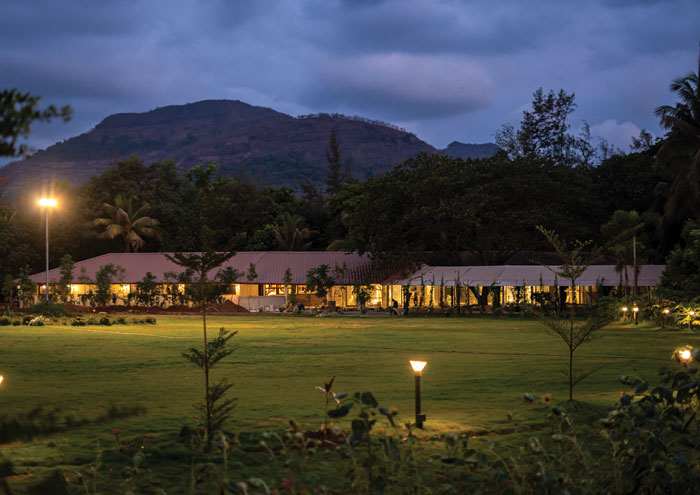 Text: Farzana Contractor
Quite clearly when you embark upon an endeavour with all your heart, it just works. Oleander Farms is that mind-boggling success story which you hear about only once in a while. That it has to do with all things food and shelter and nature, you understand why.
It's hardly something I want to remember or remind anyone of but Oleander is the product of The Great Pause. When the world turned on its head recently and creaked to a halt. When all our lives went upside down and most of us did not know what's going on. When we did not know what to do or how to deal with this darn virus called COVID-19.
But there were others, who approached the whole thing very positively, rolled up their sleeves and got to work. The Ahuja family was one such. Just 60 kms out of Bombay, in the farmlands of Karjat, the Ahujas were sitting pretty on a 100 acres of land. That's where they were when the pandemic hit. They were fortunate to be away from the chaos that was churning away in the city, making everybody scared and miserable. That's when they decided to share their good fortune with the rest of us.
Since forever, young Aaliyah's grandfather had a dream to create a small, organic eatery at their farm. Where people could go and eat good food made from fresh produce and high quality ingredients. But hectic life in Bombay got in the way and the dream remained a dream. Until when it was peak time of the pandemic. and Aaliyah's dad got into action. They had a large staff, farmhands, sitting idle, there was plenty of wood lying around the acres of land, surplus furniture, so why not start a café, a restaurant? With limited labour but a good concept in place, toute la famille got to work. And voila, before you could say Jack Robinson, the restaurant became a reality. A large open space, glass and wood, mismatched, distressed furniture, plants everywhere and there it was – a charming, rustic shabby chic, organically grown Saltt. Ready right in time when COVID rules were changing and we were allowed to move around, with codes like social distancing in place.
It was just what the doctor ordered! Go to the countryside. Be amidst nature, take your mind off all that you have been through. Eat well, relax, be kind to yourself! Saltt offered all that and more. Not just good, but great food. People from both Bombay and Poona flocked to this new place, eagerly. Relieved to be breathing free and easy.
Says Aaliyah, "Honestly we don't know how it all happened. I just know that it was my father who got us going to create Saltt. Our journey actually began in 1991 when my grandfather purchased 11 acres of land in Karjat. Our grandparents used to spend every weekend here for years together while the rest of us used it as a getaway spot and visited the farm only occasionally. We used to celebrate Diwali and special occasions with our grandparents. We gathered here with our friends and family to enjoy the monsoons and the cold winters. And then slowly the younger generation chose to get married here, hold their wedding receptions at the farm! That was the reason why we developed the lakes and a few venues you see today."
"Then COVID happened. And from being a weekend home, it became our full-time home. Like everyone else we were all living in tremendous anxiety and uncertainty too. Which is when my dad decided it was important for us to channelise our energy and mind into doing something productive. We decided to pursue my grandfather's dream and build a restaurant!"
The effort paid off. Against all odds – with limited resources, a pandemic raging – but with love and care the whole family, with support from friends, got going to make it possible. Once they opened the restaurant there was no turning back. Saltt received an overwhelming response, and soon one thing led to another and the construction activity never stopped! They started working on a coffee house, a brewery and a plan for entertainment options for guests who had started spending the whole day at the farm and going away reluctantly when night fell.
This made it imperative for the Ahujas to take the next step; provide facilities for overnight stays. In a matter of a year they had built and readied 46 rooms with a pool, as well as a villa with three bedrooms. Also adding venues for small and large scale weddings and other celebrations. A spa and more rooms are work in progress.
But coming back to Saltt, where I had lunch recently, I have to admit I was pleasantly surprised. The menu is certainly interesting. Well-balanced. Not exhaustive, thankfully, for I do think it's so senseless to go through hundreds of items and then eventually order that one dish which has your favourite ingredients.
What I do like about Saltt is they have pretty much covered food from all over the world. Let's say, signature dishes of a global cuisine. Wood-fired oven pizzas with a multitude of flavours like Cajun Chicken, Jalepenos, Caramelised Onion, Sundried Tomato, European twists like Mac & Cheese Arancini with Roasted Red Pepper Remoulade, Parmesan Crisps, Pesto and Wine-Braised Red Pumpkin Risotto, Chevre – a rich rice preparation with pumpkin finished with butter, cream and goat cheese and Balsamic, and young arugula.
The Indian menu is well represented but it's the dessert options which are awesome; the richly decadent Tres Leches, a vanilla milk cake soaked in three milks topped with rich cream and pista dust and the Saltted Caramel Mousse in a chocolate cup with caramel sauce and nougat is what you cannot leave Saltt without having.
Good food in a peaceful ambience, what more can one ask for? Saltt draws its aesthetics from its surroundings, the soothing green landscape, grass, plants, shrubs, and plenty of flowers. The feel is certainly that of a rustic family farm house. You can see it in the personal touches added to every element of the restaurant space. "That's true, my parents have always been big collectors. So much of the furniture are pieces collected from their travels to Jodhpur and Jaipur. These vintage chests for example which we have used as coffee tables come with over hundred years of history! To be honest every décor accent has a story to tell," says the young proprietor. Well, what's not to love about a country-style setting which allows one to slow down, immerse oneself in nature, indulge in the luxury of great food. Especially when the bar offers a cosy, warm barn-style feel-good feeling. And here Saltt's exhaustive cocktail menu is most welcome.
Botanical concoctions with careful consideration to extract the nutritional values of the natural ingredients, created to make your palate dance. There's the breezy Detox Nectar that pairs gin with cold- pressed beetroot juice, brewed hibiscus with cinnamon, or the Gentle Charcoal, a blend of vodka with matcha tea, pomegranate syrup and muddled basil. You also have the Mediterranean Colada, a mix of white rum with cold-pressed pineapple and basil juice topped with club soda, or the feisty Spicy Plum of bourbon with homemade plum and cinnamon jam and cold-pressed plum juice. If you are in a celebratory mood, the bartender recommends the Tangy Thought Tequila with Thai sweet tamarind, jaggery and saffron. Sure gets the mood going!
Once you explore Oleander, walk around at leisure, you find there is plenty more to it than all the eateries and watering holes. The entire setting is rather picturesque. Lakes and hills, winding mud roads leading to your villas or rooms. Monsoons would be especially nice at Oleander. When the entire countryside turns lush and beautiful. Which would be a feast for the eyes and ears as well, full of creature sounds, not forgetting the scents of the earth.
And best of all, all this just over an hour out of Bombay.
Oleander Farms
Karjat Chowk Road, Wavarle Village, Khalapur, Karjat 410206
Ph: 022 5002 2222