A Tropical Speciality
Presented as a grill speciality restaurant, Tropics, the latest entrant to Bombay's dining out scene is idyllic, located by the swimming pool at Taj Lands End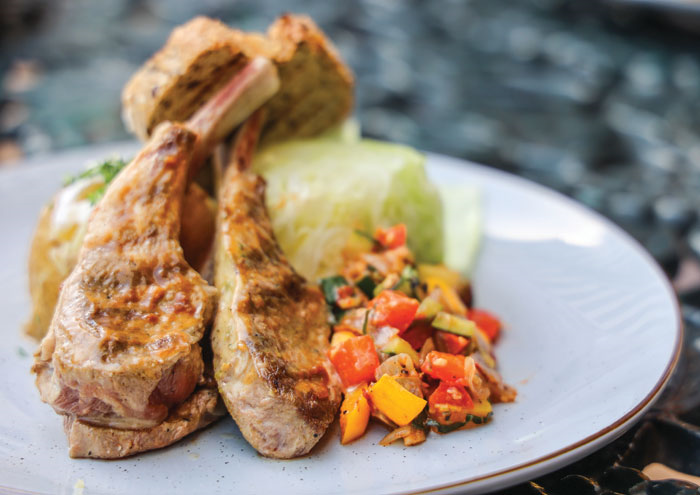 Text: Dr Nishant Kumar Food Photographs: Farzana Contractor
N ow as things have started settling, there are new restaurants opening, and some very interesting concepts are being tried in Bombay.
After what seems like ages, one of Bombay's landmark hotels, Taj Lands End, is opening a new restaurant. Known for their food with their speciality Chinese restaurant Ming Yang, their Indian restaurant Masala Bay, their very lively Atrium Lounge, House of Nomad, their multi-speciality Vista and the members only Chambers, they now bring to us a new restaurant, Tropics.
The brainchild of Executive Chef
Rohit Sangwan and newly appointed Senior Vice President (West) Indian Hotels, Somnath Mukherjee, the idea of this restaurant is to highlight fresh ingredients, keep the menu uncluttered and provide diners a pure experience of good quality meat and vegetables which are cooked on a grill in front of you with minimal marination or preparation.
Located near the swimming pool, Tropics has a unique setting compared to the other fine-dining restaurants at the hotel. Amidst lush gardens, an open-air restaurant with nothing around you, is an unusual experience in a big city. Luckily, now as the pollution is dying down a bit, one can see the stars and enjoy the beauty of the night. There are no buildings looking down at you and sitting here it seems like you are in a part of Bombay where literally the land ends and there is only the Arabian Sea and its vastness which envelops you.
The night I visited they had someone playing the saxophone and another playing songs on an acoustic guitar. Sitting in the open, enjoying the fresh sea breeze, hearing the waves crash, looking at the stars and listening to great music is my definition of a good evening.
The mood is set straight away when you hear familiar melodies, especially Bollywood classics at this venue. There weren't any tables where people were either not singing along, humming along or at least tapping their feet in rhythm.
I believe one of the old Taj chefs, who is also a professional musician, was playing the saxophone for us, a rather unique experience. We have a chef who not only barbecues your meats and vegetables, but also plays live saxophone!
There is enough space between the tables. At no stage do you feel crowded, no attempt has been made to make this venue feel like it belongs to the restaurant just to fit into the landscape. It is comfortable and yet non-intrusive. In one corner you have your live grill with three to four chefs working diligently to prepare your meal for you and there is a large uncomplicated bar where you can see the bartenders work to create their magic.
Chef Sangwan tells me that all the meat is prepared live and there is minimal marination done prior to cooking of the food and so all the flavours are fresh and everything is cooked only after an order is made. This ensures that the quality of the barbecue and of the grill is perfect. There is nothing worse than having a piece of barbecued meat reheated. It loses its texture, becomes chewy and the whole joy of the meal is lost.
The challenge with a speciality grill restaurant is that the ingredients need to be top-notch, and Chef Sangwan tells me that they have chosen only the best of produce. The lamb chops are from New Zealand, asparagus from Peru, portobello mushrooms from Netherlands, pork belly from United Kingdom, frankfurters from Germany, spring chicken from Spain and locally sourced bay prawns and Barramundi.
The menu is small and they do not complicate things by adding anything but grills to their menu. There is a salad, the grills and then a single dessert. There are no other main courses, no other appetisers, so they have kept the menu simple but very authentic. All the dishes are served with a grilled wedge of lettuce, ratatouille vegetables, jacket potatoes and a lemon wedge making each grill a meal in itself.
All the grills are served with a variety of spices, sauces and relishes and there is something to suit everyone's palate. They have a togarashi spice (a Japanese spice mix), peri peri spice, Cajun spice with rock salt, soy, ginger oil peanut sauce, mint chutney, sriracha (a hot sauce made from a paste of chilli peppers), Dijon mustard, barbecue sauce, Tabasco, HP sauce, parsley butter, tomato relish, pear onion jus and lemon wedges.
The beauty of serving the grills with such a large variety of sauces, salts and relishes is that by changing the salt or sauce, each bite can be customised and the same grill can provide a myriad of flavours ranging from the umami togarashi, the spicy sriracha, the Oriental soy, the Thai peanut sauce and the traditional sauces like HP sauce, lemon butter and Tabasco.
If you enjoy experimenting with flavours, this is a great opportunity to try something new and different.
On the table the first thing that greets you is their salad. This could either be combined with grilled chicken or smoked salmon or crumbled Feta. The idea is that you start munching on a salad while you order your drinks and then place your order for the grills.
I started with the lamb chops. I like my lamb chops done medium and the chef got this just right. The chefs are very aware of this and let the meat be the star, keeping the seasonings to a minimum. There is no point in getting lamb chops from New Zealand if you are going to over-spice and over-season them and spoil their natural taste.
For non-vegetarians there is a choice of lamb chops, pork belly, Barramundi, tiger prawns, pork frankfurters, chicken scallops and the only marinated meat on the menu which is a Hari Mirch Ka Chicken Tikka.
Though lamb chops were my favourite, the tiger prawns are sweet with a wonderful texture, also a dish worth ordering. The Hari Mirch Ka Chicken Tikka is succulent, tender and well-flavoured. The pork belly and pork frankfurter are also definitely worth a try.
It was surprising how wonderful a grilled wedge of lettuce can taste, especially when accompanied by the ginger oil peanut sauce. I am not a great lettuce fan, but this was finished before I completed the meat.
My recommendation if you are a non-vegetarian is to try their mixed grill, which will give you a flavour of almost everything, most probably that is the best way to go.
My wife tried the vegetarian grill and I loved the asparagus. The thick asparagus from Peru, barbecued and served with just some butter, is an ideal dish. The zucchini, portobello mushrooms, corn ribs and the Indian Bhatti Spiced Vegetable Shashlik are also moreish and very satiating.
Like I said earlier, I love the ginger peanut sauce. The lemon parsley butter with the prawns was good and the frankfurter with mustard and lamb with mint chutney are some of the combinations which most know already, so it's a good idea to mix things up and try something new.
The portions are generous to be able to fill you up and not overfeed you.
For desserts, there is no choice. Just Mexican paletas, which is almost like a sorbet served on a stick. But within the paletas, you have choices: Mango Condensed Milk, Fruit Fusion, Berry Bomb, Mint Mojito, Keto Tender Coconut. I am informed that they will open Tropics on Sundays to non-residents for a special brunch, and for approximately Rs.2500, patrons can enjoy a swim as well as a grill of their choice and a dessert.
Tropics is like a bestseller to me. Enjoy a swim, work up an appetite, lounge under one of the umbrellas with a cocktail/mocktail while your grilled order comes along. Swim, eat, drink, be merry. Sigh.
Tropics Bar
Taj Lands End, Byramji Jeejeebhoy Road, Bandstand Promenade, Bandra (W), Mumbai 400050
Ph: 022 6668 1234