Armando Kraenzlin with Farzana Contractor at Modernist, the Members Club at Four Seasons Hotel Mumbai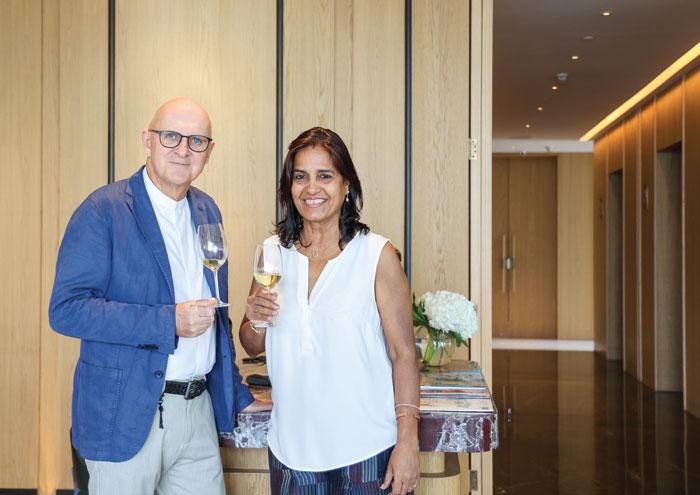 I was out at Nara Thai with Ashmit Patel, a nice bloke I have always been fond of. As I started to interview him, the first question I asked was, "What does food mean to you?" He answered, short, sweet, with a smile, and to the point, "Life."
True. Isn't it? Everything comes down to food. It's the centre of our existence, our core, our being. Food for our daily needs. Home food, restaurant food. Food for celebrations, food for festivals, food when we travel, food we talk about, food we click beautiful images of. Food recipes, food methods, food culture. Traditional food, classic food, fusion food. Simple food, elaborate food, food out of cans and cartons. Fast food, junk food, street food (perhaps the tastiest!). Whatever we do, it comes down to food. It's one good reason we work for our livelihood. And UpperCrust is right there backing all things food.
Well, after two big issues dedicated to restaurants of Bombay, we are now taking a breather. This issue is our classic one. One where you will find all our regular features. The same as it was, when we started out 23 years ago.
Anyone who knows me, knows I don't change anything for the sake of change, for the heck of it or because it is expected. In that way I am terribly old-world. Hanging on to the tried, the tested, the wanted, the enjoyed. And thankfully our readers love UpperCrust just the way it is. Good features, good images, good recipes, good graphics, simple language. All very meaningful and relevant. So thank you readers, for all the wonderful feedback and thank you especially for collecting every issue of UpperCrust, elevating its magazine status to that of cookery books.
So go ahead and enjoy reading about Armando Kraenzlin – Regional VP & GM of Four Seasons – instrumental in the smooth operations of a worldwide chain, known for its class, culture and perfect hospitality. Armando is the man who gave India its first Four Seasons, amidst much speculation, all because it was coming up in a congested area of Bombay, cheek by jowl, high rise and shanty.
Then you have Nirmala Shetty, in Come Into My Kitchen. A die-hard naturopath who runs successful salons which use only dry fruits, grains and fruit juices in all treatments; is a passionate and fastidious cook, too. The trouble she took in planning a proper menu for you dear reader is trully appreciated by us. Check out her recipes!
In Know More About we have something remarkable, passion fruit. It is so full of nutrition I am surprised it has not garnered more attention in our part of the world. Perhaps, it will now!
'Tis the season of strawberries, so that's the recipes we are offering you, as well as some super starters by Chef Paul Kinny. Starters because this is the first quarter issue of UpperCrust, of what promises to be a super new year, InSha'Allah.
Parties and weddings and restaurant openings and book launches have also begun in full earnest, so I am happy to state Guest List pages are on track! We also have two cookbook reviews for you.
Dr Nishant Kumar, the busy eye surgeon who has no time to breathe, yet makes time to indulge in his passion, goes eating out at Tropics. He comes away satiated and gives them a glowing review.
Like I said, we have it all in this issue. So we also take you on a getaway. Right at Bombay's doorstep and genuine farmland area, Karjat. Oleander Farms is a haven of quietude. And they have a charming restaurant, too; Saltt. I have been going to Karjat since I was a kid, never knew I would, one day, find a fine-dine in that wilderness.
Health Wise? Best to be just that. And who better than with UpperCrust. Chef Bhairav Singh has some neat ideas.
Last but not the least. Go to the Metro. Keep track of all the culinary happenings in Bombay, Delhi, Madras, Calcutta, Bangalore, Goa, Poona, Kashmir and now an add-on, our very own backyard, Mahabaleshwar, Panchgani and Wai – Simply Sahyadri!
Enjoy!