Armando Kraenzlin
The Oriental Swiss
Don't know how, but this incredible man manages to do it all. Open new properties, oversee the ones he is responsible for, constantly jetting across a vast region. In between he also finds time to go on wine sojourns to Europe, wander in the Himalayas, trek in Nepal, catch a Queen concert and learn Hindi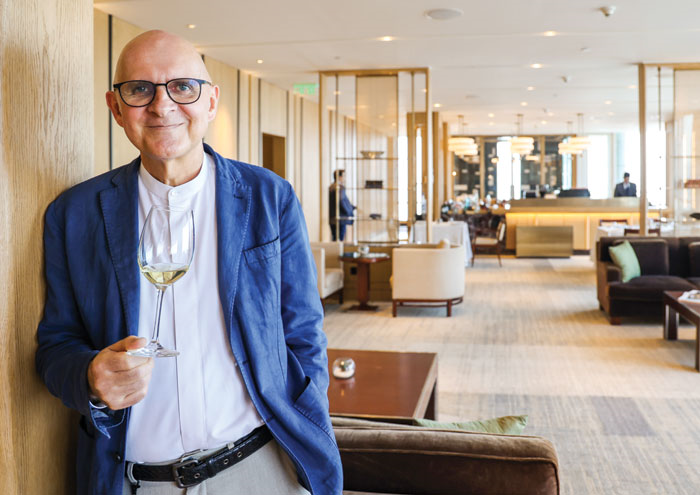 Text & Photographs: Farzana Contractor
I can't quite pin down this hotelier. There is something different about him. Many different sides, is how I would best explain for now, perhaps. And each side is rather intriguing. The way he balances his personal and professional life, living between islands and cities, how he travels extensively, yet stays hands-on at the resorts he runs, a democratic boss who is reserved yet friendly with all his staff, who he acknowledges as colleagues.
What does one look for, anyways, in a man of his position? One who is heading a clutch of properties, varied in nature, and each, just as fantastic. Meet Armando Kraenzlin, General Manager and Regional Vice President, Four Seasons Hotels. A man who has stayed put with a hospitality company he loves and where he is about to complete his Silver Innings!
The first thing that strikes you about Armando is his knowledge. Not just about hotels, but a whole lot of subjects. The second is how he puts his thoughts across, how he discusses his ideas. His form of expression, his turn of phrase, the language he uses, the tone. He speaks slowly, pauses to think, continues to expound, looks at you engagingly, smiles only if a smile is called for. He speaks softly. And when he speaks about something that is special to him, his eyes twinkle. But there is something else; his humour. And you never know when that pops in! Armando can be quite funny. Especially when he, himself keeps a straight face. Maybe that's what I mean when I say he is different. You don't expect him to joke just when he has! He can be a riot in his own subtle way.
So let's get to know the man.
Armando is Swiss. Was born in Lucerne. He studied hotel management in his own country of course, at the Lausanne Hotel School, where most aspiring for good positions in the industry go to.
His first job was in Saudi Arabia and the second in Malaysia, but the "dream job" was his third stint in Thailand, where he was at the helm of a temple-styled luxury resort, located between two traditional fishing villages. I suspect this is where and when his mind was set, his abiding value system formed. Where his respect for all things traditional and cultural just got deeper. Where he realised the importance of being totally inclusive of what surrounds him.
"That's right, you know," says Armando, going down memory lane, "Our location made engaging with our neighbours so essential. Therefore, we came up with a host of initiatives that enabled them to contribute on a cultural level and benefit financially. It was a win-win arrangement."
Since then, Armando has approached each new posting with an equal consideration for guests, staff, the local community, and the natural environment alike. "Ours is a people industry which is not just guests and staff but neighbours and community as well. So it cannot be any other way, but this!" he states emphatically. Maldives is his base today and everything about the Four Seasons resorts he heads is totally inclusive.
Armando Kraenzlin has come a long way since he left his native Switzerland at 24, armed with just his diploma certification. His plan was to go out into the world, work for some years, gain as much experience and return home to Switzerland and start his very own restaurant. Now, almost four decades on, that would seem like an unlikely deal, an abandoned dream or something like that. But then again you never can tell. It could still be Armando's active retirement plan. Not in Switzerland, somewhere East where his heart now dwells, he is after all the Oriental Swiss, now.
Well, so, once out in the world, east of Europe, Armando was gripped totally in the hospitality fervour. His destiny took him along and he merely followed his calling. The first job was in the Middle East, Riyadh in Saudi Arabia. This offer had come along after he had applied for 50 overseas jobs. He grabbed it, even as his family went into shock. Imagine leaving the shores of safe and sweet Switzerland and going away to the unknown, unfriendly (as the world did think of Arabia, four decades ago) desert land. Even the climates were in such contrast. From cold and snow to sand and sweltering heat. Was he mad? Armando's father, an interior designer for hotels and restaurants, was to be blamed, they concluded. It was his immense influence that made Armando fall in love with all things food and wine, restaurants and hotels, and a cross range of people. As for Armando, life could not have gotten more exciting. He was heading to a land of mystery. New culture, new traditions, new learning. New people, new way of life, new challenges. The young man was gung-ho.
"You know, I never regretted my decision. It was the best thing that could have happened to me. I knew it even as I touched down in Riyadh. I had some incredible experiences. My friends from those days are my friends even today. And not only does the hotel I worked in, Al Khozama, exist today, it is among the best, just as popular as ever," says Armando, nostalgically.
From the Middle East to South East Asia. Regent Hotel, Kuala Lumpur was Armando's next posting. He imbibed the world of Malaysian hospitality for a whole year before he got a phone call that was to change his life. It was from The Oriental Hotel in Bangkok. He was being offered the job of Food and Beverage Manager, was he interested? Interested? It was every young man and woman's dream in the trade, to be able to work at The Oriental. It was iconic, built in 1876, it was the first luxury hotel in the Kingdom of Siam. An incredibly beautiful property picturesquely situated right on the Chao Phraya River.
Armando's world opened up anew. Staying on for six years in Thailand, the region got him hooked. He travelled all over; Vietnam, Laos, Cambodia, Burma. Learning, learning, learning. At The Oriental, he not only gained immense work experience and deep understanding of the F&B business, he found himself a mentor. The General Manager of the hotel, Kurt Wachveitl, who himself went on to become a legendary figure in the world of hospitality. Armando says Kurt played a very important role in shaping his future, "Surely the most brilliant and visionary Hotel Manager that I have known. He's shaped my thinking about the importance of getting our guests and our teams right, about dreaming out of the box, adopting ambitious long-term visions and continuously evolving the business I lead. Kurt is a remarkable man who turned a 3-star hotel into a world-renowned luxury icon and I am so happy to have remained in touch with him over the years."
Next hotel in line of his career path was at Koh Samui, in the same country with the same group, but as General Manager. It was just eight years since he had left home… and look, at 32, he was already heading a resort, one that the world was flocking to in search of sun, fun, sand and the sea. I suspect from here on, Armando became an island man, totally! He didn't know at the time, but Maldives was beckoning, charting out his future. Soft-selling itself to Armando's psyche.
In the meanwhile, Armando went on to join The Oriental in Singapore, a new property with new experiences. And then came along a switch over. A new company, a new country. The Four Seasons, Jakarta, Indonesia. This was a big leap of faith and position. He joined the hotel as second in line of command! But soon he was winging it, as boss man to Kuda Huraa, slumbering in the Maldivian sun, like a jewel in the azure blue waters of the Indian Ocean. The island was all of 450 metres long and 80 metres wide. Armando says he fell in love with the place instantly and to date continues to be besotted by the Maldives. His extended posting at Four Seasons Kuda Huraa gave him immense joy, Armando had found his place in the sun.
Except life is never easy. And it throws up all kinds of situations. It was hardly over a year of being at Kuda Huraa when Armando had to face an extremely different kind of a challenge. The wrath of nature. The Tsunami of 2004, which had caused immense devastation, the world over.
Much as I did not want Armando to relive those days, I did want to know from someone who actually experienced it first-hand, how they stood up to the challenge. And so rather soberly we talked about it when we recently met at the newly refurbished Modernist, the corporate lounge at Four Seasons Mumbai.
"It was horrific. Not something I would care to remember even though we did not lose a single life. It was the worst nightmare imaginable. I was fortunate I was present on the island when it occurred." As it happened the Tsunami hit the resort at breakfast time. Which meant the guests were out of their water villas, built on stilts, which snapped like matchsticks. The water came in this large wave sweeping through the resort and because it is an island it just swept through, destroying whatever lay in its path. It may have been a matter of minutes, but as soon as the staff understood what had just happened, they rushed around, picking out children from the water and guided everyone to the highest point on the island. A head count showed some were still missing, so they swam out at sea, searching, took boats to look out for the ones who had gone swimming and may have been swept further away. The miracle was that not a single guest or staff lost their lives or disappeared into the sea. Within a day or two, a charter plane took them all to Qatar from where each of them safely departed for their respective homes. Little wonder then that half a million dollars was raised by staff and guests worldwide to contribute towards the remaking of the resort which was 90% destroyed.
Not only did Armando succeed in restoring and resetting up the resort in a record one and a half years, he even managed soon after to launch another resort at Baa Atoll, in the northern part of the Maldives. Larger, more exclusive, super luxurious, Four Seasons Landaa Giraavaru is a dream resort.
When asked to explain what makes him really tick in that island state, he replies, "I simply love island life and I like the Maldivian people. And I love the fact that I can decide something today that will show its full potential in time to come, whether I am here or not in future does not really matter. I am always interested in the evolution, in the longer story, rather than mere chapter changes… and Maldives is the perfect example. When we came here there were just two others we were competing against, Banyan Tree and Soneva Fushi. Today everyone is here. That's the thing, it's been an evolution of over 20 years and we are still around, still relevant. That's what I enjoy, that's what keeps me going; the challenge of keeping ahead, maintaining our position."
Guess part of Armando's magic is that he is constantly at it. Doing whatever needs to be done. A meticulous person. Always embracing new ideas. Like when some of his new diving staff at Kuda Huraa came to him with a request that they wanted to go to a diving school to further hone their skills, he not only said, "Sure," but even joined them! Today, Armando is a certified Dive Master. And yes, before I forget to mention it, he is also a master of wine, a connoisseur, though he would like to underplay that. Just as he does anything that puts the spotlight on him. But wine tasting and of course drinking good wine is Armando's deep passion. He goes visiting vineyards around the world.
"Yes, wine is my passion. What I love best about wine is its ability to connect people through craftsmanship and storytelling. Every couple of years, a bunch of wine enthusiasts from our resorts get together to visit Europe's wine regions. These road trips take us through France, Italy, Spain and Germany and we get to meet château owners and winemakers up close and in their home environment. It's wonderful to see our island colleagues who come from different professional backgrounds and have invested serious personal time and effort into the study of wines. Over the years, we've had the opportunity to visit the Cristal cellars at Louis Roederer, taste latest vintages of Mouton-Rothschild from the vat en primeur, enjoy a tapas-run in Rioja with a visit to Vega Sicilia and go through many more mind-blowing experiences enabled through wine professionals and friends. The last time we visited Bordeaux, a very generous owner of a vineyard on the right bank handed us the keys to her château and invited us to stay for a couple of days! Lifetime memories such as these are made – all through a common passion for wines," finishes Armando, all in one long breath. His smiling face all flushed merely speaking about wines, so I guess I need not say more about the effect wine has on him.
The one thing about Armando, he does not let the grass grow under or around him. Or let the seaweeds entangle him. He moves. He travels. Wanderlust is his second name. He goes on well-earned breaks. Off the beaten path. So while he was in The Maldives, he made many trips to India. Meeting people, visiting different places, even learning Hindi. His travels were not limited to Bombay, Delhi, Rajasthan… Armando would take off to places most Indians never ventured into; Kashmir, Ladakh, Shillong, Darjeeling, Assam. He travelled in the Himalayas, meeting cheesemakers among other people and went trekking in Nepal. Like an upscale hippie, he would travel with just a duffel bag. He would live in rustic places, eat local food. Simple-living, high-thinking man that he is. He says he tried every kebab he could lay his hands on in Lucknow and drank every kind of tea he came across in Darjeeling. As for Goa, it's his most favourite place to go eating out.
Well then, one day when he heard a whisper that Four Seasons was planning to open their very first hotel in India, in Bombay, he couldn't believe it. This was just the kind of challenging opportunity Armando, the Indophile, was waiting for. He approached the Four Seasons bosses to please put him in charge. And they did. Quite simply. That's the wonderful Four Seasons culture that I was amazed to discover. They recognise and value talent and sincerity. And do what needs to be done with no fuss, or drama.
"Yes, I truly appreciate our hotel group's policies. Our company does its best to help people be where they want to be, go where they think they are best suited, where they will give the best of themselves. I had always loved India, I had travelled here quite intensively and my heart was in the opening of this new hotel in Bombay. And so it happened!"
What happened next was that Armando arrived in our city in March 2006 and strived for two and a half years, working shoulder to shoulder with his core team, setting up Four Seasons, Bombay. An uphill task not least because there was much ado in the media, regarding its location. Not in some pretty setting on the Arabian Sea, but in the heart of the mill land and slum yard of Lower Parel. Will it succeed, will it not? Will it be a disaster, will people go to that area, crowded and congested with traffic snarls? But as it happened, Bombay got its swanky and classy new 5-star hotel, midtown, and it became the new hotspot within a matter of time. As for Armando, who drove a Ferrari-red Ambassador in those days, his job well-done, was now over, his mission accomplished, he was heading back to the Maldives, where he belonged.
That's right, after setting the wheels in motion, Armando was back at his beloved base in Maldives all set to open yet another Four Seasons property, this time an exclusive private island at Voavah, a 20-minute boat ride from Landaa Giraavaru.
So where does all this now bring Armando? Well, he is in charge of two most fabulous resorts and the private island at The Maldives, the one here in Bombay that he helped launch, as well as their resort in Bali. Which means he is a frequent flier on this route and we do get to see him often and have him regale us with his unique traveller's tales over sumptuous lunches. The last time he was here, he was flying away from Bombay to Japan. I am not sure if he was just holidaying or overseeing a brand new project for the Four Seasons.
Although with Armando Kraenzlin, you never can tell, time will tell.