The A to Z Health Jigsaw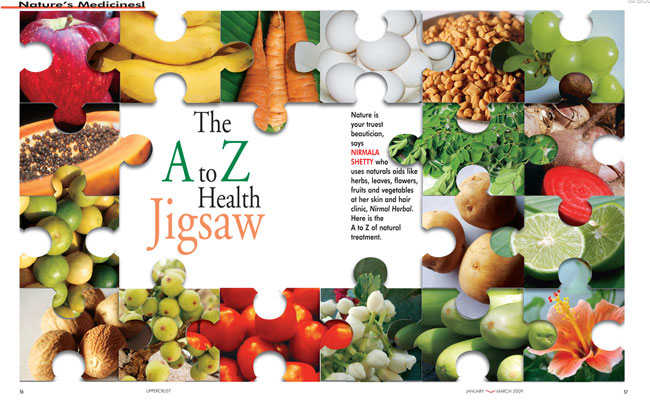 Nature is your truest beautician, says Nirmala Shetty who uses naturals aids like herbs, leaves, flowers, fruits and vegetables at her skin and hair clinic, Nirmal Herbal. Here is the A to Z of natural treatment.
Natural foods are a must for good health. A regular intake of fresh foods ensures great skin and hair. Our ancestors even used food as cosmetic aids. I too believe that what is good for your stomach is good enough for your skin. Here are some home remedies that are as simple to make as your daily cooking. Just remember to make the remedy fresh every time and be patient - give it some time to show positive results! What is natural is safe and sure and won't make you feel sorry at all. Happy cooking and happy faces!
G FOR GRAPES

Help to tighten skin and protects the skin mantle.


Ingredients:
- 1 bunch grapes, washed well
- 1/2 cup almonds, soaked and peeled
Method: Grind the ingredients to form a smooth paste.
Use: Apply as a mask for about 10 minutes.


G FOR GELATIN
Great for building stronger nails.
Hair Tonic
Take amla pieces and boil in coconut oil along with some curry leaves till they turn black. Apply this oil to scalp to prevent graying of hair.
Ingredients:
- 4 tsp. gelatin
- 4 tsp. well-beaten egg
- 2 small bowls, half filled with water
- 1 tsp. rose water
Method: Take two bowls half filled with water. Add 2 teaspoons of the egg mixture into each bowl. Now add rose water. Finally add two teaspoons each of gelatin in each bowl.
Use: Quickly immerse all fingers in the two bowls. Soak fingers for 5 to 7 minutes. Remove and wash hands well. Repeatedly doing this will gradually strengthen nails.

Nirmala Shetty
Beauty Therapist and Naturopath
Nirmal Herbal - Skin and Hair Clinics & SPA
022 25241449, 25296899, 26550915, 25704036