The A to Z Health Jigsaw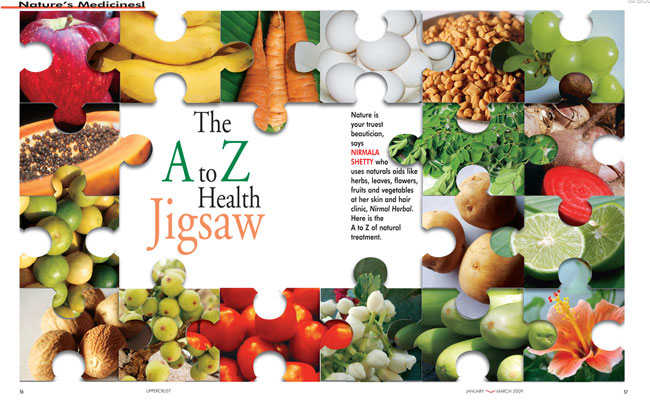 Nature is your truest beautician, says Nirmala Shetty who uses naturals aids like herbs, leaves, flowers, fruits and vegetables at her skin and hair clinic, Nirmal Herbal. Here is the A to Z of natural treatment.
Natural foods are a must for good health. A regular intake of fresh foods ensures great skin and hair. Our ancestors even used food as cosmetic aids. I too believe that what is good for your stomach is good enough for your skin. Here are some home remedies that are as simple to make as your daily cooking. Just remember to make the remedy fresh every time and be patient - give it some time to show positive results! What is natural is safe and sure and won't make you feel sorry at all. Happy cooking and happy faces!
I FOR INDIAN PENNYWORT (BRAHMI)
Indian Pennywort or Brahmi is a herb. It grows trailing along the ground in marshy areas. It is very useful in improving the condition of hair. It is also used to improve memory and to increase levels of haemoglobin.
Remedy for acute hair loss Ingredients:
- 1 bunch Indian pennywort leaves
- 1 bunch fenugreek leaves,
- 1 bunch neem leaves
Method: Wash leaves well and grind in a mixer. Since the leaves are wet there is generally no need to add water. Extract juice from the ground mixture.
Use: Massage scalp and hair with this juice. It should be applied twice or thrice a week for best results.

Nirmala Shetty
Beauty Therapist and Naturopath
Nirmal Herbal - Skin and Hair Clinics & SPA
022 25241449, 25296899, 26550915, 25704036