The A to Z Health Jigsaw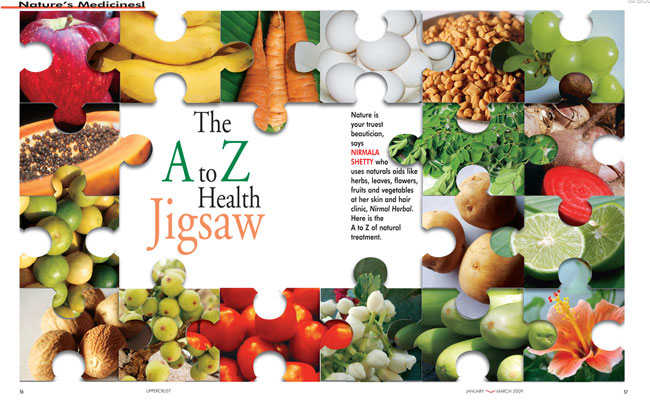 Nature is your truest beautician, says Nirmala Shetty who uses naturals aids like herbs, leaves, flowers, fruits and vegetables at her skin and hair clinic, Nirmal Herbal. Here is the A to Z of natural treatment.
Natural foods are a must for good health. A regular intake of fresh foods ensures great skin and hair. Our ancestors even used food as cosmetic aids. I too believe that what is good for your stomach is good enough for your skin. Here are some home remedies that are as simple to make as your daily cooking. Just remember to make the remedy fresh every time and be patient - give it some time to show positive results! What is natural is safe and sure and won't make you feel sorry at all. Happy cooking and happy faces!
V FOR VETIVER (KHAS)
Vetiver grass or khas is generally found in south India. Its roots are well known for their wonderful aroma and cooling effect. In the olden days, blinds were made from this root and used as curtains for doors and windows. These blind would be continuously sprayed with water to give a cooling effect along with a divine aroma. Oils are also extracted from these roots and used as fragrances.

Remedy for fevers
Ingredients:
- 1 bunch Vetiver roots
Method: Apply the paste on the forehead to bring down the body temperature. People with a lot of internal body heat could rub the paste over the entire body or bathe with it.

For smelly feet
Ingredients:
- 1 bunch Vetiver roots
Method: Take the roots of the vetiver plants and wash off the mud. Tie the roots into a ball-like bundle. Soak the bundle in water. Use: Scrub the feet and soles with the roots in a gentle manner. Wash the feet. Doing this regularly helps get rid of smelly feet.

Nirmala Shetty
Beauty Therapist and Naturopath
Nirmal Herbal - Skin and Hair Clinics & SPA
022 25241449, 25296899, 26550915, 25704036