The A to Z Health Jigsaw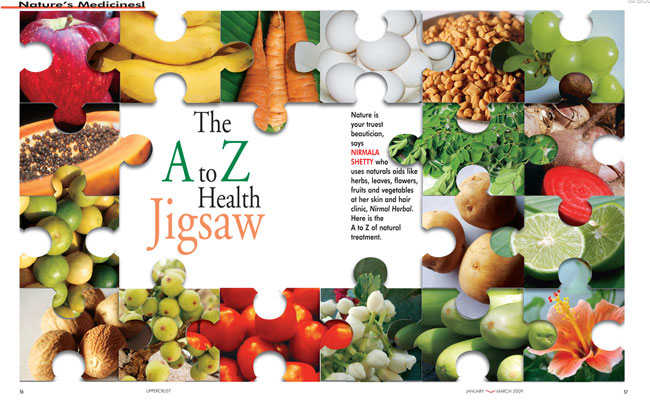 Nature is your truest beautician, says Nirmala Shetty who uses naturals aids like herbs, leaves, flowers, fruits and vegetables at her skin and hair clinic, Nirmal Herbal. Here is the A to Z of natural treatment.
Natural foods are a must for good health. A regular intake of fresh foods ensures great skin and hair. Our ancestors even used food as cosmetic aids. I too believe that what is good for your stomach is good enough for your skin. Here are some home remedies that are as simple to make as your daily cooking. Just remember to make the remedy fresh every time and be patient - give it some time to show positive results! What is natural is safe and sure and won't make you feel sorry at all. Happy cooking and happy faces!
W FOR WHEAT BRAN

Ideal for scrubbing the body. When used with other ingredients, it helps soften and nourish the skin.

Body scrub
Ingredients:
- 1 cup wheat bran powder
- 2 tsp. wheat germ oil
- 2 tsp. almond powder
- 2 tsp. oats powder
- 1 tsp. rose powder
- 2 tsp. milk powder
- 1 tsp. sandalwood paste
Method: Mix all ingredients with milk to make a paste.
Use: Use the paste as a scrub. Alternatively, tie the ingredients in a thin cotton cloth and soak the bundle in a bowl of rose water or milk. Rub the bag all over the body squeezing it all the time to extract the milky soft lotion. This bag of goodies is ideal for a child's bath as it does not make them feel messy all over.

Nirmala Shetty
Beauty Therapist and Naturopath
Nirmal Herbal - Skin and Hair Clinics & SPA
022 25241449, 25296899, 26550915, 25704036