The A to Z Health Jigsaw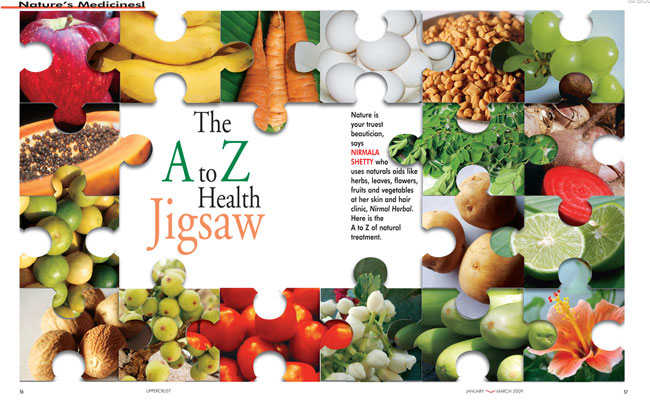 Nature is your truest beautician, says Nirmala Shetty who uses naturals aids like herbs, leaves, flowers, fruits and vegetables at her skin and hair clinic, Nirmal Herbal. Here is the A to Z of natural treatment.
Natural foods are a must for good health. A regular intake of fresh foods ensures great skin and hair. Our ancestors even used food as cosmetic aids. I too believe that what is good for your stomach is good enough for your skin. Here are some home remedies that are as simple to make as your daily cooking. Just remember to make the remedy fresh every time and be patient - give it some time to show positive results! What is natural is safe and sure and won't make you feel sorry at all. Happy cooking and happy faces!
Y FOR YLANG YLANG

The oil extracted from the ylang ylang flower was used by islanders of tropical Asia to cure insect bites and to take care of their skin and hair. Since it has a wonderful, sweet fragrance, it is now used in body massage for its double benefit of aromatherapy and relaxing qualities.

To de-stress:
In a bucket of tepid water, add 5 drops of ylang ylang oil and bathe with it after cleansing. It helps remove stress and brings about a feeling of well-being.

Caution:
This oil should not be used for children below 12 years of age or by those who have breathing problems or asthma.
Nirmala Shetty
Beauty Therapist and Naturopath
Nirmal Herbal - Skin and Hair Clinics & SPA
022 25241449, 25296899, 26550915, 25704036