Happy And Healthy...
The Batra Way Of Life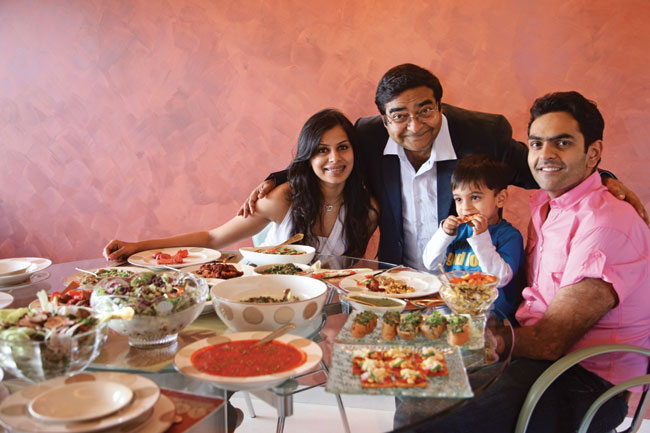 A conscious life-style changing decision taken just two years ago transformed their lives, says Sonakshi Khaitan, of the First Family of Homeopaths. Today the cook has to make do with just one litre of oil,each month, no more!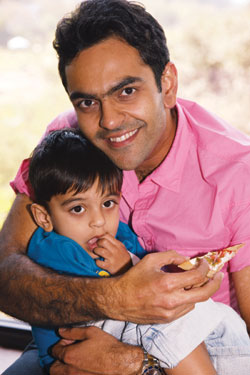 It's hard to imagine that till just a few years ago our gracious hosts were struggling with obesity. Sitting tall and muscular, Akshay Batra shows absolutely no sign that he once weighed 117 kilos. His pretty wife Ushma, looking incredibly toned is taking care of their adorable son Hriman while Dr. Mukesh Batra, the renowned homeopath, looking pretty fit himself is sitting at the dining table of his son Akshay's posh Cuffe Parade residence, looking fondly at his brood. A flurry of old family pictures later, I gasp in mild shock as I survey a holiday picture of Akshay and Ushma taken a few years ago. Only when Hriman kindly points out, "Fat Papa" do I truly understand the extent to which this couple has changed their lifestyle to become fitter and healthier in a span of a couple of years. What brought on the drastic change I ask to no one in particular. "Well, it all started when we were holidaying in New Zealand," says Akshay. "Ushma is particularly fond of extreme sports, and she somehow convinced me to go skydiving with her. I have a morbid fear of heights and I spent an entire sleepless night preparing myself. The next morning when we went to the centre, the manager told me that I had to be below 110 kilos to be able to skydive. Confident that I weighed 100 kilos, I stepped on the scale only to see a daunting 117 kilos. I was not allowed to skydive. It was then that I decided that I would lose weight and come back next year to do it." What followed was an extremely focused approach to weight loss, a one and a half hour workout daily with a strict diet. They did not eat out for 8 months after this routine started. During this period Akshay lost 28 kilos and Ushma lost around 9 kilos. And yes, they did go back and skydive! Once this strict regime was implemented even Dr. Batra stopped going out for the six meals a week he used to. The Batras eliminated all forms of cream, butter, ghee, rice, sweets and fried foods from their daily diets. They ate the right kind of food, reduced their portions and ate only when they felt hungry.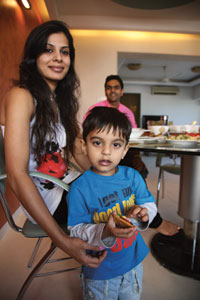 The food laid out in front of us in a colourful assortment of ethnic and continental dishes. Ushma assures me that everything is cooked with minimum oil. "In fact I just give the cook one litre of oil a month so that he is forced to use it sparingly. He is not allowed to buy more oil than I give him, and if it gets over before the month ends he has to cook the food in water." What a brilliant idea, I think. I enquire where the recipes are from. Ushma is quick to say that it is an amalgam of her own and her cooks'. She also uses Tarla Dalal and Nita Mehta's cookbooks extensively for soups, salads and starter recipes. She adapts each recipe to her requirement and explains it to her cook and voila! A healthy tasty dish is ready to be consumed by the food loving family. As I sink my teeth into the whole wheat garlic and spinach bread, Ushma serves me some delicious corn and basil salad, Sindhi curry and a yogurt based baby potato dish. A refreshing summer salad of lettuce, apples and peppers in a yogurt based dressing later, I am deeply impressed at how scrumptious food can taste with minimum oil. Without the generous coating of ghee or oil that is generally added in home food, the flavours of the herbs and vegetables are so much more pronounced.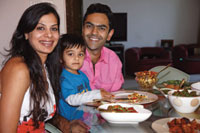 Lunch is a delightful affair with the Batras as they help themselves to generous amounts of food and the brightly lit dining room is abundant with laughter and conversation. Is lunch always such a family affair, I ask Dr. Batra. "Yes," he replies, "every day at office, the dabba comes in from both the houses and we make it a point to eat it together. We all eat each others food and it's almost like a picnic! Dinner however, I eat at my own home and the kids eat at their own." And what do you generally eat for meals I press on, "Lunch for me is pretty light. However, dinner is the main meal and I have soup, salad and three chapattis. I try and avoid rice as much as I can. Akshay and Ushma however don't eat any carbohydrates for dinner and generally stick to soup, salad and a protein dish like chicken or paneer." It is interesting to note that a few years ago Dr. Batra gave up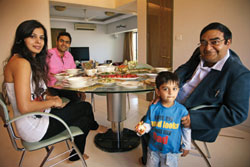 meat and became a strict vegetarian, and a year ago became a vegan. "Being a vegetarian has changed my life. I have lost weight without trying and I feel so light and energetic because of the lack of meat. Even becoming vegan has had a tremendous positive impact. We never realize the amounts of hormones that are present in the milk that we consume, and inevitably it begins affecting our health. If you are able to get good, unadulterated milk, it will increase your life span by 5 years," says Dr. Batra confidently. Is there a particular diet that patients of homeopathy must follow? "Not at all. No individual has the same body structure or stomach as another person. Hence a particular food item may suit one individual but may not suit another. In homeopathy, we just advise patients to eat only what suits them, and stress on eating wholesome natural food."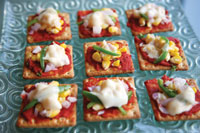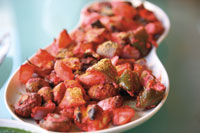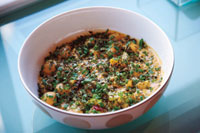 After lunch we continue sitting on the dining table with some salty chaas (read: no dessert) while Hriman is the only one happily eating his kaju katli. Akshay, seeing me eye his son's dessert, graciously asks if I would like some blueberry cheesecake from Moshe's next door. It takes a good amount of will power to decline and I distract myself by gulping down the chaas and asking them about their travels. New Zealand tops the list because of the plethora of extreme sports like sky diving, bungee jumping, shark cage diving and skiing that the Batras have been brave enough to try. Italy is next with beautiful places like Venice and Capri leaving a lasting impression on them. Greece is also another place they have visited and fallen in love with. "The nutella crepes that we ate in Santorini were divine. But we only had two in the ten days that we were there for," says Akshay wistfully. Wow, that does take some will power! I remark that Ushma is a wonderful hostess and wonder out aloud if they have many dinner parties at home. Akshay is quick to respond that they entertain at home very rarely. Only their closest friends drop in sometimes for dinner, but they prefer entertaining on their yatch whenever they have to. In fact spending time on the yatch and going for weekend jaunts to Amby Valley keeps this family sane inspite of their extremely hectic work schedules. No holiday of theirs exceeds ten days but they do make it a point to get out of the city for weekends as often as possible. However when they are in the city, the Batras do take pleasure in eating out at one of their preferred restaurants. India Jones is a unanimous favourite because of availability of a low carb menu and no buttery teppanyaki dishes. The dim sum menus at Royal China and Vong Wong are also highly patronized by the them. However, Dr. Batra's secret indulgence remains to be the continental food (despite its cheese overload) at the Chambers in Delhi, and he highly recommends it to anyone who can go there.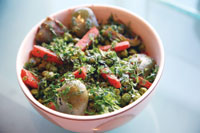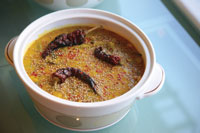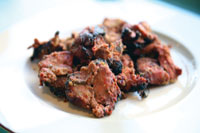 An appropriate way to sum up the Batras' life in one word would be to call it balanced. From their healthy meals to their regular one hour workouts, from socializing with friends on weekends to spending a lot of time together as family, from travelling all around the world to appreciating the nuances of living in Mumbai, this family has done it all. Making a life changing albeit difficult choice between continuing a glutinous lifestyle or leading a strict balanced life has made all the difference. With their business having grown to 55 clinics in India and Oman, and many new products in the offering the future only looks brighter for the Batras!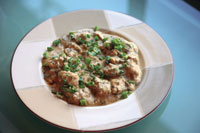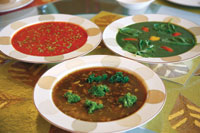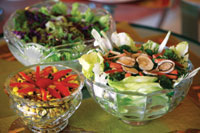 CORN AND BASIL SALAD
Ingredients:
- 200 gm sweet corn
- 4 onions medium size
- 1 tomato
- 5 pods of garlic,
- 5 basil leaves
- 1 pinch jeera,
- 1 tsp oil,
salt to taste

Method
Boil the sweet corn with salt, take out the water from it. Cut the onions, garlic & vagil patta into small pieces. Heat the oil in a pan add jeera, chopped onions & garlic for a saute, add basil leaves & the boiled corn. Garnish with toamto slices and the salad is ready.
---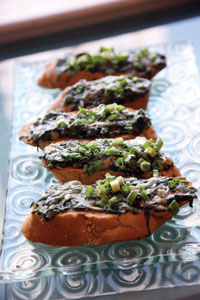 ICE BERG SALAD
- 1 apple medium size
- 1 cucumber
- 1 tomato medium size
- 3 tbsp yogurt,
- 250 gm iceberg lettuce
- 1 tbsp Thousand Island (ready made sauce)

Method
Cut the apple, cucumber, tomato, iceberg lettuce into small pieces and mix it into hung yogurt and Thousand Island and the Ice Berg Salad is ready.
---
CHINESE SALAD
Ingredients:
- 200 gm broccoli
- 100 gm baby corn
- 50 gm beans,
- 100 gm Snoky
- 3 pods of garlic
- 1/2 tsp oregano
- 1 onion medium size
- 1 pinch ajinomoto
- salt to taste
- 1/2 tsp olive oil

Method
Cut the broccoli, baby corn, beans and Snoky into small pieces and boiled the same with salt. Strain and keep it aside to cool. Cut the garlic into small pieces and make a paste. Cut the onion in to long slices. Heat olive oil in a pan, add chopped onion, oregano and ajinomoto and put all ingredients which are cut it into small pieces in a pan and the Chinese salad is ready.