Coming together is the beginning, keeping it together is progress and working together is success." These immortal words by Henry Ford hit the nail on the head when they serve as a description for the one voyage that is endless for UpperCrust. A journey over 13 years; celebrating 50 issues of beautiful content – people, places, food and drink, love and laughter – treasured experiences brought to life in the UpperCrust Golden Issue.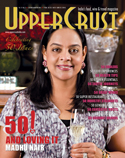 When we say, 'working together', literally, we speak of the entire team behind the magazine. Our contributors an integral part; for such engaging reads that made the 50th issue a 'bestseller'. As you turn the pages, let Stanley Pinto take you on a culinary journey that will leave you salivating with 50 Good Food Experiences. If you're the 'less dine, more wine' kind, then Subhash Arora's 50 Wines That Shine will leave you refreshed. Our piece de resistance is a combination of the country's Super Restaurants; 50 chosen-best from Bombay, Delhi, Bangalore, Poona, Chennai, Goa, Ahmedabad, Jaipur, Kashmir, Calicut/Tellicherry, Hyderabad; brought to you by Javed Gaya, Marryam Reshii, Monika Trivedi, Priya Bala and Farzana Contractor.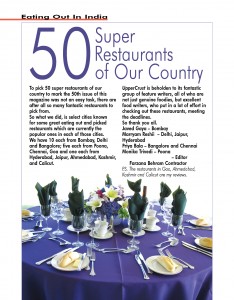 So many glorious years in the industry has brought us in acquaintance with tons of influential people, who are now the best of friends. Hence, choosing 50 Industry Stalwarts was tough! There is a traveller in each of us, but one as seasoned and intrepid as Meher Moos, we are yet to meet. Her 50 Journeys Around The World are as vivid as can be. Life is a priceless gift; Naini Setalvad offers 50 of the top health tips to ensure that you look after it as best you can. Your kitchen is your home within, and Chef Soundararajan suggests 50 Kitchen Necessities that you simply cannot do without. The lingering summer is not giving up without a fight. So, the best  option to cool off is presented in 50 cooling foods by Sonal Ved – salads, soups, drinks – they taste even better than they look!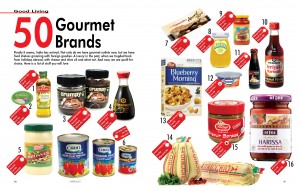 A challenge to bring to you, readers, was 'just 50' of this and that. But we did it. So you have 50 of the greatest home cooks and hosts, 50 Fit-n-Fine individuals and 50 who just live for all things food , 50 of the most popular party givers on our Best Guest List, 50 must-try gourmet brand products that certainly make for Good Living, 50 versatile, scrumptious Egg Preps, and food for thought served up with 50 delightful quotes. Busybee Foodspeak speaks for itself; obviously 50 doesn't do justice to the myriad of gastronomic experiences penned down by the writer in his usual laconic style.
So, as we turned 50 issues, we knew that a powerful figure in the hotel industry had just  hit the milestone too. Fate brought UpperCrust to feature Leela Lady, Madhu Nair as the cover girl, who was anything but reserved at turning the big 5 -0, even throwing a lavish party to celebrate.
Friends and loyal fans toast to 50 more. All we can say is, thank you for the support and well wishes from everyone; readers, as long as you give us the fuel, we'll keep the fire lit.
Comments