ROUND AND ABOUT WITH BUSYBEE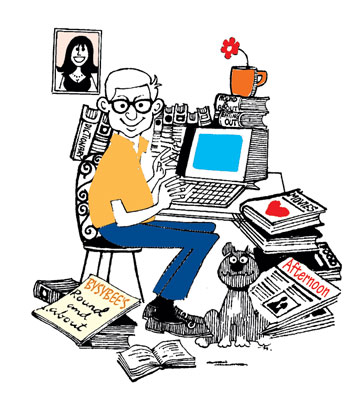 I thought I had done with masters when I left school. I had not. I have recently acquired a yoga master. He comes riding a scooter from Mahim and takes my lessons every morning.
The yoga master has a name, but I shall not reveal it here. I do not know how private a person he is and may not like to be generally identified. He is an elderly gentleman, retired, been doing yoga for the last 50 years and obtained a certificate in teaching it some 20 years back. He is tall, lean, no fat on him that I can discern, the body flexible like that of a sportsman half his age, he is a living example of the benefits of yoga.
Most gurus who offer health and fitness, I find do not look very healthy themselves. And the same with godmen and spiritual leaders, they may be making money teaching peace and meditation, but they themselves look hassled, and some of the more modern and more successful teachers of mind-over-matter, etc., are even bad tempered.
So my yoga master is an exception. He also does not look spiritual or yogic, he wears a shirt and trouser, shoes, and looks a retired gentleman. He is also at peace with himself. At the end of the first lesson, I asked him how much I should pay him. Pay whatever you like, he told me, putting me in a bit of a quandary.
Yoga, I have learnt from him in these last two weeks, is a matter of proper breathing and relaxing, so the first thing he does is puts me through a relaxation procedure. I lie on the bed. I do not lie on the floor, as it is standard practice in yoga, because I have never done so in my life and would find it difficult to do so now. And I have not slept on the floor not because I am an aristocrat or rich, but because I have always had a bed.
I lie comfortably, palms slightly open, legs slightly spread, shoulders unflexed, a soft pillow under my head. And he starts his auto-suggestions, telling me how dead one by one each of my limbs is becoming. There is no subtle guile in his voice, the accent is South Indian, the language pedantic, some of the words are mispronounced. My mind is checking on all this, and yet in under five minutes I have drifted away. And this has happened every time so far. It is only momentary, the passage of a few minutes, perhaps, but it is there. And I get up as if from a deep sleep.
The rest of the session is devoted to lying on the back, again in the bed, though minus the pillow, and moving the hands in order to expand the chest and squeeze in some extra air. Finally, I sit on the bed and breathe through alternate nostrils as he keeps a count.
Lesson over. Thank you, sir.

- Busybee
April 25, 2000.
www.busybeeforever.com
This column first appeared in the Afternoon Despatch & Courier, the newspaper founded by Farzana and Behram Contractor in 1985.