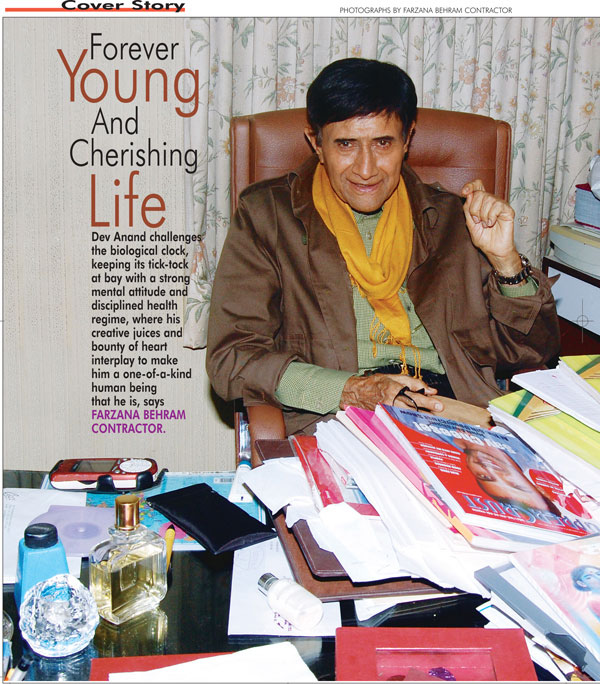 Dev Anand's exuberance for life is so infectious. Talking to him, listening to him, has the effect of popping a whole bottle of multi-vitamin pills in one go. He speaks fast, his words barely managing to keep up with his flying thoughts, expressing with his hands, his eyes, his body, his heart. He is intelligent, sensitive, creative and caring. A man with a beautiful mind and a pure soul, unfettered by any kind of negativity.

I have known Dev Saab, close to 25 years. And pretty well. Have been part of important occasions in his life as he has of mine. It was only natural to have him - an epitome of body, mind and soul, the theme for this special issue of ours, as our cover boy. But then cover material he has always been and a boy he always will be.
His spirit is indefatigable. He is so alive, so with it. Working hard, driving himself, letting his passion flow. Film making is his life line. Motion pictures his breath. He is what he is and how he is only because of the movies.

"There is no two ways about it," says Dev. "Acting, directing has made me what I am. I don't care for anything in my conscious state except films. Of course there are other aspects, layers and layers of them, but this is my world. And I take this world with me wherever I go. My unit of 100 people is my family. They are the people who form an important part of my life. I live to make films. I am bubbling when I am on location, I am joyous when I am in the editing room, seeing how I can change something, wondering how I can improve something. When my mind is ticking, when creativity grips me, that's my source of real happiness. When I complete a film, put it there for the world to feed on, that is what makes me feel youthful."

And when the world gives its verdict… "Oh I accept it. Good with the bad. One must have a heart of steel, not get bogged down by reactions. There are many kinds of individuals, prejudiced, selfish, illiterate, arrogant, egoistical, all are entitled to their views. Then again there are the gracious ones. Ones who can accept that someone else can do a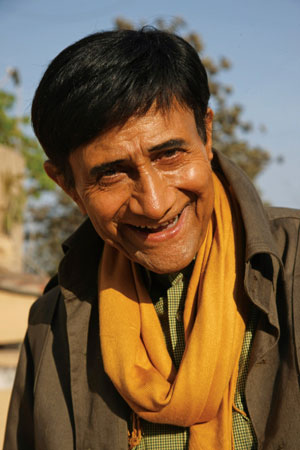 better job. Who show appreciation. At my age it doesn't matter. My soul is relaxed enough!"

"And how do you define soul?" I ask him quietly, not wanting to interrupt his flow of super fast thoughts. "Soul is unending, it's eternal. It's a being inside you that pushes you, if it doesn't, you are soul-less. You've been to Badrinath in the Himalayas, something pushed you there. You went through good experiences, did you not? Your soul expanded. You were elated. I've been to mountains 14,000 feet high, 21,000 feet high. One night, glistening in the moonlight, I saw four famous snowcapped peaks from my hotel window in Nepal, it was a 'soul moment'. My soul reacted, mountains are clean, they are pure, like our souls. When you tell someone 'don't hurt me' what you are saying is 'don't wound my soul'. Sometimes there are thoughts you wake up to which were not there the previous night, where have they come from? The unknown – it's the soul talking. Or when you talk to God, or of God, have you seen Him? No, but you pray. It's when you look into yourself, when you are calm. That is God, that is soul, the peace of mind. If you explore the world and imbibe the best it has to offer and you give the world the best of you, you find yourself telling God, please give me a longer life, that is spirituality." Dev smiles dashingly and nods away in his typical fashion and I find myself agreeing with him. It's how we are with ourselves in our heart and mind in relation to the world, that gives rise to the soul within.

As we sat and chatted away I learnt that Dev Anand is not fanatical about his religious pursuits. Rituals are not for him. And while he is understanding of peoples need to go to temples and churches and mosques and respects all religions, he prefers to be secular. There is some power that makes the world what it is, he says and is fascinated by that mysterious power which must be God, he thinks. Also through work we create an orbit within ourselves, an orbit of sunshine, which again could be God, he adds.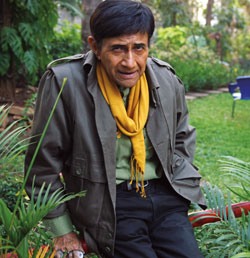 But what of the fact that the action packed, quick changing world is losing much of its old sheen. Attitudes are changing. The moral fabric is getting eroded, materialism seems to be driving everyone insane... Greedy, that's what the whole world is becoming. Humanity is reduced to envy and jealousy, unfortunately. Competition is fine. It should be there. Healthy competition helps everyone. But not the kicking, hitting below the belt kind. Not the cut-throat kind. But I guess that can't be helped. It's the globalization effect. Living in today's material world creates huge desires. Everybody wants more of everything and faster. There are many more people in the world today. There is a mad rush. Nobody is stopping to analyse anything, particularly their own selves. Is this in my power? Do I have the ability to achieve this? Is this not beyond me? No, nobody is analysing. You have to see what you have in you. Everyone can't become a star, you have to have what it takes!"

When I asked him if he had any regrets in life, he looked nonplussed. "I've never thought about it. Never had the time. I've been so busy, right since 1945! It's been a long career. 36 motion pictures. So many people have come and gone through my life. I feel a tremendous sense of pride in what I have done so far, mind you that's not ego I am talking about. And I am not at the end of the road. The film I am making right now, Charge Sheet, a suspense thriller, is 80% complete with just two or three months of work left and there are already three or four movies going on in my mind. The life you lead, whether you have regrets or not depends upon you. If you sit in a corner and irritate yourself, curse the world, do nothing, then you are finished, you become a vegetable."

When I wondered aloud about his constant state of mind, prompt came the answer, "Optimism. I always think in terms of bright colours, fragrant flowers, of a good paragraph being written, of a beautiful woman somewhere. I read the papers, I am fully aware of the changing world, I want to know what's going on, I am abreast of all that is happening. I am blessed with a ray of optimism. My ambition is galloping like a horse I can't rein, like the Ganga flowing torrentially after it comes out gurgling down from Gangotri. I read about people I don't know and enjoy meeting new ones. Every time you meet someone you learn something, you gain."

Which made me inquire who his friends were, whether he met with old friends at all? "You'll probably call me a freak. I am not a social bird, I rarely go for parties. I don't feel lonely and I don't feel the need to surround myself with people in the evenings. I don't drink. There is so much else to do in life. All I want to do is keep reminding people of my existence by continuing to make films. I like them to think after 62 years, what is he going to do now!" he laughs and adds, "But yes, I am truly glad about the goodwill I enjoy, the love and support the film industry shows me, that is wonderful."

Dev Anand works physically for at least 10 hours a day. He is the first to arrive at the studio. The captain of the ship ought to, he says. He gives his total involvement to a project on hand. Even right now he is looking at new locations. Like Australia (I recommended New Zealand), where he has never been. But he will not go overseas just to shoot a song and slip it in, that's not his style. There has to be a reason for the place to be in the film, an intrinsic reason. But that doesn't mean he will run down others who go to exotic locales and blow crores of rupees - although he knows what a good film is all about. When he wants to get away, to think anew, he goes to Mahableshwar, the charming hill station near Poona and stays at the Frederic Hotel where he has all along, since the last 60 years. And which serves a great breakfast.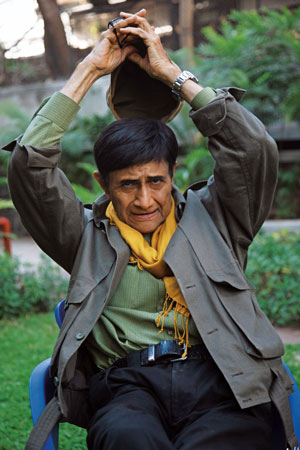 Which got us to the subject of food, finally! "Food is good for you. You need it. But eat when you are hungry. Overeating is dangerous, in fact, starving sometimes is healthy. I have always paid attention to what I ate. I am a vegetarian who can eat chicken. When it is dry like in a tandoori, not in gravy. Overall I am a poor eater. I eat only when I am hungry. Breakfast is five soaked and peeled almonds, some cereals, occasionally egg white. They say the egg yolk is not good…some coffee. Lunch is very light, a sandwich, a light fruit. But by night, I am hungry. I jump 'into' the dining table! Chappatis, well cooked vegetables, Punjabi style. Sometimes I eat Chinese. But papaya is a must."

"No, I don't drink anymore. There was a time when I used to drink a lot of beer. And only once I got very drunk. On vodka, in the Soviet Union, which is not there any more. Though I have to say, wine was a good way of toasting to friends and friendship. Ah, those were the days!"

I have to say it appears Dev Anand doesn't seem like he suffers from any angst. No stress of any kind. Like he says, he doesn't stay with his frailties. He is lucky about his temperament, which he feels is God's gift to him. He faces and fights his challenges squarely and emerges a better human being, he declares. As for being the 'evergreen hero' – he hasn't drunk from any fountain of youth. The fountain is inside you, the elixir is work, that is what gives you your identity, your raison d'etre.

True. And more so in the case of Mr. Dev Anand. It was obvious during our entire meeting, for somehow Dev Saab always veered the conversations back to films and work, whether I would speak of food, health, body, mind or soul. Just goes to prove that for Dev Saab work is God and God is love and therefore work is the culmination of his spirit and soul. And constantly working is what keeps him going, fit as ever even at 86, body, mind and soul intact, the free spirit happily flying around like a free bird.
As he sees me off he goes, "No regrets, Farzana, I have absolutely no regrets!
Dev Anand With A Few Of His Leading Ladies & Friends From The Film World
Some of his memorable films:     
Hum Ek Hain, Aage Badho, Ziddi, Vidya, Hum Bhi Insaan Hain,  Udhaar, Shayar, Madhubala, Khel, Hindustan Hamara, Dilruba, Birha Ki Raat, Afsar, Stage,  Sazaa, Sanam, Do Sitare, Baazi, Aaram, Jaal, Aandhiyan, Rahi,  Patita,  Humsafar,  Armaan, Taxi Driver, Baadbaan, Munimji, Milap,  Insaniyat,  House No. 44,  Faraar, Pocket Maar, Funtoosh, C.I.D., Paying Guest, Nau Do Gyarah, Dushman,  Baarish,  Solva Saal,  Kalapani, Amar Deep, Love Marriage, Sarhad Manzil, Kala Bazar, Jaali Note, Bombai Ka Babu, Roop Ki Rani Choron Ka Raja, Maya, Jab Pyar Kisise Hota Hai, Hum Dono, Baat Ek Raat Ki, Asli-Naqli, Tere Ghar Ke Samne,  Sharabi, Teen Devian, Guide,  Jewel Thief, Mahal, The Evil Within, Prem Pujari, Johny Mera Naam, Gambler, Tere Mere Sapne, Haré Raama Haré Krishna, Yeh Gulistan Hamara, Shareef Budmaash, Heera Panna, Banarasi Babu, Chhupa Rustam, Joshila, Prem Shastra, Ishq Ishq Ishq, Amir Garib, Warrant, Jaanemann,  Saheb Bahadur, Kalabaaz,  Des Pardes, Man Pasand, Swami Dada  


And the ones he directed and acted in:
Prem Pujari, Hare Rama Hare Krishna, Heera Panna, Ishq Ishq Ishq,
Des Pardes, Lootmaar, Swami Dada, Anand Aur Anand, Hum Naujawan,
Sachché Ka Bol-Bala, Awwal Number, Sau Crore, Pyaar Ka Tarana, Gangster,
Main Solah Baras Ki, Censor, Love at Times Square, Mr. Prime Minister,
Charge sheet.