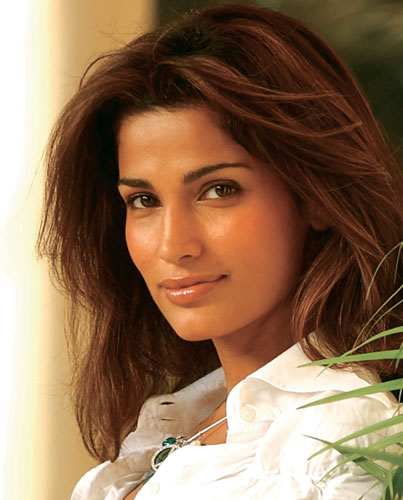 KAMAL SIDHU
You look stunning, do you eat?!!
Yes, stunning food!
How do you start your day?
With the great breakfast parade. Chai, whole grain toast or croissant, egg white omelette with fresh herbs and green chillies, fruit or juice, then some green tea. On alternative days its hot or cold cereals, pancakes with stewed fruit with real maple syrup or fruit salad with yogurt and honey.
You're a Punjabi, do you indulge in that rich fare, tandoori chicken, garlic naans?
My mantra is moderation, so it includes your menu above. And if we are talking rich food here, we better throw in butter chicken while we are at it!
Can Punjabi food be healthy?
Sure, tandoori is. Anything can be made light if you are making it at home and know what's going in the pan. Less oil is a good start.
Do you believe in healthy eating? Quantum physically speaking, all food is or isn't healthy depending on what we believe it to be. The affect we think it has on our body (the placebo) and whether you get greedy about it.
What about favourite restaurants?
There are a handful. Wasabi because they know about fresh sashimi and actually allow us the indulgence to try the succulence that foie gras and oysters provide when served together! Trishna, for every dish on the menu and Zodiac Grill, sublime in every way.
And abroad?
Le Beaulieu at the Metropole in Vietnam. Light cooking, fresh ingredients, a refined delicateness that I adore.
Would you eat anything? Anything? I won't go that far. Adventurous I am, but I shall leave leeches and cockroaches to the experts who have acquired a taste for 'anything'.
You do cook?
Yes, learned it from my mum. One way of not getting too homesick is to recreate her recipes the best I can. I have tweaked it into my version with things I pick up from living around the world. I cook for my palate.
How do you entertain at home?
Since I have a large terrace there is nothing like a barbeque for grilled food. Best at sunset witnessing the stars come out...
And to drink? Great wine, red especially is the favoured drink of the gods, mine too.
Finally, you feel one has to deprive one's palate to be healthy? As my mother-in-law said, with her fingers clawing the meat out of a butter, garlic crab, "Do whatever your body, heart and mind tells you, whether you are feeling hungry, thirsty or sexy!"