Honey The Nectar of Life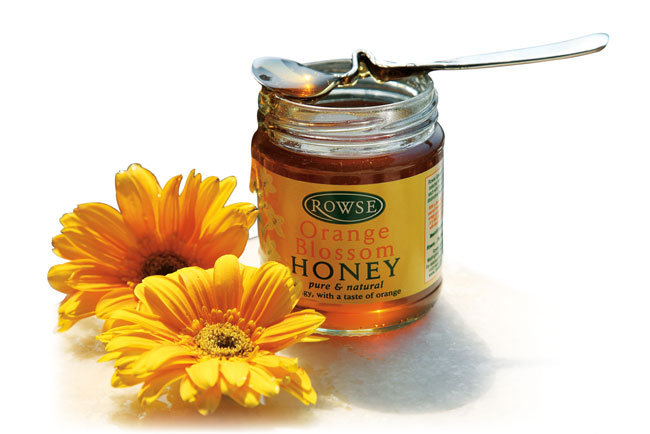 Honey has a low calorie level and when compared with the same amount of sugar, it gives 40% less calories to the body. It gives energy, does not add weight and its health benefits are many, says Shahina Kara.
Honey is frequently mentioned in the Bible. Solomon in his Proverbs (24:13) advises: "My son, eat thou honey, for it is good." The Jews advocated honey as a producer of wit and intellect; it was supposed to make one 'mentally keen'. The Koran, the Code of Islam, recommended honey as a wholesome food and excellent medicine. In the XVIth Chapter of the Koran, entitled The Bee, we find: "There proceedeth from their bellies a liquor of various colour, wherein is medicine for men." The 'various colour' refers to the diversified colours of honey. Mohammed, The Prophet, pronounced: "Honey is a remedy for all diseases."
Honey has been used since ancient times both as a food and as a medicine. Apiculture, the practice of beekeeping to produce honey, dates back to at least 700 BC. For many centuries, honey was regarded as sacred due to its wonderfully sweet properties as well as its rarity. It was used mainly in religious ceremonies to pay tribute to the gods, as well as to embalm the deceased. Honey was also used for a variety of medicinal and cosmetic purposes. For a long time in history, its use in cooking was reserved only for the wealthy since it was so expensive that only they could afford it.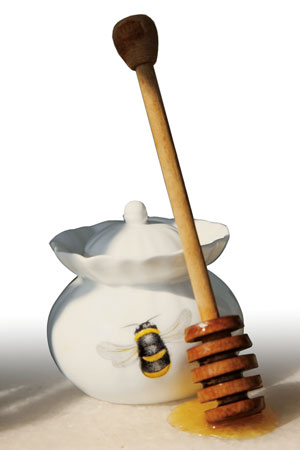 The fascinating process of making honey begins when the bees feast on flowers, collecting the flower nectar in their mouths. This nectar then mixes with special enzymes in the bees' saliva, an alchemical process that turns it into honey. The bees carry the honey back to the hive where they deposit it into the cells of the hive's walls. The fluttering of their wings provides the necessary ventilation to reduce the moisture's content making it ready for consumption.
Honey comes in a range of colours including white, amber, red, brown and almost black. Its flavour and texture vary with the type of flower nectar from which it was made. Researchers say darker honey has less water and more antioxidants than light-coloured honey. And therefore has more illness - fighting agents.
Honey is composed of sugars like glucose and fructose and minerals like magnesium, potassium, calcium, sodium chlorine, sulphur, iron and phosphate. It contains vitamins B1, B2, C, B6, B5 and B3 all of which vary according to the qualities of the nectar and pollen. Besides the above, copper, iodine, and zinc exist in it in small quantities. Several kinds of hormones are also in it. So this is one food that is packed with goodness.
It's best to buy locally grown organic raw honey whenever one can. Locally grown, because it's produced by bees which are from the environment in which one lives. To consume locally grown foods is a sensible approach because they contain the immune stimulating properties needed for our body to adapt to its environment. Fresh raw honey will also be tastier, and more potent.
For a quick source of energy and to reap the benefits of honey's healthful properties, make honey a part of your daily diet.
Benefits of Honey
Easily digested: Because sugar molecules in honey can convert into other sugars (e.g. fructose to glucose), honey is easily digested by the most sensitive stomachs, despite its high acid content. It helps kidneys and intestines to function better.
Good source of antioxidants: It plays a big role in the prevention of cancer as well as heart disease.
Has a low calorie level: Another quality of honey is that, when it is compared with the same amount of sugar, it gives 40% less calories to the body. Although it gives great energy to the body, it does not add weight.
Rapidly diffuses through the blood: When accompanied by mild warm water, honey diffuses into the bloodstream in seven minutes. Its free sugar molecules make the brain function better since the brain is the largest consumer of sugar, thus, reduces fatigue.
Supports blood formation: Honey provides an important part of the energy needed by the body for blood formation. In addition, it helps in cleansing the blood. It has some positive effects in regulating and facilitating blood circulation. It also functions as a protection against capillary problems and arteriosclerosis. Does not accommodate bacteria: This bactericide (bacteria-killing) property of honey is named "the inhibition effect". Experiments conducted on honey show that its bactericide properties increase twofold when diluted with water. It is very interesting to note that newly born bees in the colony are nourished with diluted honey by the bees responsible for their supervision - as if they know this feature of the honey.
Honey is a great aid in relieving morning sickness, reportedly even more effective than traditional soda crackers. It's also good for sore throats including laryngitis and pharyngitis.
Practical Applications of Honey
• Honey mixed with cinnamon can help in many areas including relief from bladder infections, arthritis, upset stomach and bad breath. It's even supposed to be able to slow down hair loss.
• Honey can be used as a medication for men with problems of impotency and women with problems related to infertility. Warm raw goat milk and raw honey is believed to increase sperm count considerably.
• A salve made of honey, for diabetic ulcers, has been proven effective when other topical antibiotics are not well tolerated. It can be applied to eczema, canker sores or bleeding gums.
• Honey and apple cider vinegar can be used for many ailments like stomach aches, constipation and even migraines.
• Honey and lemon go to work in the body shifting the extra fat stores, thus making it usable energy for regular body functions. And, honey is cholesterol-free. It reportedly can even help to keep cholesterol levels in check.
• Honey has a viscous texture due to its low water content. It also establishes a poor environment for bad bacteria to grow, and is a good natural preservative.
A WORD OF CAUTION
Honey contains a natural presence of botulinum endospores, therefore, children under one year old should not be given honey. Before the age of twelve months, a child's intestinal track is not mature enough to inhibit the growth of Clostridium botulinum, which is often found in honey. No honey, in any form, should be given to babies younger than one.