UpperCrust International Holistic Getaway
Reaching The Heavens Via The Kingdom of Lan Na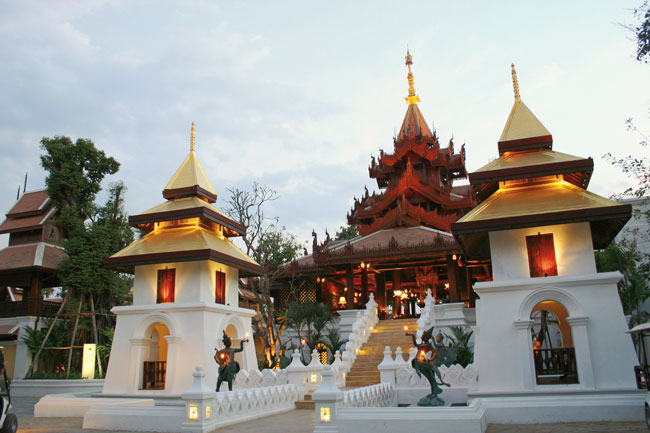 It's got everything and more, says Farzana Behram Contractor. I recommend Dhara Dhevi, Mandarin Oriental's dream resort to anyone who truly loves elegant living, has a heart brimming with romance and wants to indulge and be pampered...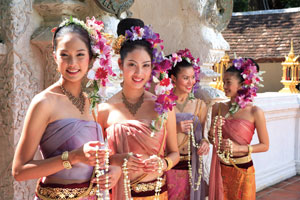 I can't think of too many places in the world that offer as much to guests as Mandarin Oriental Dhara Dhevi. The beauty of this resort is staggering, and the way it brings together luxury, heritage and well-being is unique. And it's a hideaway, alright. One of those places that gain its reputation through hushed whispers of the rich and the famous, the discerning, the classy. As for me, I merely stumbled upon it in my quest to search for body, mind and soul havens. And was I glad?
So what can you say about a place that is spread over 60 acres of lush land, with villas set amid landscaped gardens, where you can enjoy, in sublime privacy, the regenerative power of soothing landscaped pastoral scenery and intense history of an era bygone?
Every aspect of this resort has been looked into with microscopic detail. To begin with, the architecture is replicated from the Lanna Kingdom that influenced the region for 300 years from the end of the 13th century. And not just the architecture but the cultural influences also, that have been incorporated. So, just like in authentic Thai palaces, the resort ground contains paddy fields, lakes and Lanna inspired houses, the spires rising into the sky.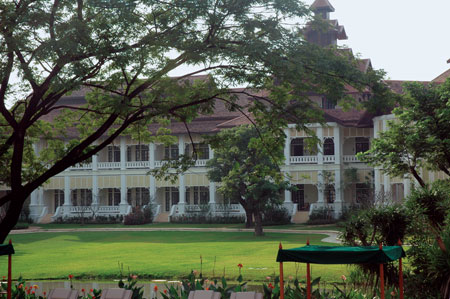 The North of Thailand has had a remarkable influence on many aspects of Thai culture, and in some ways thanks to its isolation and reluctance to change, has retained some of the kingdom's most historic sites. Kingdom of Lan Na' means Land of a Million Rice Fields'. And Dhara Dhevi comes from Sanskrit and means Star Goddess. Which indeed the resort epitomizes; here you are swayed by romance, mystic and subtle beauty everywhere you look. It's an intriguing mix.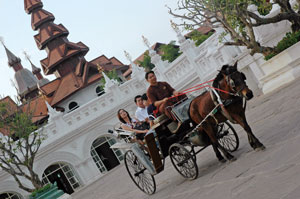 Perhaps that has to do with the fact that there was no master plan incorporated when the resort was being built. "It was more like one big jigsaw puzzle, like the city of Chiang Mai, we built it up over a long time, a natural growth process," says Rachen Intawong, the conceptual designer of Dhara Dhevi, better known as just Tam. So driven by passion was this man that he immersed himself in Lanna history and art, reading widely and spending his free time visiting the regions villages and researching lost rural architectural styles. I was told in many ways the Mandarin Oriental Dhara Dhevi is the outcome of his passions. Good for him!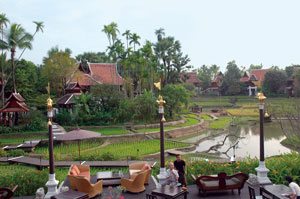 There are 123 luxurious villas and pavilions, colonial suites, and theme suites locally handcrafted, featuring extensive museum-quality artifacts and antiques. The villas open onto spacious al fresco terraces, some which have plunge or even private swimming pools. Exquisitely designed interiors and seamless technology all contribute to an overall atmosphere of luxury and serenity.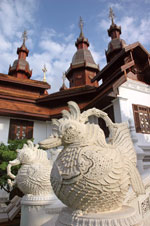 The resort is so spread out that to find your bearings you have to actually move around with the extensive map of the resort in your handbag. It's a charming, colourful map and points out 35 destinations. Here are a few to give you an idea: Bua Kham (Lotus) Pond, Jum Shri Hall Library, Suwanna Satharn (Prayer Hall), Muang Lue Hall (Yoga Pavilion), Colonial Pool, Colonial Bar, Rice Terrace, Fujian (Chinese Restaurant), Jum Thong Hall (Grand Ballroom), Oriental Culinary Academy, Horn Bar, Amphitheatre, Brahmin Shrine, Dheva Spa and Aryuvedic Centre, Kad Dhara (The Shopping Village), Le Grand Lanna (Thai Restaurant), North Rice Field, Farang Ses (French Restaurant), Fitness Centre, South Rice Field, The Farmer's Museum, Kids Club, Tennis Courts, Akaligo (All Day Dining), The Crafts Village... and it goes on.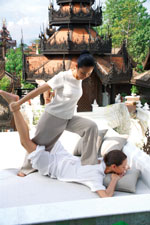 It does help to know before hand what is situated where for one to gain optimum value from a place. So here is a little guide. All the Colonial Suites are located in the north west area of the resort with tropical garden views in close proximity to the main hotel swimming pool, main lobby and all-day dining area. The suites are in the beautiful colonial style two storey building. The best part about these suites is that each of them has a large verandah and the ceilings are five metres high, enhancing the sense of open space and palatial living.
In the Theme Suites I was particularly impressed with the Spa Penthouse Suite. It's the stuff dreams are made of. Inspired by the Mandalay Court in Myanmar, this suite all of 3990 square feet, offers its own private spa comprising a spa treatment room and an indoor and outdoor massage area where one can enjoy the spa services in absolute privacy. I can assure you there is nothing quite like an outdoor massage experience. I once had one, right here in India, in Goa, on a hillock, with the white muslin curtains of my spa tent billowing in the wind, the breeze from the Arabian Sea caressing my lavendered' skin. Mmmm... yesterday once more.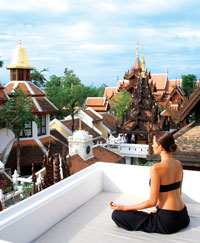 If the above mentioned suite is awesome, wait till you see the Royal Villa, it takes your breath away. A stay here would be an experience of a lifetime. Located in a completely self-contained area, it is a small private retreat', perfect for a family or group of friends seeking exclusivity and privacy. It comprises six bedrooms, three with king beds, really the royal kind! It has the grandeur and opulence of a bygone age, with every modern convenience you can think of. Spacious bathrooms, generous living room, large dining room, a pantry, all connected by a walkway. And then it has three swimming pools and three Jacuzzis - the ultimate in pampering services. It is 6,890 square feet, looks even bigger.
I have chosen to write about this resort in this special edition of UpperCrust which focuses on the three most important aspects of well-being, body, mind and soul, purely because it has all three. So let's now touch upon the two areas that encompass all three: the spa and the various restaurants at the resort. First the spa.
In the secluded grounds of this resort lies a hedonists' haven. Thailand's first world class Destination Spa, unique both in concept and yes, architecture. The Spa and Ayurvedic Centre is a palatial 3100 square metre sanctuary that seemingly floats on carved balusters. The magnificent palace-like teak structure, the colour of dark chocolate, stands in a courtyard overlooked by tall trees where unmistakably the bird sounds one hears belong to doves and bulbuls who are singing away among the jasmine and ginger flowers.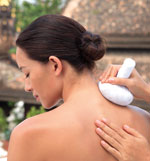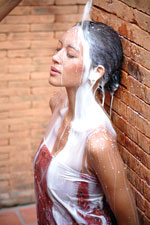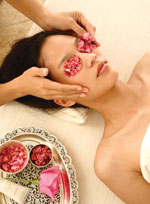 It would be difficult to overlook the intricacy of the wood work which surrounds you. Every inch of the immense structure is embellished with ornate mouldings and sculptures depicting sacred animals or symbolic Buddhist motifs. I was told it took 150 loyal Chiang Mai artisans over three and a half years to complete the work in the spa area, using original Burmese template from Mandalay, Myanmar.
The spectacular exterior is equally matched by the sumptuous interiors. Here, among the spa's tranquil white marble courtyards and dark wood pavilions, one is taken back to a time when ritual and ceremony were part of daily life; a time when spiritual awareness was considered the key to long term physical and mental well-being.
As you arrive, a tiny bell chimes to welcome you in, and the staff, lavishly uniformed, with bowed heads, lead you gracefully with gentle movements into the spa reception, an open sala that stands under the seven tiered teak roof that cascades down from the sky like a filigree coronet, symbolising the seven steps to nirvana, seen in Buddhism as the perfect state of existence.
There are 25 treatment rooms designed for both individuals and couples, a soothing refuge from urban stress and angst. In addition to the popular Thai, Swedish and Indian massage techniques, I found many new treatments available at this Spa. The Tok Sen or Lanna Massage is just one example. Tok Sen involves applying warm herbal oil to the whole body and gently massaging the tissue along pressure points, after which the therapist takes a light gavel made of tamarind wood and taps rhythmically along the muscles. This even, repetitive tapping motion promotes a hypnotic effect on the mind, thus easing muscle tension and promoting relaxation.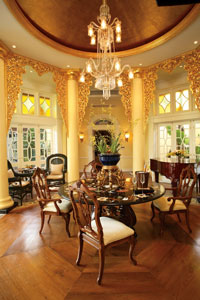 Similarly, The Mandalay Experience, lasting three hours and twenty minutes, is unique to Mandarin Oriental Dhara Dhevi. It uses the Thai Kaffir lime (which is in itself a divine fragrance for a massage as well as an awesome flavouring for cooking), together with the natural Burmese cosmetic thanaka. Traditionally, Burmese women grind small logs of the thanaka tree with water on a flat stone disc, producing an ochre liquid. This is applied while wet to the face and neck as an astringent and sun block or used as a gentle body scrub.
Probably the most unusual is the Rhassoul. It is derived from an ancient Arabic cleansing ritual where you lie in a steam room wrapped in mineral-rich river mud that slowly draws the toxins from within. As the mud dries, the light dims and a gentle herbal mist sprinkles tiny droplets of water from the ceiling. The mist helps keep the rejuvenated skin hydrated while the herbs help boost the respiratory system. The ritual ends as the mud is gently washed away by a warm rain shower.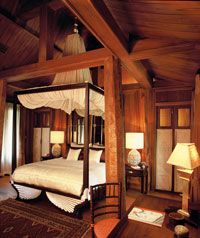 As for good food, I am certainly of the opinion that you ought not to deny yourself the pleasures of fine dining, specially when on a holiday where you are supposed to be looking after yourself. As long as you remember the key-word; moderation.
Mandarin Oriental Dhara Dhevi is very fortunate that it has the facility of using organic ingredients produced locally in the nurseries at the Royal Project in Chiang Rai, very near Chiang Mai. One morning I drove to the Project site and was very impressed. The vegetables and fruits from here are of such a high quality, this factor must naturally help enhance the chefs' output.
There are three fine dine restaurants on the premises: Le Grand Lanna, Fujian and Farang Ses. Thai, Chinese and French. Le Grand Lanna stays hidden behind sweeping roofs and centuries old rain and flame trees. The spicy tom yum soup is yum and so is khao sawy, a combination of fried and boiled noodles soaked in a creamy yellow curry. Fujian is housed in a two storey Sino-Portuguese style mansion. The Hong Kong- born Chef Joey Cheng serves his legendary dim sim each day at lunch in customary bamboo steamers. In the evening the atmosphere of Fujian moves from a bygone era to take on a more upbeat, contemporary mood.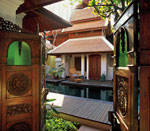 The last mentioned, Farang Ses sits overlooking paddy fields and tall coconut palms. The dishes here exude the aromas of the French countryside but remain light, avoiding rich butter sauces. On the menu; Foie gras, Brittany lobster, turbot and pigeon...as the sun sets and the piano music floats out through the doors onto the terrace, the night takes on a new meaning. A number of outdoor tables afford one of life's most heady dining experiences. Farang Ses has the atmosphere of love and romance. Trust the French.
www.mandarinoriental.com