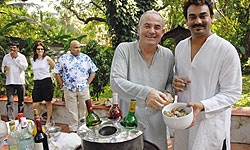 An All Day Brunch
Goa's blue-eyed boy Wendell Rodricks lauds the culinary efforts of his better half, Jerome, when they threw open the doors of their home for the créme de la créme of Goa
Planning a Goan meal without the obligatory Prawn Curry Rice, Amotik, Sorpotel and Vindaloo is best left in the hands of a French person who has imbibed Indian sensibilities over a decade of living in Goa. And when the Frenchman is from Lyon, gastronomic capital of the world, I can have a hassle free siesta in the
comforting thought that all will be taken care of. So when my partner Jerome Marrel decided to invite UpperCrust to a Goan lunch that was Goan only in location, local Goans and local produce, I went about my week of bridal trials, Christmas collection and creating our New Year card with the delicious new model on the circuit, Lisa Hayden.

On that crisp, cool noon I watched as the home was converted from living space to entertainment locale. In the narrow pathway to Casa Donna Maria, the staff set the bar, chilled the wine and set the chairs while I pruned the garden (my favourite Sunday morning hobby). Following at every step of the way was our Great Dane Zanzibar (gifted by Remo, the adorable boxer Napoleon (from the home of Mario and Habiba Miranda) and the little daschund Eva (as in Longoria). Mighty pleased that the peppercorns are rippening perfectly, the mango blossoms about to bloom warmed with fires from burning
fallen leaves in the early morning mist, ensuring that the blooms do not chill, I rearranged three flower beds. About this time three bar-be-que fires were blazing with hot coals.

Three days prior, Jerome was planning, with military precision, the marinades for the meats. Fillets of beef were soaked in cream and French Dijon mustard. Chicken legs sprinkled with East Indian masala. Two days prior, snapper fish was doused in yoghurt, crushed garlic and green chillies and prawns were nestled in garlic paste. On the morning of the BBQ our local fisherman Dinesh Gaokar arrived with a basket laden with fresh sardines, local shells and tiny white river prawns. Fresher fish cannot be sourced. Straight from the river to the glowing coals. The milkman on his bicycle delivered the dairy produce. The vegetable basket arrived from the fields with fresh sweet potatoes, local courgette, gourd (Goan gosalim), aubergine, capsicum…all polished and gleaming like winter apples.

One of the most important ingredients for a perfect meal is a perfect guest list. We invited a cross section of Goans from various fields : Artist supreme Theodore Mesquita and Velim "Bhatkarni" (landlord ) Fleur Almeida, immunologist doctor Anita Dudhani and her millionaire retired husband Ravi, Professor Nandini Sardesai, Professor Fatima Gracias and her husband Tagore, writer Margaret Mascarenhas, Honorary Consul of Italy in Goa Antonio and Lauretta Dal Negro, Honorary Consul of Germany and business person Cecilia Menezes, Ex Chief Minister and present Speaker Pratapsingh Rane and his regal wife Vijayadevi, Hospitality training personnel and food writers Joe and Odette Mascarenhas,
Divar island residents Kit and Iona Heredia, guitarist and voice extraordinaire Schubert and Maxie Cotta, Holiday Inn owners Xavier and Sonali Furtado, MD of Goa State Infrastructure Development Corporation Maneesh Bahuguna and his charming wife Amrapalli Das, Eco- farmer and Goan home restorer Victor Hugo Gomes and Professor Aldina Gomes, Exporter and owner of the most divine home in Moira, Annick Cormery from France, settled in Goa, ex London Art Gallery owner now Colvale resident Maharukh Desai, Supermodel Nayanika Chatterjee with husband Gurpreet and daughter Nayantara.

Jerome's idea of placing the bar at the entrance is a good way to ensure that all introductions are made with glasses already on hand. For soft drinks, I arranged a smoothie that blends banana pulp with the juice of orange, sweet lime, apple, lemon and ginger. Alternately sugarcane juice spiked with sour lime and ginger, served with cocktail stirrers made with sliced sugarcane stalks.

To support the beverages a round of French fries flavoured with turmeric, double fried to perfect crispness
followed by a platter of local clams (Goan tisrios) drizzled with Turkish Raki on the Bar-be-que. The aniseed flavoured raki marries well with the fresh water clams.

After an hour of joyful Goan singing lead by Maxie Cotta with her husband Schubert on guitar, the musical repertoire included popular Goan dulpods, mandos, a jazz rendition of Summertime by writer Margaret Mascarenhas and a finale by the 5 year old Nayantara singing Ba Ba Black Sheep. While all this revellery was on in full swing, with Joe and Odette even taking to the floor in dance, Jerome, assisted by his two Chefs, Joseph and Denis, was perfecting the grill to haute cuisine standards.

Laid out on banana leaves, a buffet of salads set in Cochin wooden bowls and assorted porcelain from all over the world: assorted salad greens with walnuts and apples in French Vinaigrette, Couscous and mixed vegetable salad with sour lime and extra-virgin olive oil, Tomato/Onion/Celery salad with wine vinegar and freshly crushed black pepper.


The first to go on the BBQ was the fillet of beef, pre-grilled for added tenderness. The chicken legs went on next. On a separate grill, the snapper was drizzled with whisky. The sardines and prawns were cooked on a third BBQ grill. In the oven, sweet potatoes baked in their skins, covered in foil.

The guests were served more than a single helping from the salad buffet and grill spread. An assortment of white, red, pink wine, champagne and chilled beer and feni washed down the meal. This was followed by fruit salad spiked with Caribbean rum and a home made orange cake.

By then the sun began to set beyond the trees and the high garden walls. It was 5 pm. A group of guests
lingered, walked over to Maharukh Desai's exquisite home, where the feasting and drinking continued. The last ones to straggle home returned to Casa Donna Maria and finally departed at 11 pm. Talk about a Goan afternoon bar-be-que ending on a perfect note.


---