A LITTLE after dusk, as the sun sets behind Colaba Point in the Bombay Harbour and the Parsi wedding ceremony ends on the little stage at the illuminated Colaba Agiary (fire temple), a man goes around the guests announcing: "Chalo Saheb, jamva chalo ji." The lagan nu bhonu is about to begin. This piece is to assist those non-Parsis who have never been invited to a lagan nu bhonu and are expecting to be invited soon.
The dinner is served in batches, what are known as panths, around 300 to 400 guests per panth. And normally there are three panths, plus one for the gherwallas, close relations and friends who eat last. Do not feel shy, if you are hungry and you are not a drinker, make a dash for the table, otherwise the more aggressive members of the community will leave you for the next panth, and even there you will have to queue up behind the earlier diner's chair, while he is still on his Pulao Dal and Parsi Dairy Kulfi.
I am a drinker, so while the first 400 are eating, I am having a chanto pani. Chanto is a drop, and pani is water, the drop is, of course, alcohol, and it is more than a drop. The name, I think, was introduced during Morarji Desai's prohibition, when alcohol was banned but still drunk. Now you drink in splendid communion with other veteran elbow-benders on the otla (balcony). All the Parsi baugs have their otlas, Albless Baug has two, Cama Baug has one, then there is Saher Agiary at Breach Candy, Malcolm Baug, etc.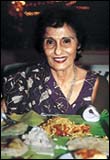 The service is the same everywhere, whisky, soda, sarias, and you may have to put up a little struggle to get the ice. And the caterers move from baug to baug, depending on who you hire. There are about 20 of them, but five or six are big names. My favourite is Tanaz Godiwalla, caterers of Parsi lagan nu bhonu for the last 40 years. You should have her Saas Ni Machi, there is nothing like it in the whole wide world.
The sauce is sweet and sour, a little chilli hot, with baby tomatoes bursting in the mouth, the pomfret is almost velvety, tender to the touch, the flesh with the skin tightly holding it. You dip a little saria into it and eat, or eat by itself. Tuck your dugli sleeves up and eat. The dugli, a crisp white floater of a coat with bows instead of buttons, is not compulsory, but it looks elegant. And if one day in 365 you may look like a Parsi, why not look it.
So here I am sitting at the table, ready for my bhonu. Sooni Taraporevala, the script-writer and photographer, is on my right, Dr. Russi Soonawalla, who has delivered half the babies in town, between Worli and Colaba, is on my left. Down the line, there is Mrs. Soonawalla, Mrs. Thrity Taleyarkhan, in a red ghara, one of the five presented by her mother-in-law, Aviator Parvez Damania with two-year-old Aviva, the apple of his eyes, Hosi Vasunia, looking like Elvis Presley in a dugli, Cyrus Dastur.
Tanaz Godiwalla is the caterer. You look at her, you associate her with food, and she marshals her 150 assistants like a well-drilled army. I have raspberry, and a Parsi wedding is the only place it is available, Dr. Soonawalla has a pick-me-up (orange), Sooni has coke — spoilsport. I take the fork and spoon out of the napkin, then push them back. I'll eat with my hands, that's the only way to eat on a patra. The achar comes first, gajar-mewa achar, sweet and a little rich, it is also know as Lagan Nu Achar.
Mohanlal Masalawalla sells it, but this the Godiwallas make themselves, use for two of three days, then make a fresh lot. Seedless date, kharak, jaggery and Kolah's sugarcane vinegar, simmer, melting the jaggery, mixing the vinegar, adding red and black kismiss, it comes out lovely. Eat it with a little chapatti. Not too much, you don't want to fill yourself up with chapattis. The chapattis are already there, in the top right hand corner of the patra, 12 degrees left of the achar. And the sarias, they come from Pardi. And the Topli Na Paneer, the world's softest, most delicately textured cheese, available both salty and non.
Ms. Godiwalla's workers come from U.P. They are farmers, farm labourers, supplementing their income, they come after Diwali, after the sowing season and return by the harvest season. It is an arrangement that suits Ms. Godiwalla fine, as the wedding season coincides with the farming season. They stay in her large godown at Grant Road and work as cooks, assistant cooks, rotliwallas, servers, chotarwallas (washers of extra-large handis).
They are good workers, they don't drink, and every year they bring a new young man from their village for a job. Work on a wedding day begins early and raw material comes to the baug by 9 a.m., pounds of meat, fish, poultry, hundreds of eggs, mounds of rice, though not much of vegetables. Come to think of it, Parsis don't eat vegetables.
The main course begins with fish. It is always pomfret, and it is all selected and weighed by Ms. Godiwalla herself, since it is an expensive commodity. It is either Saas Ni Machi or Patra Ni Machi, some 80 per cent of Parsis prefer the former, non Parsis prefer patra, probably because it is even less easily available outside the weddings. But there is a third fish which is also ordered, the Tarapori Sooka Boomla No Patio.
This is almost like a pickle of dry Bombay Duck prepared in a wet gravy of onions and vinegar. It hits the palate hard, and clears it, for the rest of the food, something like the Goan Prawn Balchao, but with a lot more bite. The fish saas is sweet and sour, also slightly hot, made by carefully mixing with hands rice flour, sugar and vinegar in mysterious proportions to get a particular consistency. Eggs are then added to it, and curry patta, bay leaf, baby tomatoes, kothmir.
The pomfret is boiled separately and they keep adding the saas to it. If not done properly, it can easily curdle and ruin the entire dish for a thousand diners. In that sense, Patra Ni Machi is less laborious, lots of green chutney, the hotter the better, applied both outside and inside the fish fillets. Then gift wrapped in plantain leaves and steamed. At the table, you open the leaf yourself, the first whiff of the steam will tell you what a Patra Ni Machi is.
The chicken comes next - Chicken Farcha. Marinated in a variety of dry masalas and throughly cooked, rolled in breadcrumbs and dipped in eggs.
The chicken comes next - Chicken Farcha. Marinated in a variety of dry masalas and throughly cooked, rolled in breadcrumbs and dipped in eggs and fried. There's also Sali Ma Marghi, which is chicken gently cooked in tomato gravy with sali, crisp straw potatoes, put on top. And the meat is yet to come. There is Kid Gosht, a baby lamb, four to seven kilos, nice and pink, elaichied and gingered and broiled. For a lagan meal to be complete, all the basic meats have to be covered. Otherwise they will talk about you in the community.
And while all this activity is going on, at the top of your patra little saucers with the Lagan Nu Custard have been placed. This is an extremely rich custard, 200 to 300 litres of heavily sugared milk burnt to a quarter of its volume on wood fires. Then, after cooling for an hour, eggs added to it (I understand 1,340 eggs for 150 litres of milk), vanilla essence, nutmeg, charoli, then sent to Irani bakeries and baked over wood fires in flat-bed ovens, the same that will later bake the bread.
Everything is cooked on wood fire, that's what gives the food its unique taste. Including the eggs, which are a must, two per person, fried in large flat trays, 20 per tray, with a lot of Porbandar ghee. Another important point is that everything is cooked only once, nothing is reheated and served. So, while cooking starts in the early afternoon, it is so timed that everything is ready almost at the minute that the man goes out among the guests to announce: "Jamva chalo ji."
So, do we call the man from U.P. to wash our hands with the handa and the liquid soap? No, we don't. We still have to eat our Mutton Pulao with Tur Masala Dal. It is the main dish of the evening. The rice rich with large chunks of meat, the dal thick with masalas, sticking to your fingers.
And that's the end. Except that I have forgotten the Kulfi. And even if I remembered, I don't think I could have eaten it. Peheramni hajam! Ask a Parsi friend to explain that to you.
---