FIRST, let me tell you about my Gadbad ice-cream. It is the most popular ice-cream in Mangalore city. You can ask anybody about this. My ice-cream business started on May 1, 1975 with 14 flavours. In two years, I decided to do something different. I used my imagination and experimented a bit. And I came up with the combination for Gadbad ice-cream. In a tall glass, one layer of kesar ice-cream, a thin layer of jelly, some dry-fruits, then strawberry ice-cream, fresh fruits and vanilla ice-cream. It was an instant hit with whoever I tried it on. But yet, I took six months to introduce it to my customers. And I called it Gadbad because the ice-cream parlour workers could not mix and match the flavour properly. In Kannada, we used to say they make gadidbidi... which means error. Thatís how the name stuck. And Gadbad ice-cream is now the success story of Mangalore.
I started off as businessman dealing in tailoring material and firecrackers. What happened was that the tailoring business suffered during the weeks preceding Diwali. So I opened another outlet to carry on that business there. And found that I had two outlets on my hands that were gainfully occupied only during Diwali week. So, I decided to start my own ice-cream parlour even though there was competition next door. I conducted my experiments at home, tested the ice-creams on neighbours, and after three months launched the Ideal Ice-Cream Parlour on Market Road in Mangalore in 1975. In two years, I got so popular that there were queues waiting to get in. So I decided to start looking for another outlet! Today we have three in Mangalore city plus a restaurant and ice-cream parlour in the Infosys office that caters to 700 employees. And there are 120 dealers in Mangalore that sell Ideal ice-creams. Plus 40 hotels where it is also available.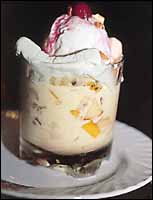 Ideal has the largest ice-cream parlour in India in terms of seating capacity and, I think, also turnover. We seat 300 at a time. From 9 a.m. till 9 p.m., thereís always a full house at our ice-cream parlours. People start eating ice-cream early in Mangalore. A true measure of our popularity is the fact that we are crowded even during the winter! In summer if you come during April or May, you will have to wait 30 minutes for a seat! I can make ice-cream myself... yes, all the flavours. The main formula rests with me, my wife and son. My son Mukund has trained at the Central Food Technology & Research Institute in Mysore and also the National Dairy Research Institute of Bangalore. Either he or I taste a spoon of ice-cream from every batch that is made every day. We treat ice-cream like food. We select the best raw material to get good results. At every stage, we are careful to see that everything is done in the correct way. The slightest mistake reflects in the end product.
Ideal has 22 flavours of ice-creams and from them, we create about a 100 combinations. Through some backward integration, we have now got our own dairy for milk. The difference between our ice-creams and, say, Movenpick and Blueberry, is that these multi-nationals use egg in their product. Egg gives the ice-cream a different odour, it changes the flavour. Indians donít like this, I have discovered. So we decided to make Ideal ice-creams 100 per cent vegetarian. Thereís no gadbad there! I have been meaning to diversify, perhaps, go into the restaurant business. But how do I proceed! I donít even taste non-vegetarian food, so the restaurant will have to be vegetarian only. I am a pure veg. No alcohol, no drinks, no tea, coffee, I eat only ice-cream. All the time. Why should I have addiction for anything else?
---