READERS CHAT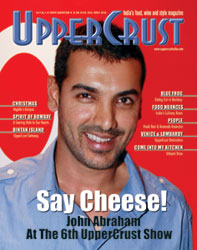 John, he's cool
John Abraham is one cool guy. I came to the UpperCrust Show just to see him and was happily shocked to see the way he behaved, so down-to-earth. He inspired my friends and I to be humble in future. We laughed about the fact that all we have are some good looks and rich parents and behave like we own the world, and then there was John! We were also surprised to learn that there was such a big exhibition on food in our city. I also made a yearly subscription at the UpperCrust booth for my mom only to learn later that she already subscribes to your magazine. Funny how I never noticed it at home before!
Tejas Mazumdar, Mumbai
You are the best
I was happy to see the young boy, John Abraham on the cover of your magazine. I am glad that he inaugurated your famous UpperCrust Show at the World Trade Centre. I am a subscriber to your esteemed magazine since 2004 and am about to renew the same for another 3 years as well. I enjoy the carefully written contents of all the recipes and the famous names who happen to be good cooks too. The photographs are clear and beautifully taken and painstakingly explained by Farzana Contractor about the places she has visited and the people she has met and interacted with. Three cheers to you Madame for that. You are also a very worthy wife to your Behram who you have kept alive through your regular tributes to him and the celebrations of his birth-day etc. He is very much there for you and you have refused to turn him into a memory as many people are wont to do when their loved ones pass on! True love can never be separated from the Beloved, and Behram's tangible presence in your life is the secret of your success and zeal. Actually, I wanted to request you to keep one of your UpperCrust Show next year in Bandra, so that senior citizens like myself can attend the same and enjoy with people we only read about or see on the screen. But my pen made me take a diversion and Behram suddenly came into the picture. So do keep up with your interesting writing and photography, and do pay some heed to my suggestion about Bandra being the next venue for your big show.
Gooloo Mehta, Mumbai.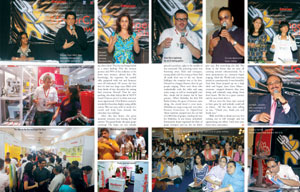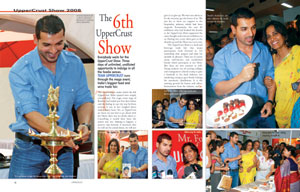 Love The Show!
The UpperCrust Show seems to be getting bigger and better with each passing year. I have not missed visiting the Food and Wine Festival for a single year. This year however, I felt the number of products on sale were more and there was far more food shopping one could indulge in. I actually came there on all three days to be able to buy all that I needed, or should I say desired to buy. Thank you for all the efforts that you put into this endeavour.
Shirin Mehta, Mumbai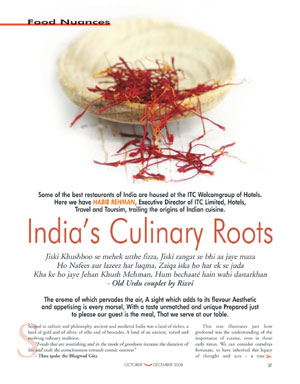 Need recipes
While it was an educative article by Habib Rehman on India's Culinary Roots, written with depth of knowledge it felt a little incomplete, there were no recipes! That is not fair, the pictures of the food were so enticing, I went searching for the recipes in the recipe section at the back of the magazine to come away disappointed. Is it possible to post them on your website? Incidently I always visit Kebabs & Kurries at the ITC hotel at Parel, whenever I visit your city.
Ruchi Khanna, Pune
We like men who cook
Looking at the number of men who cook you feature, it seems very likely that we women may soon get the opportunity to give up cooking, altogether. And happily so. After reading about Udayan Bose's passion for cooking I teased my husband a bit, saying I wish I was married to a man like that. Who is not only confident about doing so but is also so caring. I tried all the recipes, except the jackfruit, in the very first weekend and I must say they were all excellent. We are South Indians and the tastes were very unusual to our palate. Keep up the good work. And please make it so fashionable for men to cook that we can soon stop doing so ourselves!
Geetha Iyer, Chennai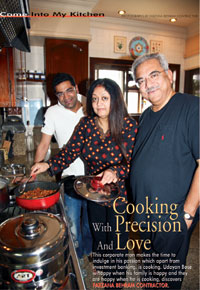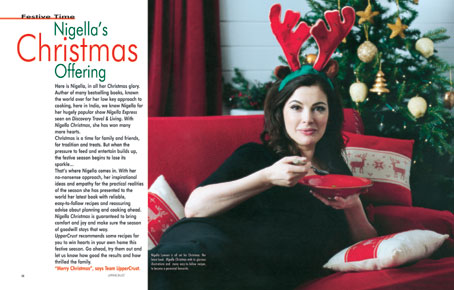 Don't be late
You had some very good recipes for Christmas cooking by Nigella, but unfortunately by the time the UpperCrust arrived at my doorstep it was too late. Can you please make sure this does not happen in future. It's another matter that I save all your issues so I guess I will use the recipes for the X'mas 2010!
Kathy Swamy, Dehradun
Wonderful people
You always seem to pick very wonderful people for UpperCrust People. Believe it or not but of all that you cover in your beautiful magazine, this is what I like to read the most. This time Vivek Nair took the cake. He comes across as a very sincere and simple person but I have no doubt under that simplicity there must be a razor sharp mind. You can't be handling a job like that and not be so. I would like to wish him the very best in building all those beautiful hotels, none of which I will ever be able to afford to stay in, but never mind that.
Vivek Kumar, Hyderabad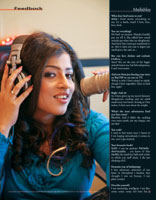 Malishka!
Mad Malishka, sweet Malishka, fun Malishka. If she can even burn water, then surely she can't cook for UpperCrust. But it was good to see her on the last page. Incidentally she looked really hot. Was it Farzana Contractor's camera or does she really look so sizzling? So far, I had only heard her on her radio channel: Red FM.
Sunil Dasgupta, Mumbai
UC Destinations
UpperCrust is the only magazine in India which does such a detailed job of its travel pieces. You did it once again with your last destination. I have been to Venice more than once, yet found sufficient amount of information I did not have earlier. There is an element of honesty and simplicity in Farzana Contractor's writing which is so enjoyable and easy to read. The fact that she illustrates all her writings with such magnificent photographs is an added treat. The two complement each other well. I have been and continue to be a fan of her late husband and even knew him a little when I used to live in Mumbai, and truly feel glad to see her doing so well. God bless.
Fatima Hussein, Nagpur
Long Live Italia!
Just three words for the coverage you gave my most favourite country in the world- Fantastic, fantastic, fantastic. After Italy, it's Turkey for me, so can I expect UpperCrust to go wandering there next?
Andrea Pinto, Mumbai