HEALTHY MENUS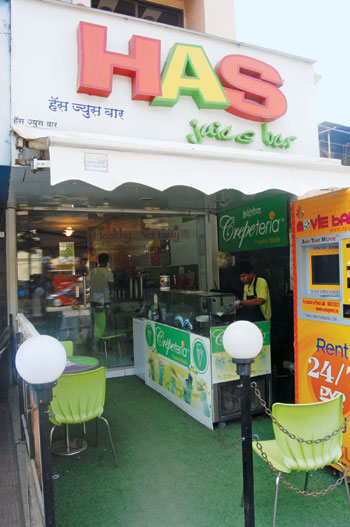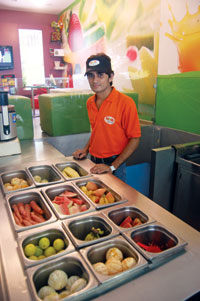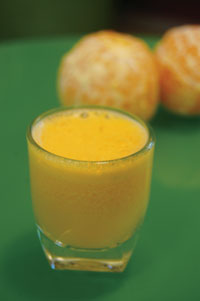 With five out of seven days spent on spooning up dishes at a nearby restaurant, we leave very little room for nutrition to make its way into our stomachs. Sonal Vijay tracks down eateries in Mumbai, to prove that it takes more than an apple a day...
For a city that houses everything from vegetarian sushi to paan ice-cream, adaptation comes naturally. No sooner did the global kitchen open its doors to health food than Mumbai too ushered it in. Some restaurant menus kindly added a line or two to fitness food and then there were those solely dedicated to this cause of greater good.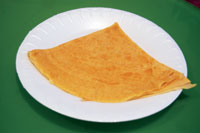 Making Bandra a complete stranger to its original 'crucifix in courtyard' charm, there emerged swanky gyms at the twist of each bylane. And equally swanky yum mums, puffing on the treadmill to get back in shape post-pregnancy, size-zero-smitten teenagers, cholesterol-fighting adults and six-pack-aiming Shah Rukh wanna-bes. Soon, the craze spread to South Mumbai and Juhu too was quick to catch up. Predictably, the fitness-besotted city opened its arms to gyming alternatives - pilates, aikido, kick boxing and tai chi, among the many options to fight that flab. Meanwhile, the super markets stocked themselves with fat-free, sugar-free, low-cal and cholesterol-friendly cousins. In other words, Mumbai was experiencing a period of health renaissance.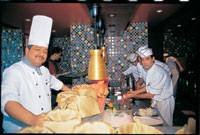 Today, an endless number of people hop on to the bandwagon but an equal number opt out too. There is always a time when you are guilty of skipping the brisk walk with your best friend simply because your new satin sheets seem too cozy or ditching the power yoga class because you've got enough exercise or you're just pushing your luck with weight loss! Sounds familiar? Fret not. Rather than getting completely knocked out by your own karate chart, turn over a new leaf to a healthy diet. For research has it, that a nutritious diet is a sure shot way to a fit lifestyle.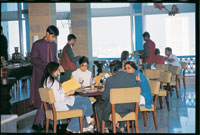 As the restaurants in Mumbai are constantly evolving to match our lifestyles, it should come as no surprise to find a handful of eateries that promise a healthy meal. We zero in on some, to help you get 'waisted'!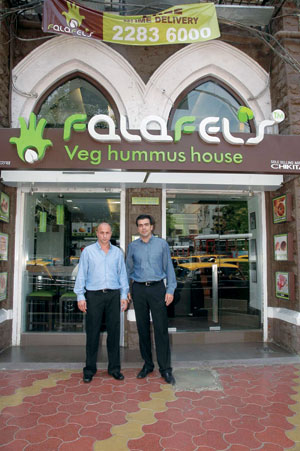 We kick start our journey right from where it all began - Bandra. Crepetaria and HAS juice bar are an interesting duo. It's your one-stop-shop for food and beverage in the bustling locality of Pali Naka. The Crepetaria is a hit for its fat-free crepes that are made with soy batter and rolled in tortillas, as opposed to the maidewali rumali rotis. An interesting version is their body-builder crepe, which comes with a dash of whey-protein added to the regular batter. Skip it if you are on a weight-loss program, as protein helps build more muscle-mass. As for the fillings, we do attach a word of caution as they can get a little too calorific. You can choose from their global selection - Italian, that comes stuffed with tomato and cheese, tossed in a little pesto, or their Arabic crepe, which is stuffed with soft falafel balls and a hint of hummus. The best one however is the Crepizza, that has a salad-like filling of onion, capsicum, olives - all dunked in a certain tomato sauce. It's like munching on a salad, tossed in saucy dressing.
To wash down the crepe, head straight to the adjoining HAS juice bar. Don't be flabbergasted if you catch a glimpse of the eternal hot-bod Salman Khan, who seems like a regular here. If classics like sweet-lime, orange and ganga-jamuna make you happy, be ready to get pleasantly surprised because HAS has it all!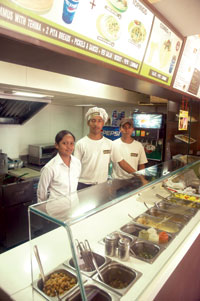 The juice bar is stocked with power juices, low-fat smoothies, hangover-relief drinks and energy shots. A few must-tries are Dr Apple's Magic, a filling blend of apple, honey and soy milk; the Citrus Cold Buster that comes packed with honey and ginger, delicately mixed with carrot and orange juice to shoo away that seasonal flu; the wheatgrass shot that has antioxidants, especially recommended as a quick detox therapy.
While eating out at a restaurant, a healthy dining option is always the light-on-stomach South Asian or the herbed Italian cuisine. You often end up picking between a plate of steamed hot dimsums and pasta flippantly tossed in olive oil. But there is the lesser acknowledged Lebanese cuisine that has an array of healthy options too.
For a quick lesson on archetypal Lebanese delicacies, head straight to the Souk at the Taj Mahal Palace and Towers. Call for a wholesome portion of eggplant chips that will never make their way to your stomach otherwise. Plunge it in their cooling Labneh Bul Zaytoon (a yogurt-based dip generously flavoured with kalamata olives) to get rid of the overpowering brinjal taste.
Another option is Falafel's Veg Hummus House, a chain of Lebanese restaurants gradually mushrooming in the city. The rule is to go simple here with hummus and pita. Filled with the goodness of chickpea, hummus has great fiber content and cholesterol-lowering effect on the body. It's nutritionally so good that you can easily consider making it your staple. Other highlights are babaganoush (a pasty brinjal dip) or tabule (broken wheat salad), both of which claim to ease digestion.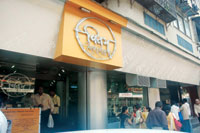 Agreed that Indian food is not the healthiest of the lot but if you haven't searched well, prepare to get amazed. Situated in Mumbai's Marathi heartland, Girgaum is Vinay Health Home - and the name says it all. Stick to their longstanding dish, poha, that makes for a perfect breakfast, as opposed to butter laden waffles and pancakes. Plus puffed rice balances your kapha dosha, responsible for making you gain weight and causing fatigue. You could wind up the meal with the gingerade, which is sure to keep your digestive juices active all day.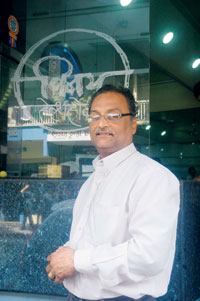 Moving to Gujarati cuisine that is generally blamed for its gheewali rotli and tarela farsans - Swati Snacks (Tardeo), Soam (Chowpatty) and Tosa (Vile Parle) come as a fresh breeze. A haven for vegetarian food lovers, the three places dole out the same kind of food. It's best to go for their steamed panki that very few restaurants outside this genre dare to try. The thin layers of besan steamed between banana leaves hardly add up any calories. Or you could go in for their fada ni kichdi - a simple crackled wheat preparation, peppered with chopped peanuts.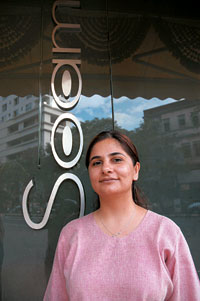 Up next is Mumbai's only ayurvedic restaurant Swadshakti at Malad. The restaurant's sole aim is to promote panchakarma diet that claims to rebalance the bodily doshas - pita (heat), vata (air) and kapha (mucous). At first glance their repertoire is no different from the Shiv Sagars in the city - with its line of pav bhajis and sandwiches. But a closer look emphasizes on the health angle. The menu excludes dishes made with curds, tamarind, lady finger and maida, as they do the maximum damage. On the other hand it promotes healthy alternatives like nachni flour, soy, ginger, garlic and other ingredients with natural healing properties. Swadshakti also leaves out caffeine, fried products and all meats dishes. Most meetha is sweetened with honey or jaggery and the use of sugar is kept to the minimum. A regular intake of the panchakarma certified meal is needed to completely detoxify your system.
After this exhaustive menu of health foods, it's time for some indulgence that does not have 'guilty' attached to it. The Frangipani at Trident dishes out a few desserts that will have you helplessly drooling at their counter, without adding on unwanted calories. Starting with the sans-sugar delights - apple tart, chocolate mousse, cheese cake and fig tart are a perfect choice for the weight-watchers. The ones addicted to chocolate cake could go in for their baked yogurt flavoured with cardamom. And now the literal cherry on the cake is the Frangipani fruit bowl - chopped kiwi, gooseberry, green apple, banana and papaya tossed in a generous squirt of apple, orange or cranberry juice. Now you can rest assured, contrary to what your friend says, getting into that LBD (Little Black Dress) does not mean that you have to eat less. All you have to do is eat smart. Go, tuck in.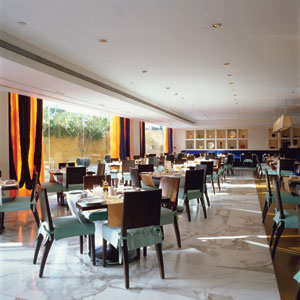 Calorie Care healthy tiffins
For the ones who are too busy desktop-dining, going out to eat seems like a chore. Here's a quick dabba call-in. Calorie Care at Dadar is a dabba service that makes personalised healthy tiffins for each of its clients. They have a panel of nutritionists who determine the amount and kind of nutrition your body requires and style your meal accordingly. You could choose from high/low/ medium calorie, sugar, fibre and salt levels. A typical meal would comprise of the regular dal, roti, subzi, salad, etc. Sounds boring? Then hear this. At Calorie Care you can choose from an array of international cuisine they mete out each day - Thai, Mexican, Continental and Chinese just to name a few!
Listings:
Crepetaria and HAS Juice Bar
Near Gold's Gym, Pali Naka, Bandra West.
Phone: 65176427, 65103427


The Taj Mahal Palace and Tower - souk
Apollo Bunder, Opposite Gateway of India,
Colaba.
Phone: 66653366


Falafel's Veg Hummus House
Indian Mercantile Chambers,
Wodehouse Road, Colaba.
Phone: 22836000


Vinay Health Home
71183, Jawahar Mansion,
Fanaswadi Corner, Thakurdwar Road,
Girgaum.
Phone: 22081211


Swati Snacks:
248 Karai Estate, Tardeo Road,
Opposite Bhatia Hospital, Tardeo.
Phone: 66808405, 66808406


Soam
Sadguru Sadan, Ground Floor,
Chowpatty.
Phone: 23698080


Tosa
Junction of Tejpal Road and Parleshwar Road,
Vile Parle East.
Phone: 26103310


Swadshakti
Bhadran Nagar Cross Road 2,
opposite Milap theatre,
Malad West.
Phone: 2806-5757


Frangipani
Trident, NCPA,
Nariman Point.
Phone: 6632 6310


CALORIE CARE
603, 6th Floor, Doctor House,
14, Peddar Road.
Ph: 65961984, 24122100