UPPERCRUST PEOPLE: ROBIN SHARMA
A Fascinating Monk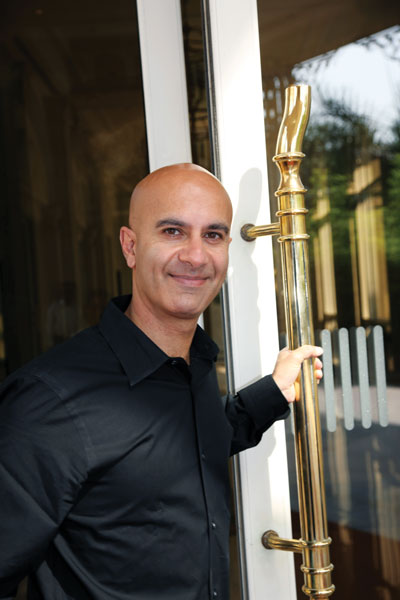 Long before I heard Robin Sharma say it, I had heard the wise words from my precious mother, "Think of death once a day and it will make you a better human being." Now, here I was sitting with the great Robin Sharma, the New Age Guru, in the very pleasant garden courtyard of the ITC Grand Central, discussing the very same mantra.
"I have no desire to be the richest person in the graveyard," says the eloquent man. " To me a life well lived is mostly about being surrounded by people I love, staying healthy and happy, stepping towards my higher potential each day, doing work I love and having an impact on the world around me." So how does one stay focused on the things that are most important to us amidst the daily pressures of life? "Die daily..." he trails off.
The explanation is there in The Monk Who Sold His Ferrari, the international best seller that catapulted Sharma into dizzying fame. The 'die daily' thought connects with the fact that life is short and no one knows when it will end. Therefore, this sobering thought creates a great personal habit of staying centred on one's highest priorities. It is a profound way of bringing some urgency and commitment into one's daily life. Perhaps becoming a better human being, like my mum used to believe.
There is something about Sharma that makes you want to listen to him. It feels like, all you have to do is follow his wise, sensible and simple words and love, success, friendships and all things nice will just happen. It's a common sense factor that he evokes, really.
He says one sees a constant state of happiness only in movies. In real life there are periods of pain and periods of pleasure. And to resist that is like trying to fight the changing tides. So the best way is to just accept: this too shall pass... "I do believe that painful times make your life stronger and deeper. I wouldn't be the man I am if it were not for my painful times. Such experiences make you more humane, more compassionate. No life is perfect: mine certainly isn't. We must all face challenges, both large and small." He goes on to quote Dr. Martin Luther King Jr. 'The ultimate measure of a man is not where he stands in a moment of comfort and convenience, but where he stands in moments of challenge and controversy'. "True," says the modern day monk, "Anyone can be positive, polite, kind, when things are going well. What distinguishes extraordinary characters from the rest of us is how they respond when life sends one of its inevitable curves. They don't crumble or surrender. They reach deeply into themselves and present even more of their highest nature to the world. We do have the power to choose to rise above our external circumstances. We always have the choice to be strong and positive when things fall apart. We have the right to use our stumbling blocks as stepping stones to our greatest life. This isn't motivational sloganeering. I believe this is truth," concludes Robin Sharma very emphatically.
Hmmm...I agree with him and feel glad of the opportunity to exchange views with a man who goes around the world, giving lectures and talks on leadership and personality development, author of inspiring books such as Who Will Cry When You Die, The Saint, the Surfer and the CEO, Mega Living among others. Difficult to imagine that Sharma holds two law degrees and was a successful lawyer before he chucked it up, because he did not feel good inside and felt his life needed a change. What began as small changes led to a big transformation which he says was catalogued in his much acclaimed book, read the world over, The Monk Who Sold His Ferrari.
He dared to dream and broke away from his established life and found peace in the fact that he was living life on his own terms, relaxed and happy, travelling the world, sharing his insights with millions of people.
I couldn't conclude my meeting with Robin Sharma without a discussion on the good life- his take on food and wine.
"Food is one of my favourite topics. It is one of life's greatest pleasures. Your diet is so important because energy is so important. A wonderful way of rewarding yourself is with a good meal. From a social point of view too, food is very important. Great conversations happen over a good dinner, a nice bottle of wine. Monk happened 10 years ago, when I was eating only vegetarian food, but I have evolved since, now I eat everything. I love Italian and Indian cuisines. My favourite restaurants are in Paris, Florence, Phuket, and the Caribbean. I take my kids to excellent restaurants and love connecting with them over a meal, we eat, we laugh, they love Italian food. I enjoy eating but I am a very poor cook! The three aspects I look forward to when I travel are: a good art gallery, an interesting conversation with someone and an exquisite meal. I love Indian food and it goes so well with a chilled bottle of Kingfisher beer."
Anything else, will you summarise? "Yes, sure. We live in a noisy world. It's important to detach from noise. In stillness and quiet we reflect, 'refill the well', we should take time off to be by ourselves. We ought to have a weekly schedule, plan ahead, not live by accident. So take out an hour every Sunday and write down what you want to achieve that week. Mind creates your reality. As you think so you craft your life. The world is not how it is but how you are. Your words have an incredible power. Don't talk about anything you are not willing to invite into your life. Thoughts create your health, effect your relationships. Health should be your true love. Health is a crown on the head of a well man that only an ill man can see. We take our health for granted, especially when we are young. Often we compromise on taking time out for ourselves. We shouldn't, it's a huge price we pay. We compromise our family."
www.robinsharma.com