R S V P
Mint and Lime Tequila Refresher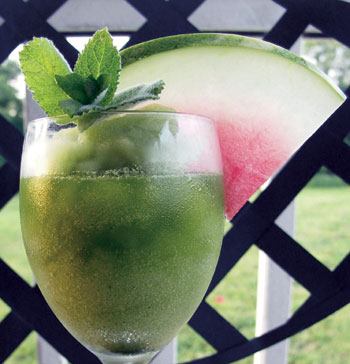 Ques: I'd had this really refreshing mint and lime cocktail in a European pub. Can you get me a recipe of the same?
- Olivia Abraham, Kerala
Ans: This drink combines crushed mint with lime juice, sugar, tequila and club soda, though you can also swap out the tequila for rum or the Brazilian sugarcane liquor Cachaca. Or fix a non-alcoholic version using 5 ounces of club soda instead of 4.

Ingredients:
- Leaves from 1 medium bunch of mint
- 1/2 cup superfine sugar,
- 3/4 cup fresh lime juice
- 1 1/2 cup silver tequila,
- ice cubes,
- 24 ounce chilled club soda

Method:
In a large cocktail shaker, muddle the mint leaves with the sugar and lime juice.
Strain into a small pitcher and stir in the silver tequila.
Fill 6 highball glasses with ice and pour the cocktail over the cubes.
Top each drink with club soda and serve.
Faraali Thalipeth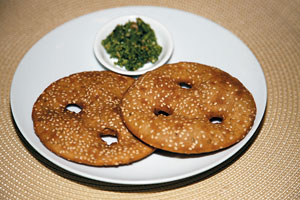 Ques: I write this from London - UK where it is difficult to buy faraal food from Indian sweetshops or restaurants. So we have to cook these at home. Your article on the topic was very interesting. Please can you provide the recipes for the following: Kadhi with Shingore ka atta, Kutti na Dhokla, Farhalli Handvo, Rajgira Puri and Theplas. Thanks,
- Neesha, London

Ans: Sure, but for want of space we will give just one recipe of Rajgira Puri for now. This comes to you courtesy, Soam.

Ingredients:
- 1 cup rajgira flour,
- 1 cup boiled potatoes, mashed.
- 2 tbsp coriander leaves, chopped
- 1 tbsp green chilli paste
- 1 tbsp cumin (jeera) seeds
- 1 tsp sesame seeds
- 2 tbsp roasted peanut powder,
- clarified butter (ghee)
- salt to taste

Method:
Combine all the ingredients and knead it into firm dough. Add a little water if required.
Roll the dough into 1/2 cm thick roti (sprinkle a little dry rajgira flour while rolling, if it is sticking to the rolling plate).
Shallow fry it in ghee over a slow flame till golden brown.
Serve hot with a green chilli and peanut thecha.
Raspberry Rickey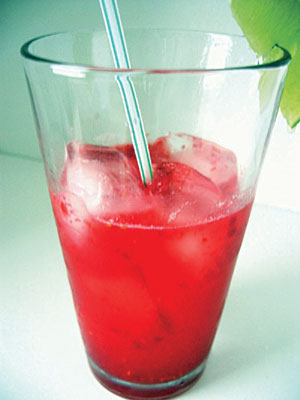 Ques: Raspberries are my favourite. How can I use them in cocktails?
- Ruchika Sinha, Mumbai
Ans: Raspberry Rickey - Red raspberry mixed with vodka is delicious. Vodka of course is optional. Try this recipe.

Ingredients:
- 1 1/3 cup red raspberries,
- 3 tbsps sugar
- 1/2 cup lime juice,
- 2 cups sparkling mineral water
- 1 cup Red Raspberry Vodka (Absolut is good) optional

Method:
1. To make raspberry syrup:
Place raspberries in a medium-sized bowl. Add the sugar and lime juice and mash with the back of a wooden spoon.
Let it sit for 10 minutes. Strain the mixture through a fine sieve to remove seeds and set aside.
2. To make the drink:
Fill 4 large glasses with ice and pour 1/4 cup of syrup in each glass.
Add 3/4 cup sparkling water to each glass and stir to combine.
If using vodka, add 1/4 cup (or less to taste) to each glass, stir to combine, and top with 1/2 cup of sparkling water.
Garnish glasses with fresh raspberries and lime wedges,if desired.
Mix Green Salad with Fig Yogurt Dressing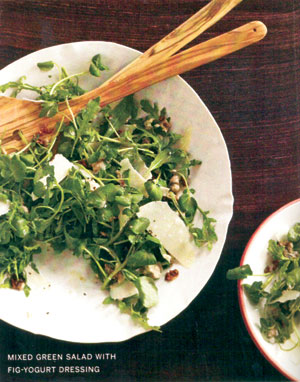 Ques: I really want to incorporate yogurt in my meals. But believe it or not, I don't like it just the way it is. Trying to diet, so please suggest a big, yummy salad with yogurt.
- Sonya Chainani, Delhi
Ans: Yogurt has always been a super-food. Recent researches about probiotics (cultures like lactobacillus acidophilus, present in yogurt) indicate that yogurt may boost the immune system, improve digestion and even provide inner peace. Try to have it as much as possible. In the following recipe, the tangy- sweet dressing combines low-fat yogurt with figs.

Ingredients:
- 1/4 cup plus 2 tbsp dried figs, stemmed and halved
- 2 cups boiling water
- 1/2 cup plain low-fat yogurt (or whichever you prefer, the creamy ones taste awesome)
- 1 tbsp fresh lemon juice
- 1 tbsp balsamic vinegar
- salt and freshly ground pepper to taste
- 8 cups mixed greens
- 1 cup shaved Parmigiano Reggiano

Method: In a small heatproof bowl, soak the figs in boiling water until softened, for approx15 minutes. Then, drain.
Transfer two-thirds of the soaked figs into a blender. Add the yogurt, lemon juice and vinegar and puree until smooth.
Add the remaining figs to the blender and pulse once or twice, until the figs are coarsely chopped.
Season the dressing with salt and pepper. In a large bowl, toss the greens with the dressing, top with the cheese shavings and serve right away.
E-mail your queries at recipes@uppercrustindia.com We'll do our best to provide theas, even if they are recipes from your favourite restaurants.