APPLE/RADISH SALAD WITH HONEY FENUGREEK DRESSING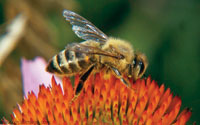 Ingredients:
1/4 cup white wine vinegar or 1/3 cup synthetic vinegar
1 tsp mustard honey
1/2 tsp salt
1/2 tsp toasted and crushed fennel (saunff)
A pinch of toasted and crushed fenugreek (Methi)
Combine everything, mix well and set aside.
For the salad:
2 cucumbers, sliced thinly
6-8 small - medium red radishes or 1 mooli, sliced thinly
1 apple, sliced thinly
Method:
To assemble, combine apples, radish /mooli and cucumber and mix well. Add dressing and toss thoroughly.