CHINESE SOUP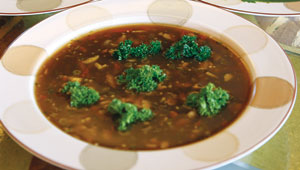 Ingredients:
1 carrot
100 gm French Beans
3 baby corn
1 onion medium size
1/2 tbsp corn flour
1 tbsp soy sauce
1 tsp ajinomoto
salt to taste
3 pods of garlic
1/2 tsp olive oil
3 cups water
1 bunch lemon grass
Method:
Chop the carrot, French Beans, baby corn, garlic and onion.

Garnish the same in olive oil, add water, half spoon of corn flour, soy sauce, ajinomoto, lemon grass, salt as per taste and heat the same together for half an hour.

The chinese soup is ready.