CORIANDER, HONEY AND RAISIN RELISH
I invented this recipe one afternoon, because I was looking for a fresh dressing for lettuce. It works beautifully as a dressing tossed with lettuce greens & spinach but I also like to leave some raisins whole and serve it as a relish over good grainy bread or add finely chopped cucumbers wrapped in lettuce leaf parcels on hot days.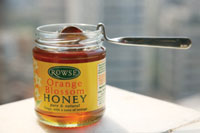 Ingredients:
1/2 cup raisins
1 cup fresh coriander chopped
2 tbsp olive oil
2 tbsp lemon juice
2 tbsp honey
1 green chilli
Method:
Place 3/4 of the raisins, coriander, olive oil, lemon juice honey and salt in a blender and process to a fine paste.

Stir in the remaining raisins and chill until ready to use.