FRESH FRUIT PIZZA
I find these jewel Skewers a great way to savour a light sweet treat. Serve with single flora honey of your choice, I prefer Orange Blossom. Also go for whatever you like in terms of fruit.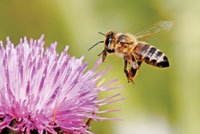 Ingredients:
I bar sponge cake, sliced into 3/4 inch thick slices
1 cup thick hung yogurt
4 tsp honey
2 cups assorted fresh fruit (such as strawberries, blueberries, raspberries, sliced kiwi fruit, oranges)
1 cup skinned and toasted almonds
Method:
For the hung yogurt cheese:
Line a sieve or small colander with a clean cloth and suspend over a bowl place yogurt in lined sieve, cover and refrigerate for at 24 hours.

Remove from refrigerator, discard liquid and transfer to a small bowl.

Stir in 1-1/2 teaspoons honey, mix well and chill until required.

Spread yogurt mixture evenly over sliced cake and arrange fruit attractively on top.

You could drizzle additional honey on top if you like. Sprinkle with toasted almond flakes. Serve chilled.