HERBED LAVASHA TOPPED WITH ROASTED SALSA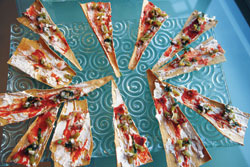 Ingredients for hung curd sauce:
3 tbs Curd
6 pods of garlic
1 tsp oil
1/2 tbsp red chilli powder
Lavash Bread
Method:
Tie the curd in a muslin cloth and hang it till the water gets evaporated.

Add the grated garlic (3 pods) and little oil and blend it well - paste is ready.
Take the balance 3 pods of garlic paste and add red chilli powder, put half spoon of oil in it and mix all these ingredients.
Your first sauce is ready, keep it aside.
Now make the salsa sauce.
Ingredients for for salsa sauce:
1 capsicum medium size
2 tomatoes medium size
1 big green chilli
1 tsp vinegar oil
1/2 tbsp sugar
5 basil leaves
3 garlic pods
1 onion medium size
1 spring onion
Method:
Roast the tomatoes and capsicum and once it gets properly roasted, wash it thoroughly and then cut it into small pieces, cut the garlic, onion, green chilli and spring onion into small pieces and add the sugar and vinegar in it with the basil leaves.

Mix all the above ingredients & the salsa sauce is ready. Apply both the paste (the paste made of curd the paste made garlic) on the lavash and then put the salsa sauce on it now the Whole Wheat Herb Lavash Salad with salsa sauce is ready.