JEWEL FONDUE
I find these jewel Skewers a great way to savour a light sweet treat. Serve with single flora honey of your choice, I prefer Orange Blossom. Also go for whatever you like in terms of fruit.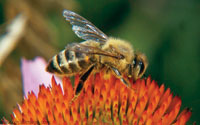 Ingredients:
1 kiwi, peeled
1 large orange, peeled
12 black grapes
12 pineapple chunks
12 strawberries
Method:
Cut the kiwi and orange crosswise into 4 rounds, then cut each round into 3 pieces, so you end up with 12 pieces of each fruit.

To prepare the skewers, put 2 grapes about 1/3 of the way down the skewer, add a piece of kiwi, a pineapple chunk, a piece of orange, and top with a strawberry.