KASHMIRI ALOO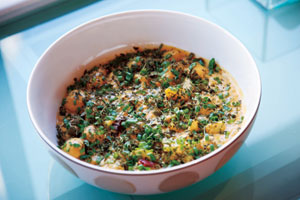 Ingredients:
250 gm baby potatoes (Dum Aloo)
3 cups of curd
3 tbsp Kashmiri methi
salt to taste
1/2 spoon olive oil
1/2 spoon turmeric powder
1 pinch hing
1/2 tbsp gram flour (besan )
Method:
Boiled th potatoes and remove the skin.

Heat olive oil in a pan, add a pinch of hing and add boiled potates.

Take the curd and turmeric (haldi), gram flour (Besan) and mix it.

Put it in pan and mix it for 10 minutes.Then add kashmiri methi and the Kashmiri Aloo is ready.