MIXED VEGETABLES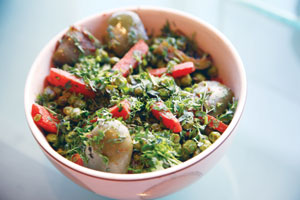 Ingredients:
2 Medium size green capsicum
250 gm green geas
2 pieces of carrot
5 pods of garlic
1/2 tsp of red chilli powder
1/2 tbsp garam masala
1/2 tsp oil
1 pinch of jeera
salt to taste
3 cups of water
Method:
Chop capsicum, green peas and carrot into small pieces, boil the same in water with salt. Strain the same.

Heat oil in a pan, add little jeera, chopped garlic and add all the strained vegetable in it.

Then add red chilli powder, garam masala & salt as per taste and the mixed vegetable is ready.