PIZZA CRACKERS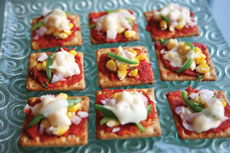 Ingredients:
3 tomatoes medium size
3 garlic pods
1 tsp oil
1 packet cream craker
1 onion medium size
1/2 capsicum
3 stem parsley leaves
200 gm sweet corn
Salt to taste
Method:
Boil the tomatoes, peal the skin and grind the same in the mixture to make puree.

Boil the sweet corn.

Cut the parsley leaves, onion & capsicum into small pieces.

Heat oil in a pan, add the garlic, crushed, parsley leaves, tomato puree & salt as per taste and saute for 10 minutes till the water gets soaked & the sauce is ready.

Apply the sauce on the cream craker and sprinkle onions, capsicum & sweet corn on it.