RED CAPSICUM SOUP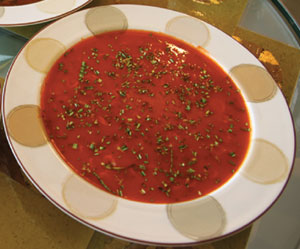 Ingredients:
250 gm red capsicum
2 tomatoes medium size
3 pods of garlic
1 onion medium size
1 potatoes medium size
salt to taste
3 cups water
Vegetable Kik Masala
Method:
Chop the red capsicum, tomatoes, garlic, onion and potato into small pieces.
Boil these in water and salt as per taste and grind into a paste and strain the same.
Add one piece of Vegetable Kik Masala (you get it readymade ) in the strain paste and the Red Capsicum Soup is ready.