SALSA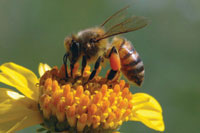 This is an easy recipe, that will come handy as a dip with chips, a spicy but light and fresh pasta sauce and also a spicy accompaniment to breakfast, as a topping for toast. If you have a ripe avocado at hand, add it for that luscious texture which only avocado can lend.
Ingredients:
1 tbsp oil
6 whole spring onions sliced fine with whites and greens kept separate
1 onion, chopped fine
6 garlic cloves, chopped fine
1 whole stalk celery, washed and chopped fine
1/2 cup Jalapeno peppers or more if you like things spicy (If you are using brined Jalapenos wash them and chop fine) optional
1 cup chopped tomatoes
500 ml Tomato puree
1/3 cup vinegar
1/2 cup honey
2 green peppers (Capsicum) chopped fine
1/2 cup coriander chopped fine
Salt and pepper to taste
Method:
Combine all the ingredients and stir well, taste and adjust salt and pepper. Cool and refrigerate. Use cold or at room temperature on tacos, nachos and as a spicy side dish to baked beans.