SPINACH AND GARLIC BRUSCHETTA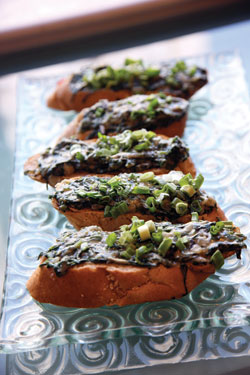 Ingredients:
1 bunc spinach
3 Pods garlic
1 onion medium size
1 green chilli
1 tbsp maida
1/2 tsp oregano
3 tbsp milk
1 tsp oil
Method:
Take a bunch of spinach and chop it into tiny pieces and wash it with boiled water.

Take the garlic, onion, green chilli and cut it into small pieces.

Heat the oil in a pan, add chopped garlic, onion, green chilli, maida, milk, spinach, oregano and saute it well till it becomes a paste.

Apply this paste on this garlic bread and put it in oven for 5 minutes and starter is ready to eat.