STEAMED TIGER PRAWNS WITH CHILLI BEAN SAUCE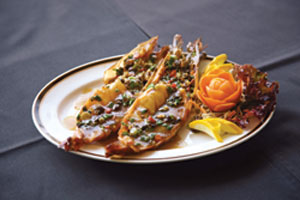 Ingredients
- 300 gm tiger prawns
- 100 gm corn flour
- 20 ml oil
- 5 gm chopped garlic,
- 5 gm chilli paste
- 5 gm black beans,
- 3 gm salt
- 30 ml soy sauce,
- 10 gm sugar
- 50 gm chopped spring onion
Method:
Clean prawns and marinate for 1 hour with seasoning.
Steam for 8 minutes.
Heat oil. Add garlic, chilli paste, black bean, soy sauce and spring onion.
Add corn flour dissolved in water and cook till it forms a sauce consistency.
Add the seasoning.
Pour the sizzling hot sauce over the steamed tiger prawns and serve.