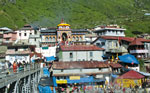 I came out of the innter sanctum, sat a while at the temple steps and watched pilgrims taking their offerings to Lord Vishnu; hard sugar candy, tulsi, and dry fruits, placed in a thali. Then I went and bought myself a rudraksh bead which i later got strung on a gold chain in Mumbai, says FARZANA BEHRAM CONTRACTOR.
---

Being in the Himalayas is such an invigorating feeling and when that emotion synergizes with a sense of spirituallity, the outcome is beyond expression. Kedarnath, situated as remotely as it is, has that effect on the body, mind and soul, says FARZANA BEHRAM CONTRACTOR.
---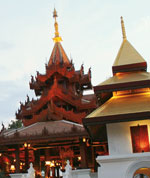 It's got everything and more, says FARZANA BEHRAM CONTRACTOR. I recommend Dhara Dhevi, Mandarin Oriental's dream resort to anyone who truly loves elegant living, has a heart brimming with romand and wants to indulge and be pampered...