Abuzz at Grapevine
UpperCrust thinks this unpretentious, cozy little restaurant rewrote the culinary history of Mahabaleshwar. At a time when there was not one decent place for a meal outside of a couple of well-known hotels, Grapevine happened. Serving Continental fare you only got at 5-star hotels and Parsi food at lagan nu bhonus! That was 20 years ago. Today, it has only got better and so, cheers to that! Over strawberry wine, if you please...
Text & Photographs: Farzana Contractor

The most popular hill station getaways for Bombay folks have been Lonavala, Khandala, Panchgani and Mahabaleshwar. The first two mentioned have dwindled off for multiple reasons, including the fact that the Expressway cuts right through these two hamlets of yore, pretty much destroying its beauty and peace.
But what was Lonavala-Khandala's bane became Panchgani-Mahableshwar's boon. If you leave town early morning you can, thanks to the Expressway, make it to these hill stations in under four hours. It used to take at least six, formerly.
However, none of these locations ever actually had any really nice places to eat a decent meal.
However, in Mahabaleshwar, which still has its green forests intact, if you stayed in hotels known to serve good food, like Dina or Fredrick or Dreamland, you were fine. If not, your only other option was to locate a farmer family, take your chicken and masala and have them cook you a rural dinner. At least that's what we did.
And then Grapevine happened to Mahabaleshwar, in November 1996. And it rewrote culinary history. Finally a place to go eat good Parsi and Continental meals. Drink a beer, a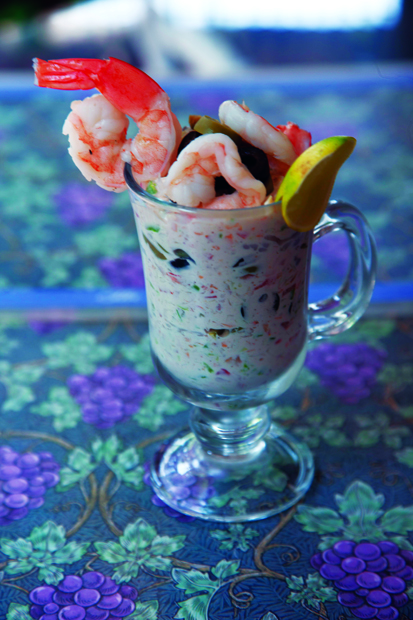 glass of wine. And hang out, in a nice, easy, friendly atmosphere.
A little place with a big heart.
The character of Grapevine has been shaped and moulded by its owner, Raiomand Zaver Irani. A fourth generation Mahabaleshwar-wala. Raio as everyone calls him is soft-spoken, hardworking, honest and a dedicated restaurateur. He puts in long hours at making sure his life's mission operates smoothly and that there is never a disgruntled customer.
There is some Parsi history attached to this family. Long ago, like 200 years ago, I think there were about a 100 Parsi families settled in the Satara district, working I guess alongside the British. One such was Sorabjee Irani's family. Sorabjee was Raio's dad's granddad. Somewhere around 1904, Mr S Irani was advised to go live in Mahabaleshwar because he had some health issues. The clean air there would help, he was told. So he came to live in the mountains and opened what was then known as The Imperial Army Supply Depot. Stationed in Mahabaleshwar was a British troops outpost which trained their men in jungle warfare and combat. The dense forests with wild animals was perfect for their training to go to postings in Burma.
Well, Mr Irani's small store which supplied the soldiers with provisions still exists in the same spot at the entrance of the bazaar. Now called Imperial Stores, it sells medicines, books, music, provisions, fast foods, ice-creams and alcohol. Raio's parents run it, as they do their family-owned BP gas station.
But back to the charming and quaint Grapevine. What is its background? Well, when Raio passed out of IHM, Goa in April 1995, he went and did a six month stint in the kitchens of Taj, Fort Aguada. "It is there that I learnt the nitty gritties of cooking, a reservoir of information that helps me even today," says Raio in grateful memory. True, when you have a good, basic knowledge drilled in you, it stays for life. From there Raio found his way to the Maldives. To a resort called Hembadoo. "No one wanted to join this resort because it was to close down in a year. The owners of the resort did not own the island, which had its lease ending in a year. And so, sadly it was to shut down," enlightens Raio. However the arrangement suited him because he knew he wanted to start his own restaurant as soon as he could.
So begining at Hembadoo with managing the front office, Raio soon became Jack of all departments. As someone would leave Raio would have to take over his assignments, finally even looking after housekeeping, he laughs and tells me. In this manner Raio gained vital experience and as the last guest left, Raio returned home to Mahabaleshwar and opened Grapevine within a month, in a tiny spot owed by his dad. Incidentally Hembadoo Resort, an hour's water-drive away from Male airport is today, a Taj Group of Hotels property and called Taj Coral Reef.
Back home, it did not take long for Raio to succeed. A restaurant serving Continental cuisine was unheard of 20 years ago. Much less in a sleepy hill station. Add to that Parsi food! With ghar na recipes; recipes from the home of the owner. And masalas being pounded by locals under the supervision of his mum! Couldn't get better.
Today, almost two decades later, Raio is still at it. Running his establishment as earnestly as when he first started it. He has neither increased his covers, nor his staff. Content with his success, all he does is raise his standard and enhance his menu  periodically. He will add a few new dishes every year, let it stay for two or three seasons. Judge the customer response and either let it retain it or pull it off the menu. There are few people like him in the industry. Conscientious and honest to the core. I am a frequent visitor to Panchgani where the restaurants are pathetic, to use a mild adjective. So whenever an urge overcomes me to eat a good burger, here is where I come. It's a no-cheating, half-pounder, not propped up with bread or potato mash, but all mutton kheema patty hamburger with a layer of harrissa mayo, gherkin, salad, cheese sauce (made in house) and caramelised onions. To die for!
On one such hamburger visit, I learnt there was a breakdown in the electrical system of his deep-freeze, which had stayed shut for six hours. As a consequence, Raio had just a wee bit of a creeping doubt in his mind about the quality of the foodstuff in there, so he had all the stuff chucked out. That's integrity. And to think he did not want me to mention that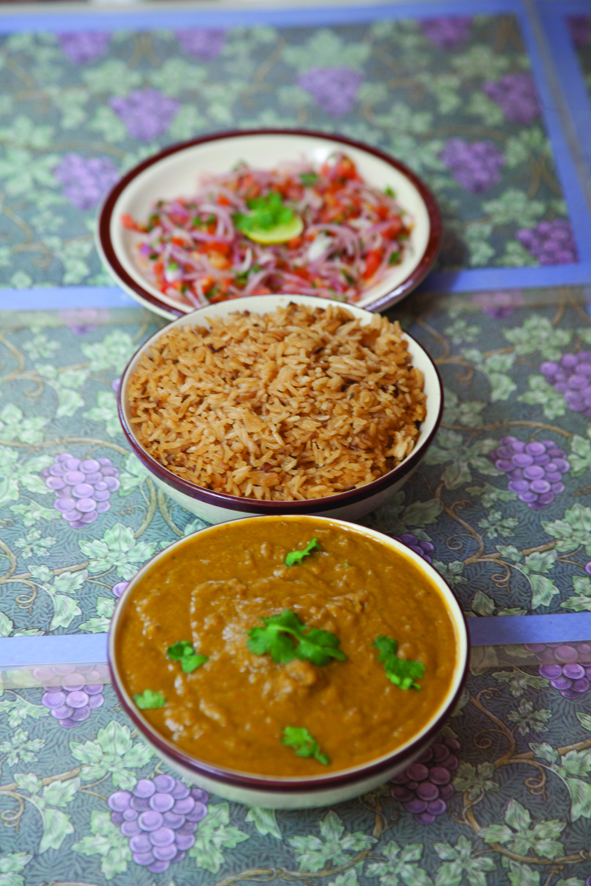 incident, in here! You can be sure you will never get indecent food at Grapevine. And if there is no fresh seafood to be procured, he will simply smile and apologise and tell you there is none on the menu that day.
Ah, and now the food. Name any popular Parsi dish and you can expect to find it here. Right from Mutton Dhansak, to Patra ni Machi, to Lagan nu Custard. But what I really like is the akuri at breakfast time. Also the Prawn Patio which Raio has modified to serve as a starter, finger food with cold beer. The 'kachha' masala is totally dried on high flame and you are left with just the bhunaod masala nicely wrapped around the prawns. A good idea, indeed. Since prawns are my weakness I also recommend the Grilled Prawns, with just red chilli, garlic, turmeric and salt; hmmm, tastes divine. But on the subject of prawns, there is also the Prawn Cocktail served in a glass. Very Conti, very nice. Try a glass of cold strawberry wine with it and write in and tell me how you liked it. There is lots more; Fish & Chips, Grilled Red Snapper Fillet, Creamy Lobster, Salmon Steak, Smoked Salmon (with dill and capers and cream cheese and biscuit, complete), also a Salmon and Cheese Omelette, Mixed Grilled Platter of Assorted Sausages topped with fried eggs.
All of this comes in fairly large portions so it works well for a group of friends to grab the only table on the mezzanine which sits 10, for some food and fun in the hills! The restaurant, by the way seats guests on three levels, all very cozily. Two tables in the entrance verandah seat eight. At smaller tables in the lower section, there are 11 covers, three at the bar stools and 10 on the mezzanine floor. That's 32 in all. As for staff, there are three in the kitchen and two who serve. Of course there is Raio who greets you, recommends dishes, keeps it going smooth between kitchen and restaurant. Anywhere in Europe such warm and personal service would get brownie points!
Grapevine is open from 9.30 am to 3 pm and again from 5 pm to 10.30 pm. And it is closed, lock, stock and barrel, in the off season – which is July, August and September. Rains like hell, in Mahabaleshwar during the monsoons.
That's the time you go seeking that local farmer to cook your food. Not in Parsi masala, but ghati masala.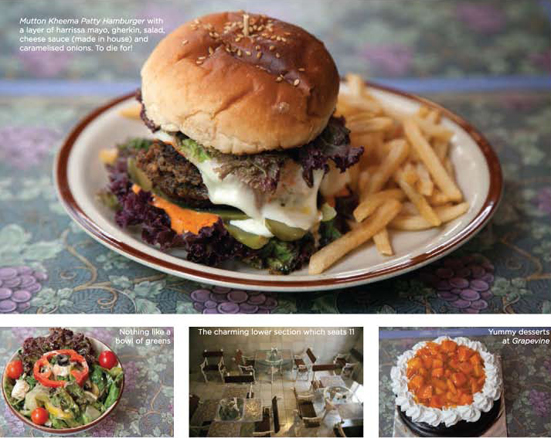 Grapevine
Masjid Road, 
Mahabaleshwar 412806
Ph: 02168 261 100