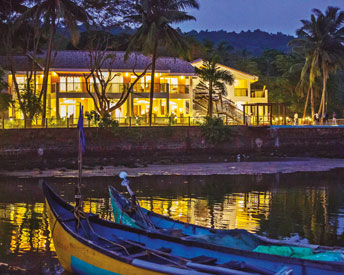 Finding Tranquility at the
Acron Waterfront Resort
Baga is alive with shops, casinos and restaurants. Yet, in another corner of the district, we find the newly opened Acron Waterfront Resort that is calm, rustic with a note of simplicity in its atmosphere
Text: Fizaah Faiyaz
A s we drive through the picturesque route, U2's famous song Stuck in the Moment plays on. Its lyrics read, "There's nothing you can throw at me, that I haven´t already heard". Same is the case with Goa. There is nothing you can tell us about Goa that we don't already know! Thanks to so much that has been written about the beautiful state. No wonder people from across the country especially Bombay, find any excuse to hop over to Goa. This time around we found ourselves on a flight to the city of sun, sand and R&R, to visit the newly opened Acron Waterfront Resort (AWR) in Baga.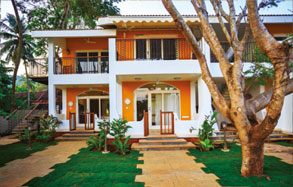 Baga, as many would know is a place with crowded narrow lanes, honking cars and bikes, loud music with small shops and a myriad of restaurants. And Acron's address reads Baga in capital. Expecting the same, we were presently surprised when the driver passed by the usual Baga road and went straight towards Boxes Bridge, crossed it and took a left. We knew the area; it had Le Poisson Rouge in its vicinity and is known for its serenity.
Welcomed by Resort Manager, Darryn Dias and checked-in by a Ukrainian receptionist Svetlana, we headed straight to the crowing glory of this new project – Cyrus Todiwala's The River Restaurant. Chef Cyrus' credentials are many, but in short, he is a world-renowned, multiple award-winning master chef with four premium restaurants to his credit in London. He has cooked for the Queen and has been awarded an OBE (Officer of the Order of the British Empire) and MBE (Member of the Order of the British Empire). The River Restaurant is his first restaurant in the country exclusively at AWR.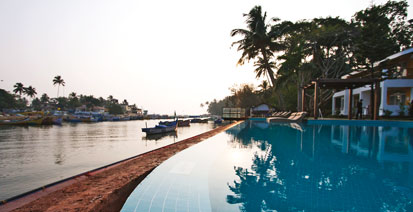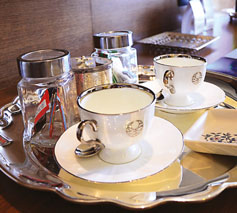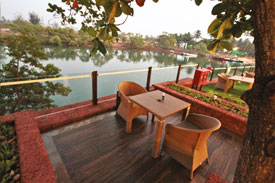 In Goa, Chef Cyrus planned to have the restaurant without a menu, a daring idea, no doubt. His concept was to use fresh local seafood and create recipes to the liking of each guest. Each customer would be given an option to choose the vegetables and ingredients of his choice, which would then be cooked in the style the customer wanted. Or you could just trust the chef and ask him to surprise you – the option we chose. To our delight, our servers Chinmoy and Ajmal served us the simple and yet delicious Rawa-fried Rawas and an elegantly cooked prawn curry with rice. A perfect meal is the answer to a holiday well begun.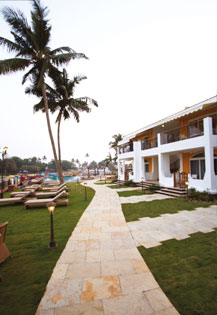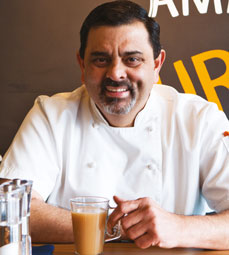 A part of Fortune by ITC´s hotel group, AWR is built and developed by Acron Developers, a big builder group from Goa, which explains its typical Goan feel and facade with happy colours like sunshine yellow, deep blue and virgin white which contrasts with the contemporary style of the rooms. The 29 rooms are divided into three categories to choose from, namely Sea View, River View and Courtyard Room.

Staying in Baga and not stepping out to shop would be a shame. The hotel doesn´t only take care of your transfers, but it also provides you with a car to move around in Goa. Now you could happily step outside and join the party hoppers at hotspots like Tito's, Cavala and Club Cubana. Or you may opt to stay in and relax with your personal butler to wait on you and have the benefit of enjoying wholesome food cooked by Executive Chef Mark Smith.

Early in the morning the infinity pool looks inviting. You could order a drink and sip away while relaxing in your lounger, or try your hand at casting a line and catching a catfish or rock cod in the river that overlooks. And that would require extra patience. If you get lucky, you could eat them for breakfast or if you feel merciful, just let them go. We, however, did neither. Instead, we chose to book ourselves a much-needed and awaited appointment at the Spa Sitara.

When you need some quality-me time, spas are the best place to revitalise your senses. Other options to consider during your stay would be to go on a fishing trip in a speedboat or enjoy a leisurely cruise through the backwaters. Just talk to your butler or the helpful staff at the reception and they will be happy to oblige.

In the short stay at the cozy Acron, we enjoyed the meals, the service provided by the staff and the charming rooms.

Acron Waterfront Resort is a quiet haven that is beautifully set in its one-acre plot. It's a place where we found peace and got ample of moments to catch up on the beauty that life has to offer. One that seems to be missing in our busy, technology-driven lives, back in Bombay.

Visit Acron for its simplicity, but most importantly for your lost peace of mind and we are sure between the sunset, the river, the sea and the beauty of nature, you will find that peace and relaxed joy.

Acron Waterfront Resort On the sea-ward side of the Baga bridge, Baga, Goa 403516 Ph: 0832 398 2888