Joy Kapur
TheTrue Blue Restaurateur
Nilu and Joy Kapur are favourites on the charmed society circuit of Bombay. And it has nothing to do with the fact that they have everyone eating out of their hands, through say Serafina, Irish House, Copper Chimney... the list is endless, really...
Text & Photographs: Farzana Contractor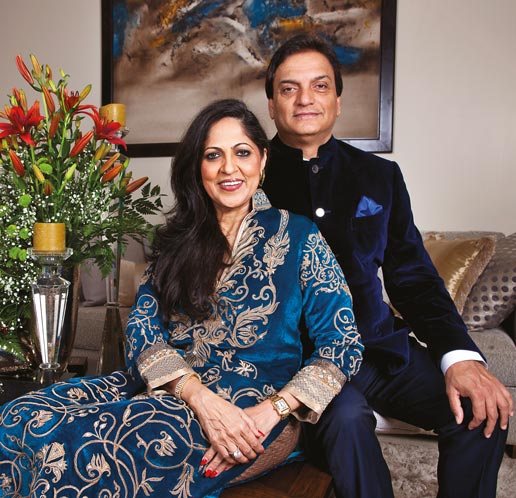 "You know, I may have come a long, long way in the F&B industry, but I am still known as 'the Copper Chimney man'," says Sunil Kapur, Joy to all his friends and in fact, to anyone who comes to know him even slightly. For Joy does spread joy and addressing him so, comes easy.
He was all of 20 years in 1979 when his father, handed him charge of the family- owned restaurant Copper Chimney, which Joy is extremely sentimental about and which sits pretty and successful at the same spot in Worli where it was inaugurated 43 years ago, by veteran actor Dilip Kumar, Joy's dad's good friend. "Yes," says Joy, with his baby-like smile, "I love to be recognised by our flagship restaurant, even though it may be the least contributing entity to the exchequer, as a brand it is huge and I do respect its integrity."
I agree, if Joy's culinary empire can be likened to a huge rain tree, Copper Chimney will be like its root, going deep into the earth. And one never forgets one's roots, the seed, where it all began.
Now 36 years later, he has innumerable brands under his umbrella, run by a few 1000 members of his staff, could be 5000 or 7000, he doesn't really know! "Quite a lot of them," he tells me, looking sheepish for not knowing the exact number. But to be honest, I don't blame him, his main job now is business development and like he informs me, his key, hands-on senior colleagues, about 150 at corporate level, are so professional, so loyal, so trustworthy, he does not have to even look in that direction.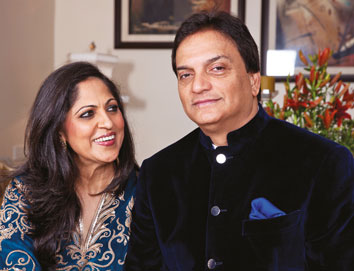 But then again, he does not know the sum total of his establishments – restaurants, pubs, cafés, ice-cream parlours – either!! And that makes me smile. How cool is that… And we are not even beginning to count the private banqueting spaces he owns, (like Blue Sea, among others) or the public spaces he controls (Cooperage Grounds), or clubs where his catering is enjoyed (NSCI Club, Turf Club), etc.
Guess Joy can thank his support system for that. His chief and her Chief. His wife Nilu and Chief her darling Golden Retreiver, without who the entire Kapur household could go kaput! Nilu is Joy's biggest and best critic and he values her judgement and taste immensely. Taste would include her acute taste buds and ability to know what menus would work, as well as her sense of aesthetics, her sense of colour coordinations. "She is tremendous, gives great ideas, knows what will work, what will not. She is lucky for me, her word is final," concludes Joy.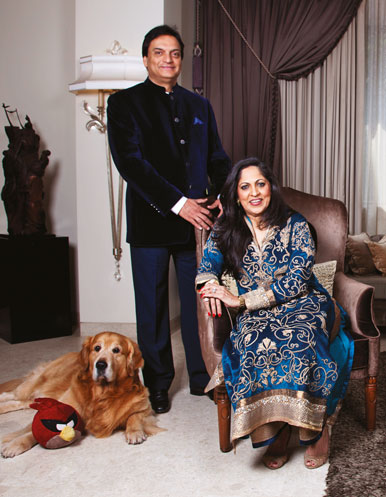 But Nilu is very self-effacing. And will do anything to make you believe that her contribution towards Joy's success is minimal. But it takes a woman to understand what it means to have a man in the house, who is rarely at home. Which was the case in the early period when Joy was totally consumed by the urge to expand, grow, make a name, be successful, create a brand, a chain, bring to India foreign names, big players in the business. "Yes, in the beginning it was tough but later I understood this was Joy's passion," says Nilu, "It was something that meant everything to him and I thought what if I was told, 'No, you can't do this or that, no you can't go trekking, you can't play bridge, etc, how would I feel, or cope?' and subsequently I became wiser and it helped give Joy peace of mind to pursue his chosen path." Well, well done, Nilu. In return, she has got a husband who is totally understanding, even doting, confident and cute enough to iron her kameez, if she asks him to. "I don't mind, I even love to do such things for her!" he emphasises. Joy Kapur is easy to the core. He is happy that Nilu shops for him, the shirts Nilu buys suit him better than what he may sometimes pick up for himself. If he finds some comfy shoes, he will order 10 pairs more and wear them one after another and is very happy till his stock lasts!
Guess it helps that the two of them have known each other since their school days. They met when they were in the 7th standard, fell in love when they were in the 11th, which was 1975 and got married in 1981. "Do you see any changes in him after all these years," I ask of Nilu and she replies, honestly, coz she is an honest sort of human being, "Well, yes, like now he is a man in a hurry; he has become very impatient, not like before, when he worked on an even pace," but quickly adds, "however, he never gets angry, never speaks badly and never screams, not even when we (she includes her two sons, in the we) are disorganised, something he can't stand!" At the dining table, at their well-appointed home in Worli, where we sit munching Punjabi samosas, Joy bats his eyelids and grins, "And I still fool and trouble her like I did 30 years ago!"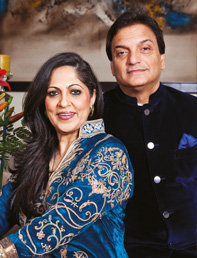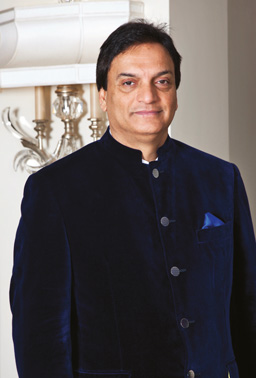 Overall, though, Joy is astute where business and figures are concerned, at heart he is a softie. For example, he can never fire a staff member. Even if there is 'dead wood' in the company he will have tell his managers to allocate some job they can handle. Only in two cases will he allow sacking. One, if someone is drunk on the job and two, if there is an integrity issue. Lazy chaps, telling lies, bunking work, these are minor issues for Joy and he will help reform them. Like he says, 'Incompetence, I can handle, but not drinking on the job or stealing!"
Their two sons, Varun and Karan, 29 and 27 respectively, are true gems. Both boys now married, Karan only just a few months ago, have taken charge of the business. Or let's say in traditional Kapur khandaan style, Joy put the reins in their young and capable hands just as his father had, when he was just a bachcha, out of Jai Hind College in Bombay where he did his B.Com. But while Joy was a greenhorn, these two boys are trained and educated with relevant degrees in hand.
"My sons are God's gift to me. They took to the business very naturally. Karan has now gone away to Harvard Business School for further studies, but he put in three and a half years before doing this. In fact, it was he who ventured into TFS (Travel Food Service) which Varun is now in charge of. It's amazing how they can stand in for each other. They are in perfect sync. Every two years they switch responsibilities and so know everything about each other's jobs. And with technology, the way it is now, they stay connected 24x7 and are totally aware of the goings-on." Joy, on the other hand, can only use his cell phone to good advantage and still relies on the good old diary to conduct his daily work life.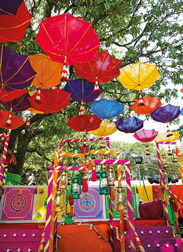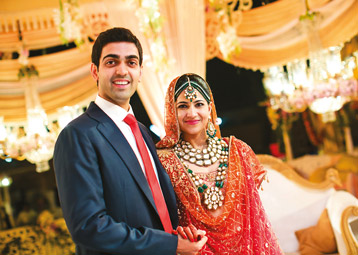 Joy claims he makes zero business decisions, these days. "It's Varun who is in charge since one and a half years. At best, if they ask, I give them my view but it is the boys who take the call. I gracefully accept their decisions even if it is against my view. After all, it is they who understand the psychology of the changing times." Guess, it's vision such as this which creates young entrepreneurs.
Joy may say he stays out of the day-to-day admin, even so, he is busier than ever, so what's his preoccupation?
Enlightens Joy, "Identifying new areas of business, searching for good locations is all important and rather time- consuming. Then there is the analysis, business evaluation to do and subsequently negotiations… one goes through a great number of meetings for all this. "Do you see yourself moving away from F&B, venturing into hotels, for example, or even construction, the whole world seems to be building, these days," I ask of Joy and he replies, "No, hotels is not in my DNA, I stay true to our core, which is food related. There's so much to do in this sphere itself. There is the huge potential in the processed food business area, flight catering, at least 20 airports where we can replicate the Bombay, Delhi model (don't forget, it's Joy's company TFS which is responsible for our upgraded food outlets at the airports), banquet halls, catering expansion, plus airport lounges!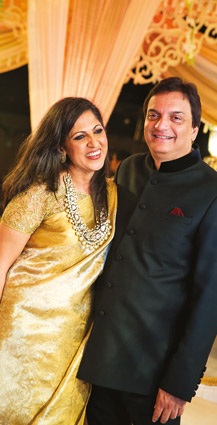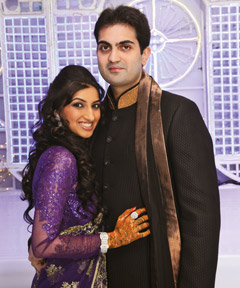 Ah, the lounges! I have yet to visit Joy's newest baby, the exclusive lounge on Level 4, at the the international airport of Bombay which I believe is awesome. Designed and run by Joy's company of course, the lounge for First and Business Class travellers is built on a staggering 45,000 sq. ft. area. Among all the usual luxury facilities, there is a live kitchen (first one in Asia) and a spa! Not just somewhere where you can avail of a foot or a neck massage, but a full-fledged, spa where you can avail of fancy body massages. They have four rooms. Always full!! "Which means, next time you are going abroad, book a spa treatment way in advance!" laughs Joy. His company operates lounges at international airports of Calcutta and Madras, too and plans are afoot to add more to the list. The one at Bombay's domestic airport will open any time now.
With all this hyperactivity in his life, I had to ask Nilu if Joy slept well. I mean with so much on his plate, does his mind ever rest? "Oh my God, he sleeps like a baby," she said, adding, "but that's when he is sleeping. Because he can sleep as little as four hours and yet wake up because he has to catch a flight or a friend needs him for something or the other, at some unearthly hour. Joy can never say, 'No'." "That's true," pipes in Joy, "I can do with some extra sleep but I am okay. Besides, I can sleep anywhere; in a plane, in the car, waiting somewhere." "And you know what else?," asks Nilu, "He never says, 'I am tired,' he just goes on
and on."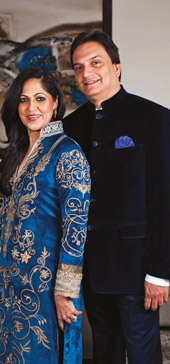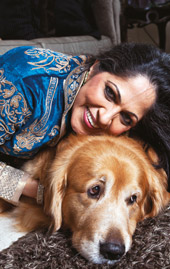 Joy candidly says 24 hours are not enough, he wishes a day had 36 hours, or better 48. And he confesses, "I have always been very ambitious from day one. I am always like, what's the next big thing I can do? I am always looking for good opportunities. I like to produce mass scale, never one, but 20, I like volumes! I never stop thinking, planning, dreaming. The subject of food is so exciting!"
It's food and people for this man. Joy is a peoples' person. Nothing relaxes him more than chatting with people, listening to them, giving or taking advise. He learned long ago from his dad that humility is the key. In friendships and at work. Joy did go through the full cycle before he arrived where he did. In his early days at Copper Chimney, he took orders from customers, even washed plates. His main job was to clear bottlenecks in the kitchen when waiters returned with soiled plates and they had to quickly unload them on the service tables. It would be Joy who assisted them.
"I think the same value system has been inculcated into my sons," says the proud mother of Varun and Karan. "I have good children, the love and respect we get from them is phenomenal. I can't ask for more." Nilu's eyes were moist as she invoked God's blessings upon her family. Joy emphasised that it was not they who were responsible for the way their two boys had turned out, rather his parents. Right until 11 years ago, both of Joy's parents were alive which means both boys were guided by their wonderful grandparents till they became young adults. They lived by example."We did spoil them," says Nilu, "but they never got spoilt!"
At this point I must mention, that both Nilu and Joy and the entire core team of their companies worked really hard to give the boys super weddings. Nilima Daruwala, Joy's right-hand girl, his majordomo and also a director in his company, was most instrumental in the marriage arrangements. Between them, they set new standards for wedding celebrations. Be it the sangeet, mehendi, baarat or the reception. Not like an over-the-top Great Big Punjabi Wedding, all sound and noise, but tasteful and boisterous at the same time. Imagine an open-air BEST busload full of foreigners, friends from around the world, dressed in traditional bundgalas and colourful turbans, as baaratis at Turf Club, and you will get the picture!
Well, it has been a long, happy journey for Nilu and Joy who are blessed with everything a good life can offer, including the fact that they recently became grandparents. This is Joy Kapur's planning, without doubt. The man who believes in volume, mass scale, etc, got Varun to produce two grandchildren at one shot, both boys, Jay and Ved.
And so the story will go on and we will all live happily after, knowing the future of India's culinary legacy is in safe and sound and in able hands.