Through Champagne - Tinted Glasses ...

Champagne boy, Gaurav Bhatia left 24,000 restaurants in Manhattan to come back home to become part of the first generation of luxury marketeers. He lives to eat and drink (blame it on his Lucknow heritage) and sells champagne for a living. Here, he dives into the art of entertaining at home, which is now become ever so sophisticated, 15 years on

The scene: Stunning women in yards and yards of tulle, bedecked in art deco diamonds and Zambian emeralds, hair coiffed up or flowing in cascades, smelling of Red Roses by Jo Malone, in a candlelit room filled with wild roses, old mahogany furniture and contemporary art – drinking vintage Dom Pérignon in tall Baccarat flutes between bites of Beluga.
Phew! This could be a fantasy out of Valentino's last post show soiree. Or a decadent Saturday evening in Bombay.
I am a firm believer in the metaphor of champagne. We work hard, and if we cannot celebrate the pleasure and spectacular gift of life (and living), in our cash-rich, time-poor existence, there is little point. That genial quartet of fabulous friends, inspiring food, a rocking DJ mix and champagne, and you have a sublime party to celebrate your friends with – one they will remember for a long time to come.
Luckily for us, it is all happening right here, right now – in a way it has never happened before.

Not very long ago, we were invited to a leading industrialist's home for dinner. The chic invite requested us to be dressed in theme – The Jungle – quite a refreshing change from our uninspiring lives in our own asphalt jungle. From my wife taking inspiration from Katherine Hepburn's safari chic look in The African Queen, we both dressed up in our forest fancy to enter a 10,000 sq. ft. living room bedecked in, hold-your-breath, Robert Cavalli zebra print from floor-to-ceiling. From seat-backs and tablecloths to napkins and even the waiters' aprons, there was zebra everywhere. Dom Pérignon flowed freely and our inner animals shone as we heard Jungle Love and Mondo Africa through the evening. Feathers, animal prints and lots of skin brought out the wild side of jungle revelers for an untamed, unbridled and very lively evening in an otherwise pure vegetarian household. That said Michelin- star chefs were flown in from Milano to give us a meal that saw over 30 shades of vegetarian Italian fare, including truffles from Alba that had been freshly flown in. If that isn't decadent, I am not sure what is.

Indians are basically social animals, proud to open our homes and hearts, proud of our food, proud to open our bar, proud to entertain our friends at home. Or certainly that's the filter I see things through. Perhaps it is a champagne filter. Some part of me still has a strong Lucknow legacy that loves to eat, entertain, invite and be invited.
Parties are meant for pleasure. Pure, unadulterated, decadent pleasure. Gone are the days when one ate a mean gosht biryani and had shammi kebabs with a glass of scotch. Entertaining at home is no longer what is used to be.
When I decide to have friends home – however small, it becomes a mini project. A fun one at that. From the flowers and candles to the food and wine to the linens and crockery and of course at the heart of it all are the people – it is for your friends and they must be indulged. This is why I rarely plan a spontaneous gathering. Which is perhaps not a good thing. I just need it to be done my way. The right way. From menus being planned and cooks being briefed weeks in advance, to getting the cases of champagne and wine in, to our brainstorming sessions on the flowers with our beloved Nazneen Jehangir – peonies or king protea, ranunculus or hyacinths – depending on the season and what can be flown in in time, it is all one big celebration of the senses.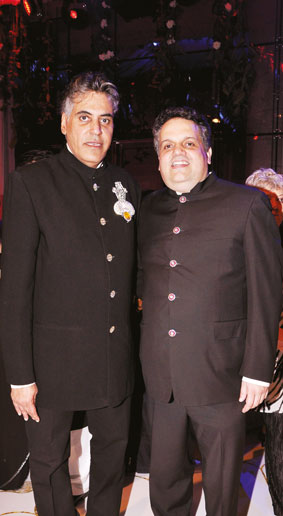 Coming to legendary hosts in Bombay who I have met, the inimitable Mrs G needs little introduction, but perhaps a separate story dedicated only to her. Coming to my favourite hostesses in Bombay – she is also one with the biggest heart. Roohi Jaikishan. The name spells old-school glamour with a true rockstar spirit – a rare amalgam. Always dressed in Balmain or Balenciaga, you may mistake her for an heiress who spends her days buying diamonds and chiffons and planning her flowers. Few know, that heiress she is, but she also heads marketing for one of the largest food importing companies in the country (her own) and tends to her flock of three seamlessly – a doting husband and two beautiful children. She is the true czarina of style and entertains like very few do today – with real élan. Her USP – everything is home-made. Having an art deco townhouse with the most gorgeous vistas of old Bombay doesn't hurt. She brings out the best from her kitchens – her Camembert Soufflé, Chilled Gazpacho with Avocado Sorbet, lamb shanks served in heirloom hallmarked silver could give the Zodiac Grill a run for its money. Her desserts are as breathtaking – Roohi's very own recipe of her Flourless Persian Pistachio Cake with Rosewater Crème is a metaphor of herself – divine. Slowly becoming a legendary hostess in her own right, she keeps an eye on every single guest and mingles beautifully. You can rarely say no to Roohi. And never, you should.
Internationally, I have always admired how Oscar de la Renta used to entertain. Or Valentino. With Valentino, you are indeed at the emperor's table. From his seasonal flowers to fresh menus to his themed soirees (more about that in another story), it is all a form of perfect storytelling. Who can match this in India? Perhaps the original boys of couture – Abu Jani and Sandeep Khosla. If you are ever, ever invited to their table, go! Sandeep comes from an old family from Kapurthala and Abu from a gastronomically enthusiastic Bohri one; food is very much their raison d'être. No day is complete without discussing the next meal. The same amount of passion that goes into their design goes into their food. There is no halfway house. That makes every meal in their home very, very special. With lots of drama.
I remember many years ago when we had just begun to know them, Sandeep causally invited us to watch the season premiere of a show on television. As budding friends (and their biggest fans) my wife and I agreed in a heartbeat. "Come in tracks; it's a causal night at home. Just us!" said Sandeep across three Bombay islands. Everything about the plan worked and we trekked to their gorgeous home in Juhu. Many glasses of Moët Rosé (they only serve Rosé, never any other), out came the decadent galoutis freshly flown down from Lucknow. "See I knew you are from Lucknow so I made a friend send these via this evening's flight!" I thought to myself this is possibly the most generous and thoughtful host and friend I have ever met! But it didn't stop there. Out came the Akhe Masale ka Gosht, the Goan Prawn Curry, the Chicken Farcha (a Parsi-borrowed recipe – divine), the Stuffed Crabs, Stuffed Bombil, the most decadent Aloo Bharta in the world (a potato mash that is truly a trip to heaven and back!), Crispy Okra Raita and a host of condiments and chutneys – all home-made. Don't even get me started on the khichda – an old recipe from Abu's family. And about four desserts which I smartly ignored. A feast fit for the Gods. And for the two of us! All washed down by generous flutes of the Rosé. Well, that's just the way they do it. Over-indulgent. But done with the purest goodness of their hearts. As complex as their zardozi. And just as delicious.


Coming closer to home, it took 65 people and 75 bottles of Moët & Chandon to get my wife Pratima to turn 40. Well, that made it a little more than a bottle of champagne a person. And guess what, we actually ran out at half past two in the morning. I had to chill and uncork my backup case of champagne so we could run until 5 am. But there was something that night. A little magic. And that came from the decadence that we created. Amidst the stars in the flute and those above us were good friends. There was a live band, followed by a stream on SoundCloud by Kygo chill tunes, to Calvin Harris to dance, and Eric Prydz, tons of yummies, a bar with every tipple you could think of and a banquet that began with caviar and ended with the Valrhona chocolate shots. The home looked like a garden in bloom in spring with wild roses. You could have been in Capri.

From the best chefs and mixologists to home-made banquets, entertaining today is all about make-believe. You could be in the fantasy of Marie-Hélène de Rothschild's famous Surrealist dinner.
Good parties are about good souls. What you get is experiences – sublime ones. Done with the biggest hearts. Let's just say I'm lucky there are plenty of them around.
Gaurav's planned menu for his wife's 40th birthday on October 16, 2014 in his apartment in Bombay
Apéritifs

•

Magnums of Moët & Chandon

•

Belvedere Martinis – Shaken (Think Bond!)

•

House Red & White Wine

•

Glenmorangie and Ardbeg Single Malt Whisky

•

Café Patron

•

Home-made Rose Sherbet with fresh Kashmiri Saffron (Gaurav's grandmother's classic Lucknow recipe)

Hors d'Oeuvres

•

Blinis with Crème Fraîche & Beluga

•

Gruyère Gougère with Goat Cheese Mousse & Crispy Beets

•

Sushi Rice Cakes with Avocado & White Asparagus & Wasabi Air

•

Blinis with Crème Fraîche, Beetroot Relish & Balsamic Caviar

Small Plates

•

Four cheese Truffle Oil Mac & Cheese

•

Butter Poached Lobster on English Muffin with Hollandaise

•

Duck Confit in Phylo Cups with Orange Segments & Pomegranate Coulis

•

Watermelon with Thai crab & Shredded Kataifi

•

Spanish Paprika Prawns & Clams on Sourdough Bread

•

Lamb Bourguignon with Mashed Potato & Baby Carrots

•

Mascarpone & Portobello Mushroom-Stuffed Chicken with Jus & Seasonal Vegetables

•

Paired with Dom Pérignon Vintage 2003.

Dessert

•

Mini Crème Brûlée

•

Chocolaté Profiterole Crème Pâtissière

•

Seasonal Alphonso Mangoes Crème Fraîche

•

Desi Gulab Sorbet