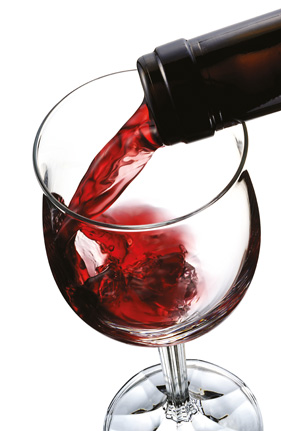 Down the Long Wining Road
Wine professional Subhash Arora takes you down 'wine alley' in India over the past 15 + years, leaving you proud of its cumulative heritage, though there's still a long way to go, he says
It is a coincidence that the defining moment for the Indian wine industry in its present form was in 1999 – around the same time as the launch of UpperCrust magazine. The history of Indian wines would record that the leading producer Sula entered the fray in 1999 with Rajeev Samant who had returned from Stanford and looking for a viable project, founded this company.
Based in Narayangaon in Maharashtra, Chateau Indage known then as Champagne Indage was then the undisputed king of wines in India followed by Grover Vineyards in Bangalore, which had started producing good quality red wines and had introduced them in the pre 2000 era, spread over 15 years, starting in 1984-85. Indage producing Marquise de Pompadour sparkling wine from Thomson Seedless grapes was a pioneer.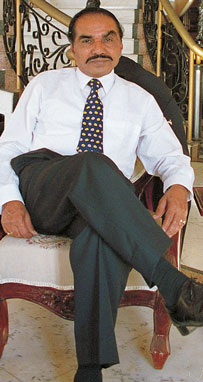 Samant decided to grow wine grapes at the family orchard in Nashik and collaborated with a wine consultant from California. The first vintage was out in 2000 and the Sauvignon Blanc quickly climbed in the popularity charts. There was a steady expansion and growth of business until 2008-09 when the industry took a nosedive partly because of the unfortunate mishap of the terrorist attack in Bombay in November 2008, and then followed by the world-wide recession that swallowed the leader, Indage Vintners as it was then called.
Samant saw the opportunity and entered all the segments where the void had set in, including the lower-priced Port wines. Rest is history with Sula increasing its sales to an estimated 8 million bottles this year from a bare half million mark about 10 years ago, making it an undisputed leader by miles.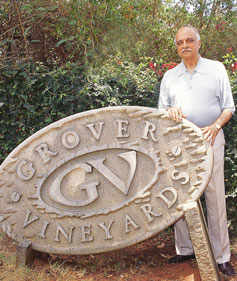 In 2001, Maharashtra had come out with a 10-year single window, no excise duty policy for 10 years – later extended till 2021. The state government also decided to refund 16% of the VAT paid by the industry. This encouraged several new wineries to be set up, specially by farmers turned entrepreneurs many of whom had no business acumen. Majority are now languishing for want of funds, marketing strength or the right quality to compete in the market place. Although the number of registered wineries is over 90, only about 20 of them have any significant presence. Sula is the leading producer followed by Grover Zampa, Four Seasons, Fratelli, Seagram's Nine Hills, Charosa, York and Vintage Wines as the other noteworthy wineries though Vallone, Mercury, Vinsura, Chateau d'Ori and a host of financially stretched loss-making wineries are producing small quantities.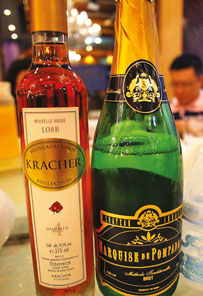 Karnataka has been the only other state where wine production and consumption has been thriving. The wine policy encourages winemaking and issuance of tavern licenses at throwaway prices to sell wine on premise. Grover is the leading producer with Krsma and SDU Wineries as the new boutique wineries. Alpine has a state-of-the-art winery and a big vineyard land bank but family issues have made its future uncertain. Myra, Kinwa, Humpy are some of the smaller wineries. Big Banyan is based in Bangalore but makes its wines at its distillery-cum-winery in Goa and is planning to set up a winery in Karnataka soon.
The imports were opened up in 2002 making it possible for anyone to import wines – of course with licensing as required by law and with extensive high duties that were about 460% in the early stages. The customs duties were reduced to 150% in 2008 but each state has its own excise duty regimen authorised by the Indian Constitution, making it a nightmare to sell with arbitrary and often illogical moves by the governments in the name of controlling alcohol consumption and the high duties to help the exchequer.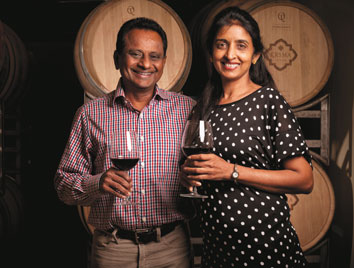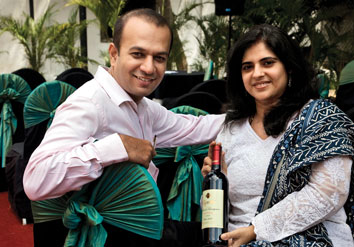 FSSAI – the new government body created to oversee the quality has been a scourge for the wine, spirits and food industry during the past couple of years, causing a significant amount of damage to the importers, foreign producers and has even tarnished the image of the country overseas to an extent. The bureaucratic handling has straitjacketed the industry which is slowly coming to grips with the abstract and often vague procedures adopted by it unilaterally in the name of the law.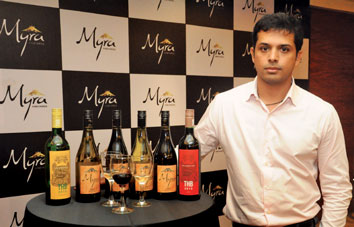 But the thirst for wine has increased though the lack of basic education has made it a laggard, despite the 15-20% growth it has attained consistently during these last 15 years and is expected to maintain this pace with a total present consumption of about 2.8 million cases. There were less than half a million wine drinkers then but the number of wine drinkers is estimated to be between 2-3 million now, still miniscule compared to the hard liquor drinkers; making foreigners often take a jibe that Indians like to drink to drown their sorrows and express their joys by getting drunk.
There have been many factors that have contributed to the increase of wine culture. It has been accepted as an aspirational, lifestyle alcoholic beverage with red wine perceived to be healthy when taken in moderation and even prescribed by a significant number of medical practitioners. There has been an increase in the young, middle classes and women drinking wine. The number of wine clubs like the Delhi Wine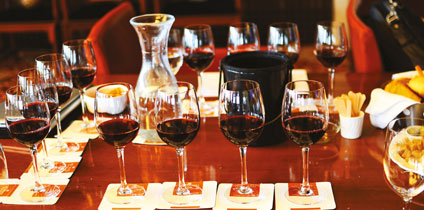 Club, Bangalore Wine Club, both formed in 2002 – and very active – is on the increase. The recently formed Nagpur Wine Lovers Club and smaller clubs in other Tier 2 cities have been promoting wine culture, though much more effort needs to be encouraged in this segment.
Several hotels like Shangri-La in Delhi and Leela Gurgaon have formed their own wine clubs where they invite their regular customers. Hotels like The Oberoi have regular wine tastings. ITC and Taj have regular wine dinners and events supported by importers and domestic producers alike. Holding weekly wine socials has become a regular feature at some of these hotels. All these establishments are keen to organise wine events when supported by the importers and producers, making the exercise prohibitive at times for the vendors. Foreign junkets for importers, hoteliers and restaurateurs, sommeliers and journalists have become useful tools to help increase consumption.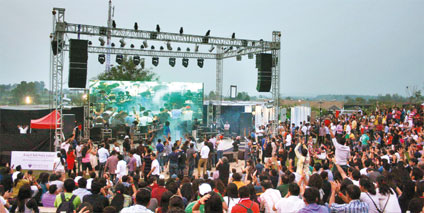 Wine fairs and festivals have become popular during the last five years with Bombay, Poona and Bangalore taking the lead. Sula has established itself a leader in this category with the annual two-day SulaFest already attracting over 12,000 people this year. Grover Zampa has started a similar festival this year in Bangalore and though the estimated 1000 attending might be modest in comparison, it has the making of a much bigger event. Bangalore International Wine Festival and the Grape Escapades in Goa have the governmental support and blessing. Mumbai Wine Festival, Bandra Wine Festival and Pune Wine Tasting Festival have become well-established annual features. Delhi has been a laggard due to the archaic excise policy but a beginning was made recently when wines were allowed to be served at a food fest in Nehru Park. Organisation of regular road shows has also helped create the buzz.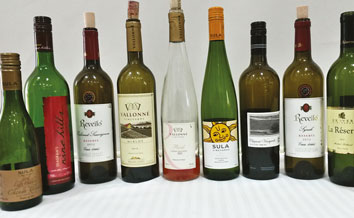 Indian wines seem to be finding their niche in the international markets as well, thus helping them build a favourable image in the domestic market. They have been consistently winning Gold and Silver medals in international competitions. Celebrities have started collaborating with domestic producers. Vijay Amritraj Collection from Grover Zampa has made an international mark while Sula has been getting repeat orders from their clients Marks & Spencer and Direct Wines in London. Japan is already a well-established market for Indian wines while Krsma is ready to launch its wines in New York soon. Alpine has established a European network to sell its wines in Europe. The quality has taken a quantum jump that bodes well for the future of Indian wines.
Wine tourism has taken a quantum jump too. Sula expects 200,000 visitors to its Tasting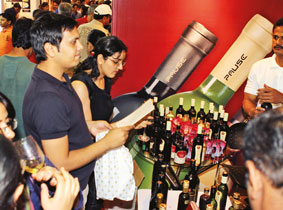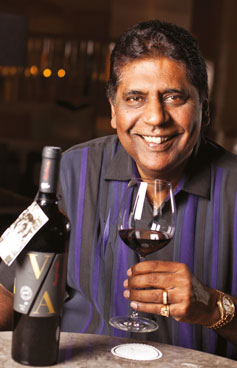 Room and other facilities this year. Grover Zampa is planning to set up a hotel at its Nashik facilities. Four Seasons has excellent guest rooms well integrated with the winery. Fratelli has reasonable amenities at its winery in Akluj. Grover Bangalore is now focussing on stepping up its facilities even as the fortified wine producer Heritage has taken the lead in the area due to its excellent location and an aggressive promotion with the support of Karnataka Wine Board, making it a leader in the segment.
The number of bloggers and wine writers has seen an increase at an even higher rate than the consumption growth. Newspapers and magazines find a regular or a special occasional column even in the regional languages. UpperCrust Food & Wine Show, an initiative of this magazine has done its share of promoting wine to the masses through several tastings and educational programmes it has organised during the last 12 years since it was first launched.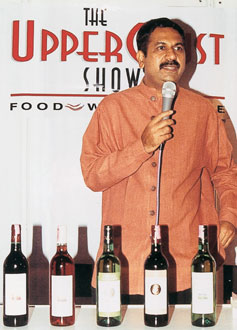 In the very first year they had a wine section, where visitors would go and chat at the different wine booths, taste, ask questions about wines and learn without hesitation. Three years later, the wine section grew into many more booths. They had a lane full of wine guys, both local and from abroad and thus was born the UpperCrust Wine Alley. With wineries from South Africa, Israel, France and Italy participating, it became truly international in nature. The UpperCrust Show helped both the wine trade as well as consumers intimidated by the subject. They offered wine lovers an opportunity to come and look, touch, taste and buy wine. They were the first to do Grape Stomping as the grand finale – in big and cut wooden barrels. With great music and DJs on hand the Show attracted huge crowds and contributed significantly to the entire process of wine -drinking.
The wine-drinking culture is on the increase, though at a slower pace than in China where a lot of similarities were seen 15 years ago. As and when our government realises that wine is different than other alcoholic drinks like liquor, and the policies and procedures are streamlined, and people become keen for wine education as in China, the wine culture will continue to grow though it may not be able to compete with spirits yet, rather for a long time to come.