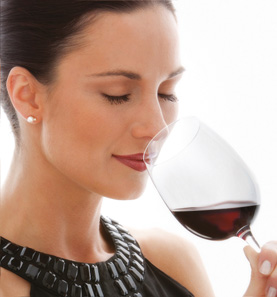 Wine Away With Ease
Hotelier and wine connoisseur Neelam Seolekar tells you to pick up a glass and just enjoy the wine, no frills attached
Pluto was right when he said, 'Nothing more excellent or valuable than wine was ever made by the Gods to man'. Growing up in a family with hospitality as one of our businesses, little of what I remember seeing amongst the labels in the wine category were Golconda and maybe a bottle of Port.
More and more wine tours, wine tastings in public areas such as malls, farmers' markets, vineyard festivals, vineyard visits and wine appreciation sessions amongst the corporate world thus, has not just introduced, but educated the non-exposed consumers to wine-drinking. One can see the evolving Indian consumer becoming more aware of the choices available in the market today and seeking value on every purchase made.
Once upon a time wine-drinking – a snobbish affair best left to the wealthy connoisseurs – was a daunting subject for the uninitiated; and has now come a long way. Wines today may still be considered a fashionable, upmarket and sophisticated indulgence, but is now served casually at social events and at the restaurant table. Toasting with a glass of champagne at a wedding is no longer an affair seen only in the elite circles.
The best change to take place over the last few years is that wines have got their grape recognition on the labels mentioning the varietals, i.e. names of grapes like Chardonnay, Chenin Blanc, Sauvignon Blanc, Merlot, Syrah, thus creating a retentive memory to relate to and develop one's palate. Wines have come a long way in this regard, too, from just being called the reds and the whites.
Change in lifestyle over a decade and a half has been the driving force behind the growth of wine popularity seen in the country today. Impressive economic growth, higher disposable incomes due to international placements in the IT and BPO/KPO sectors, financial independence among the working women, foreign students, overseas travellers, increasing health awareness have moved the alcohol consumers more towards consumption of wines and fine wines.
My favourite amongst Indian wines are from the reserve collections, where 80% would be an oaked Cabernet Sauvignon, more appealing to my palate – a taste acquired over my vineyard travels, as part of my profession.
On overseas visits to Europe, be it Bordeaux, Loire Valley, Champagne district or the Chablis, Napa or Sonoma, the appreciation of wines is and always has been a life-enhancing experience to me, an experience to be encouraged whenever possible as drinking wine – and travelling, – is positively good for you (my mother often mentioned when she was pregnant with my youngest brother, a petite glass of Port was encouraged before dinner as it's said to increase haemoglobin).
My very first wine tours date back to the early '90s when we did a champagne trail, staying on quaint vineyards along the Seine river all the way to the Rhone Valley.
Then came my jaunt to Napa in 2008, getting introduced to the fine Cabernets from the House of Roberto Mondavi and Joseph Phelps – my favourite here being Insignia- 83% Cab Sauv, 13% Petite Verdot & 4% Malbec.
This cellar's 1973 vintage won the Paris Judgment in a blind tasting along with French wines. The Stag's Leap Wine Cellars were made a global superstar, further enabling the New World wines to get recognition as superior wines; not only for USA but Australia, South America and the rest of the new world wine countries. My favourites at Stag's, besides the vintage is the Cask 23 and Hands of Time red Cab Sauv (a Bordeaux blend) – an all-time favourite getting increasingly popular in the US.
Memories of celebrating my wedding anniversary come to mind while writing this piece... A fantastic lunch at Beringer in November of 2012. Tasting the white Zinfandel (a grape known as California's only indigenous one) – a cool, crisp, fruity wine served chilled with our first course of Maine crab cakes with a citrus salad garnised with edible flowers from the garden (this wine pairs well with our own tandoori chicken and kebabs, too) followed by their full-bodied Cab Sauv paired with the most luscious Osso Bucco I've ever tasted. The tasting menus here are crafted by Executive Chef Maurine Sarjeant for their esteemed guests, we are told.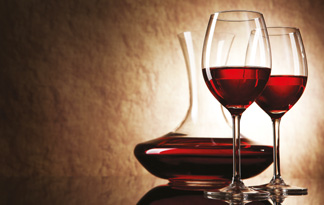 A visit to the Frescobaldi castle in Florence, the great Castello di Nipozzano estate where I first tasted Mormoreto wine over a delicious lunch. We began with the Pomino Chardonnay – a light and fruity wine paired with cherry tomato in a puff pastry tart and (aubergine) Melanzane Parmigiana, followed by a Nippozano Reserva 2001 a Chianti Rufina – a 90% Sangiovese grape with Cab Sauv – paired with Tortellini de Pattae (meat sauce). Then came my favourite Mormoreto; the murmuring sounds of the vineyards here, so very like a tranquil feel, thus deriving its name from the phenomenon. It is a 60% Cabernet Sauvignon, 25% Merlot, 10% Cabernet Franc & 5% Petite Verdot. Excellent! Paired with pork fillet or thin fillets of tenderloin. Dessert wine was a Castello Di Pomino Vin Santo (holy water) served over Torta della Nonna (grandmother's custard torte). All the gourmet fare was prepared from the local produce on the farms around to maintain sustainability by their own house chef who has experience serving visiting dignitaries.
Luce 2003 – Montalcino grape – is a Frescobaldi and Roberto Mondavi joint venture to produce Super Tuscan wine (Super Tuscan is a qualification now recognised IGT. Marchesi Antinori broke the DOCG rules of Chianti in the early 1970s to produce some of the world's best red wines, now labelled as IGT Toscana) during their brief collaboration in 1995. It formed one of my most treasured memories from one of my great evenings at the Tredicci Gobi (13 Gobi), a bespoke restaurant très popular amongst the Italians in Florence. Other labels from the JV available widely in India are Danzante – an affordable all-occasion wine and Ornellaia – astronomically successful worldwide
Too many wine aficionados take wine too seriously, often making the novice around them feel small because they supposedly don't know enough about this lovely subject. Wine is a living world, forever changing. What you know today may not be true tomorrow. Even one's palate changes. And what you get today may not be available tomorrow, so if you know you like a Cabernet Sauvignon or a Chardonnay, then spend a few minutes getting to know what a few other wines taste like, something similar, perhaps, and you are halfway to becoming an expert!
Housing good wines from around the globe at the "O" cellars, as I like to refer to my collection is therapeutic, to put it right. From the Super Tuscan Tignanellos, Mormoreto to the DOCG Brunellos, Chianti Classico, Santa Cristina from the Tuscan region, good Cabernets from the Napa Valley, value for money wines from the New World – easy table wines from the Chilean, Argentinean markets ranging from Rs.2,900 - 10,000+ – these are a few overseas wine choices accessible in India today. So drink with the right company alongside the right food and the simplest of wines taste divine!