Saee Koranne-Khandekar
Food Author, Researcher, Consultant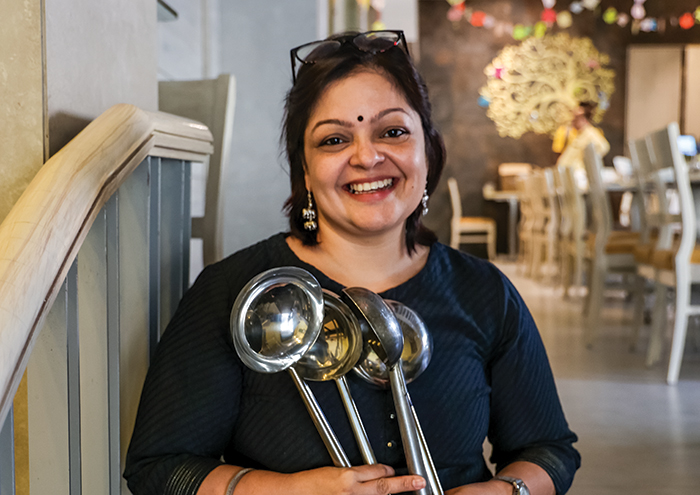 First an author, then a researcher, then a consultant, all centred around food… Saee is a self-made woman focused on changing the lexicon of Maharashtrian cuisine in Bombay and the country
A Food-Loving Revolutionary
Interviewed by LYLE MICHAEL
She's leaving behind a trail of crumbs for food lovers and aspiring culinary professionals to pick up and take forward. Crumbs! Bread Stories & Recipes takes you through her journey of becoming a bread-maker while Pangat, A Feast! is a compendium of over 200 traditional Maharashtrian recipes that go beyond the ordinary. Her most recent, From My Oven is for the Indian baker right down to sources for equipment to ensure you get that pie just right. Saee Koranne-Khandekar is quite the household name ever since she forayed into the food world as an author and researcher in 2008 up until now as a food consultant, offering her expertise across the country.
Take Soam, for example, one of the restaurants she is currently consulting for. No, it's not Maharashtrian cuisine but that's Saee for you: versatile in her culinary acumen. Gujarati cuisine is played around with to offer something for all age groups at the all-veg SoBo eatery. New menus are developed as per the seasons and new formats adopted to enhance presentation and service. "I want to bring youngsters back to the traditional foods," begins Saee. "Like, for instance, a pandhra rassa (the typical Kolhapuri white chicken/mutton coconut curry) is served in a cutting glass." Now that's an invention.
Changing the lexicon of Maharashtrian cuisine is what Saee set out to do years ago and continues to. Her work runs parallel to her roots, whether it be in the books she writes, the recipes she curates, the pop-ups she organises or the menus she consults for. Or even the masterclasses she showcases her work at, such as the UpperCrust Food Show held in Dec 2022, where she dished out a thecha pesto using olive oil. Saee shares, "I want to break the barrier to food. And I find that language is one such barrier."
Take for example, Marathi words or matras when used by non-Maharashtrians can become difficult and the food then less accessible. Like "ald-loo", which is colocasia, is very tough to pronounce properly. Saee illustrates her point with that taro root vegetable and goes on to share her innovative food concoctions which are rooted in her childhood memories.
"I like going beyond the ordinary to create new experiences. A mutton sukka in a taco or a thick kheer made of orzo pasta, a new healthier version of a crème brûlée, are instances." Voila, Marathi cuisine served anew.
Food has been intrinsic to Saee's upbringing and shaped her future. It serves an emotional purpose, speaks a language of comfort and celebration for her. "Food has always been like that for me. I grew up in the type of home where we were primarily involved with food. My grandma roasted eggplant on charcoal though she lived in a fancy South Bombay home. The traditional methods of cooking were maintained no matter what. The flavour that is imparted is something else altogether." As for baking, where did that originate from, we enquire. "From my mum. I was interested in baking from a young age thanks to her. She used to bake a lot. Once I enrolled for formal training, I realised it was a lot of hard work and precision, it was rigorous." But she loved it, and the proof is in the pudding today.
Once Saee was married and set up her own home, access to food was made much easier. And she continues to have her beloved as her seasoned taster. They say the family usually bears the brunt of one's kitchen experiments and even for someone as experienced as Saee, it can still hold true. "Blunders still occur when I'm experimenting in the kitchen, like when I was modernising a traditional food item like a cornbread," quips Saee. While her husband cannot cook, her three little sous chefs are more than capable. "All three of my children – a girl and twin boys – love to cook. Sunday breakfasts are always cooked by the boys for the family."
The kids also inherit the flair for writing from their mum. The MA in English Literature (from then Bombay University in 2004) wrote her first poem in Marathi and has written a bunch since then, along with short stories and fictional books for children. That's right, Saee is also a fictional author and poet, all rolled in one. She smiles, "Poetry is very immediate for me, inspired by moments in my life: something my children said, the bougainvillea outside my window, COVID, women's subjects – a very important topic for me – and they mostly follow the format of a haiku. I write while I'm cooking, too."
Saee, the multitalented multi-tasker, who works daily on uncovering the science of food and its varied ingredients. She gives us the example of ber and methi and their amalgamation in a sweet and bitter marriage. Saee, who looks for the food aspect in all her travel expeditions; who enjoys the quietude of meditation, of her own space, with a book and a single malt in hand.