Chef Saransh Gets Creative
With Olives From Spain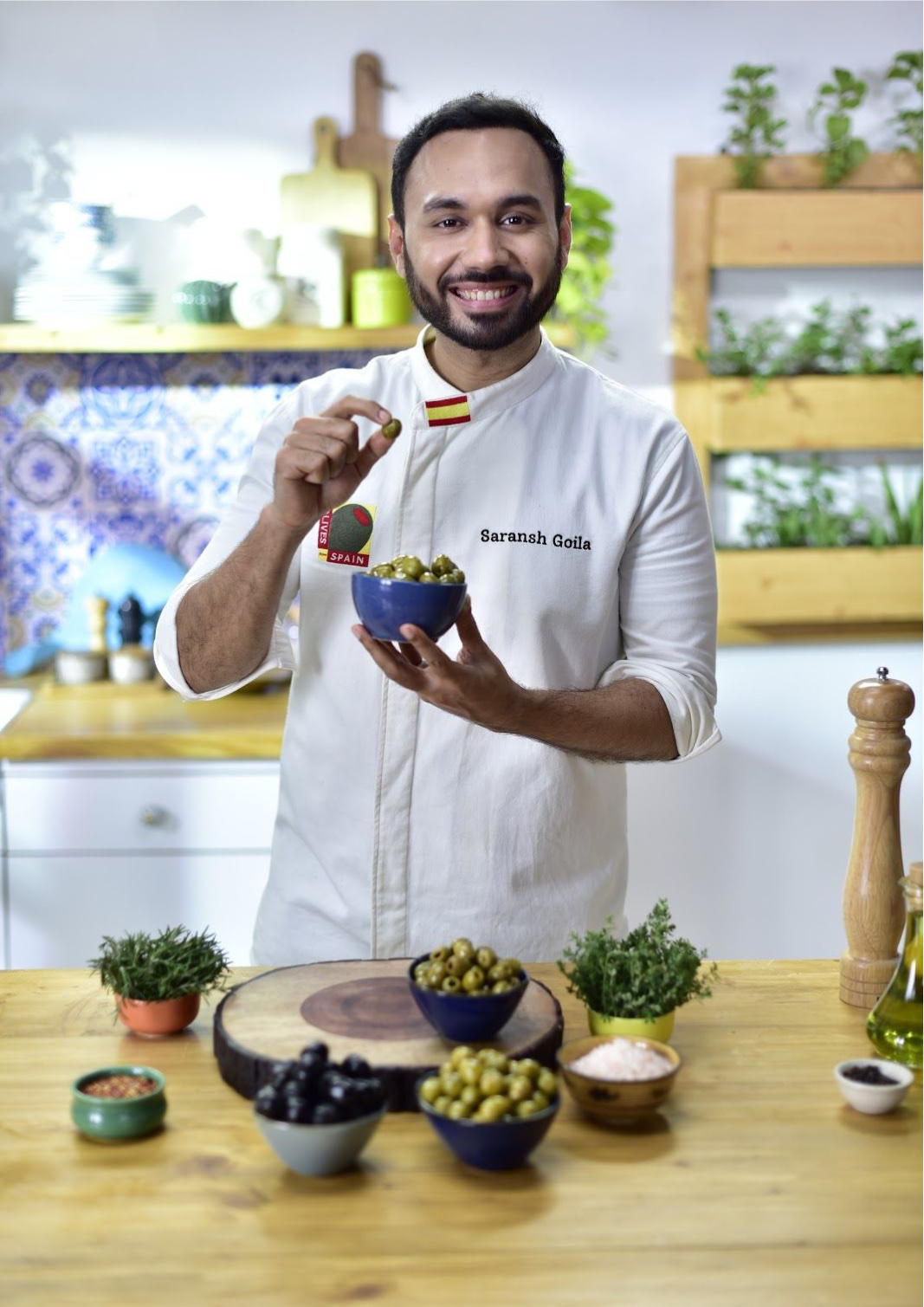 Olives from Spain make for an incredibly versatile ingredient owing to their nutty, sweet and savoury bold flavour, simplicity of use and the surprising touch they give to any dish. Demonstrating this, Chef Saransh Goila showed professionals from the hotel, catering and hospitality industry the potential of cooking with Olives from Spain.
At the IHE Expo, Chef Saransh prepared two creative dishes that brought together the Spanish trend of Tapas and Indian flavours by cooking with Olives from Spain as the primary ingredient.
The first recipe brings a creative, novel touch to the classic Indian bread- Kulcha. Chef Saransh prepared a Black Kulcha using black olive powder. Black olive powder is made by dehydrating black olives to pull the moisture out and blending them to a fine powder. It is a nutty, sweet, salted and bold taste in the mouth. Black olive powder is used as an olive salt, a condiment, a seasoning as well as a plating element in many European restaurants. Incorporating this ingredient in his special Kulcha gave it a very surprising twist, aside from the attractive colour.
The second recipe created by Chef Saransh is Green Olive Thecha with Jerk Mutton Bruschetta , beautifully presented on Mini Thalipeeth made with bhajani atta. The thecha is made by mixing juicy green olives and pounded green chilly with roasted peanut, giving a nice kick, consistency and texture to this recipe .
Chef Saransh proved that there are no boundaries to what one can create with olives, and demonstrated how deliciously they can be used with Indian ingredients. Full of flavour and personality, olives fit in a wide variety of recipes.
| | |
| --- | --- |
| Black Olives Kulcha | Green Olives Thecha Bruschetta |