Great Wining & Great Dining Restaurants for Wine Lovers
Drinking great wine with your meal is a hedonistic pursuit and one that UpperCrust approves! Besides food just tasting nicer when washed down with sips of wine, it is accepted wisdom that it is the healthier option, too.
Wines do complement food. One enhances the other. And if you can find restaurants that help serve both, it's an occasion to celebrate!
We found a bouquet of such wine-and-dines for you, with sommeliers in place to advise you and guide you through your meal. There are some with dedicated wine pairings for their signature dishes, too... all just to ensure you have a fabulous experience. Cheers to that!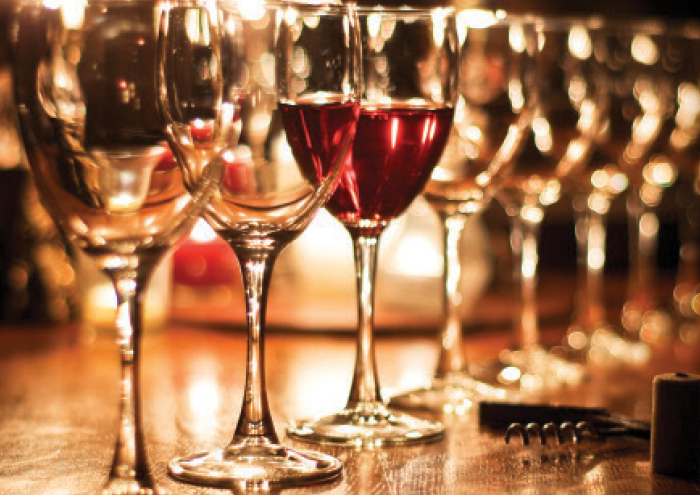 Enoteca at Vetro
When wine is your world, The Oberoi, Mumbai wants you to be a part of theirs. Situated in one of our favourite Italian restaurants in the country, Vetro, this dedicated wine library is where it's at for a wine lover looking for the finest of the fine, with an enormous selection of over 1200 bottles. Tasting experiences are de rigueur at a wine space and they do it well at Enoteca. It's curated with a cheese tasting in tow, too.
Pass by the red gleaming piano we just love and step into the glass-enclosed Enoteca at the lobby level of Vetro. Floor-to-ceiling windows greet you with varied hues of natural light streaming in, lacquered panelling and marble flooring. You could well lose yourself here, with a seamless experience that pairs the wines from Enoteca with the fare from Vetro. It's quite right for a pre or post-meal drink where you can taste some of the topmost Italian labels, pair it with olive oil and the Grilled Lobster Salad, for a taste of Italy.
Italy offers the Marchesi di Barolo from Piedmont and the Mirapiana, Chardonnay-Trebbiano. Other regions offer stellar vintages like the Australian Penfolds Bin 389 for the Shiraz lover and the Pol Roger Brut Reserve for the celebratory occasions. The Sauvignon Blanc from Napa Valley's Cakebread Cellars has always been a pick of ours and is certainly on the wine list at Enoteca. And the Vijay Amritraj Grover Zampa Viognier from Nashik is another one. There's enough and more to pore over and pair with; toast with and relish.
Relish the Truffle Tagliatelle and the Saffron Risotto. Eggplant Parmigiana is really something you cannot go wrong with, and Vetro doesn't. The Grilled NZ Lamb Loin… now that's a winner and the Green Chilli Black Cod with polenta crisps comes a close second.
Go classic with the tiramisu or a little revolutionary with the Tropical Panna Cotta while you sip on the Heggies Vineyard Botrytis Riesling, of Eden Valley, Australia.
When wine tasting at Enoteca, diners may sample a selection of three white and three red wines before deciding on the perfect bottle to accompany their meal. A fromagerie houses a range of cheeses, imported from regions of Italy for you to nibble on and make memories with. Wine and cheese has that effect, right? Enoteca's Sommelier, Amit Jadhav, quotes RL Stevenson when he says, "Wine is bottled poetry. It's an art we exhibit at Enoteca during our Worldy Wednesday tasting and appreciation sessions. Each terroir, winery and its history is portrayed to our guest connoisseurs to savour the quality of our wines and relish the beauty of it at Enoteca and at Vetro while dining with us."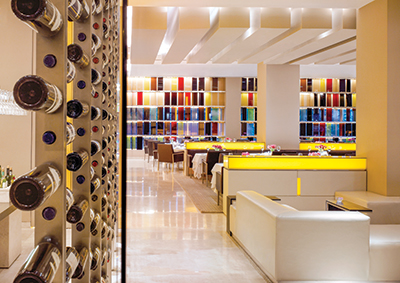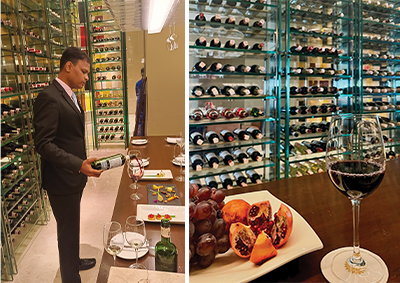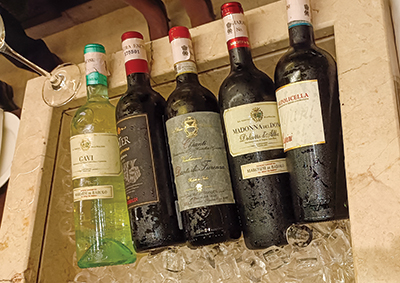 Le Cirque

Signature
This award-winning dining establishment at The Leela Mumbai might have an impressive array of French & Italian delicacies on offer but it's their well-appointed wine cellars that set it apart. Le Cirque Signature came to Bombay in 2013, way back when UpperCrust did an Eating Out with the owner, Sirio Maccioni. Now, we're back at this chic and relaxed top-floor-level restaurant where the repertoire of wines spans French & Italian labels to offer aficionados an experience to cherish.
While you dine on beautiful porcelain Villeroy & Boch tableware, you can sip out of Schott Zwiesel stemware that adorns each table. Wine connoisseurs can choose from a remarkable list of 240 Old and New World wine labels, including Dom Perignon and Pol Roger Magnum, packing in a punch with a freshness to it. Italy's highly prized Sassicaia comes from a coastal hamlet in Tuscany and is a treat here at Le Cirque. Coming from Napa Valley is this finessed wine known as Opus One with vintages like the 2019 with a delicate dark chocolate finish. When you're going grand, the Chateau Latour is the perfect blend, typically more of Cabernet Sauvignon, followed by Merlot, with the remainder Petit Verdot and Cabernet Franc. Bordeaux varietals also hold a soft spot for wine lovers like us, so the small-estate Petrus is a delight, a Merlot that goes oh so well with the NZ Lamb Chops.
Executive Chef, Aungshuman Chakraborty talks about the menu – which was fleshed out by Chef Matteo Fontana at its inception and has evolved through the years. "Wine pairing is a delicate process of combining food with the perfect wine to help elevate the dining experience. The ultimate goal is to balance the wine and food pairing based on their flavours, tastes, acidity, and other factors. For eg., earthy flavours like mushrooms go great with Pinot Noir which is light-bodied. Chardonnay on the other hand compliments fatty fish in a rich sauce." Degustation Menus will have you feasting on Beetroot Cured Scottish Salmon Filets and the Paupiette of Chilean Sea Bass while sipping on the Valdobbiadene Prosecco Superiore, just to give you a taste of Le Cirque's "signatures".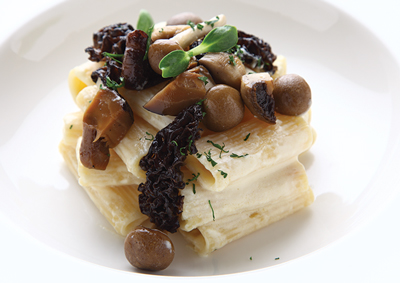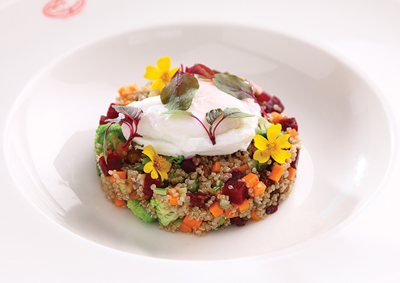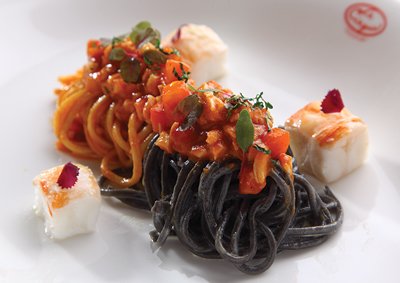 The Table
If you ask us which is one of our choicest restaurants to dine out at in Bombay, the answer is The Table. Nestled in a Colaba lane, it's filled with myriad of seating options on two levels, with small to large plates, farm-to-table food from their own farms, ingredient-driven fare with global influences and a wine programme that really sets the bar. Settle into one of their intimate little alcoves and wine and dine the day away.
Gauri Devidayal, Wine Director and owner of The Table, shares, "The Table's menu has a diverse range of flavours and cuisine inspiration. The food is intended to be enjoyed family style and the wine list is designed to complement this range of palate and dining manner with a wide selection of wines. This versatile selection available by glass in the mid to premium segment also allows for pairing for those who prefer to enjoy their wines with specific dishes."
From proseccos to Roses, sangrias, Bordeaux Blends, champagne and more, The Table pours out of a vast selection to have you coming back for the wines. You could return for the food too, which is equally tempting. That Sweet Onion & Leek Tart at brunch time is divine, with a glass of Sartori's Tiamo Brut Prosecco from Veneto, Northern Italy.
The wine list runs the gamut from the peachy and vibrant Rose by The Source (Sula Vineyards) to the Torrontes wine known as Susanna Balbo Crios of the family-owned winery in Mendoza. Chardonnays are perfect for these light winter months, with the Louis Jadot Bourgogne a prize possession, with slight notes of apricot and pineapple. Other whites on The Table wine list include the Reveilo Grillo, among the most exquisite Grillos in India for its silken white grape reputation, a Sicilian staple. Rich and heavenly are the Bordeaux Blends – Château de Parenchère and Lurton by André Château Tour de Ségur. Italian blends can take you from the Castello Banfi Col di Sasso to the Cassanova di Neri IR Rosso while Argentina presents its Malbec proudly with the single Reserva of Terrazas de los Andes.
Wine while you dine on the Sesame Ginger Chicken Salad, the Philly Cheese Steak, Ricotta Pancakes, and The Table Burger, with your choice of brioche or whole wheat buns.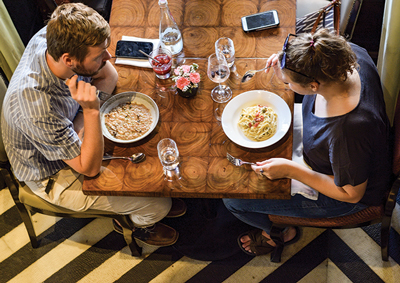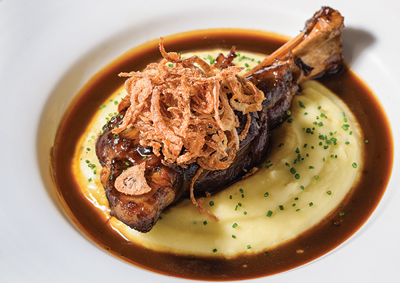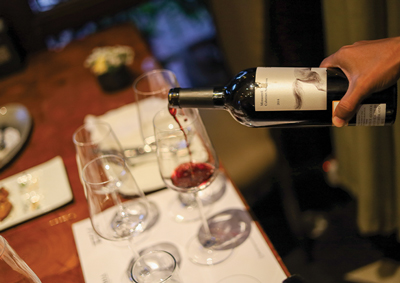 Masque
The wine drinkers at this ingredient-driven, forward-thinking, farm-to-fork, sustainable fine-dine could expect fun and nothing less with the wine menu on offer. The Riccitelli Malbec and Rose say 'hey' and come in the cutest graphics of superheroes with screw tops. The wine list features excellent by-the-glass options as well as pairings for the 10-course tasting menu. That's Masque, where the wines have been worked upon meticulously by the team of sommeliers in keeping with the food philosophy of ingredients sourced locally and a close-knit relationship maintained with the farmers.
From the Indian selection, you have Chandon Brut (Nashik), the 2018 Fratelli J'Noon, 2018 Grover Zampa Chêne Grand Reserve, Nashik and the 2018 Vallonné Vineyards Vin de Passerillage for dessert. International wines take you through France with the Moet & Chandon Brut Imperial to Italy with the Casa Bottega Prosecco Rosé. Ports such as the Cockburns Special Reserve is a Portuguese favourite and the 2017 De Bortoli Noble One is an Australian offering. Reds range from light-bodied 2020 Domaine Jacky Marteau Gamay of the grand Loire Valley to the medium-bodied Chilean 2019 Montgras Antu Carmenère, Peumo Valley. Bold and robust ones like the 2017 Boekenhoutskloof Cabernet Sauvignon, Franschhoek take us back to our wine expeditions through Cape Town while the 2019 Alta Vista Estate Cabernet Franc, Mendoza, of our days in Argentina… Memorable days!
Sommelier, Hridhay Mehra comments on the wines and more. "The wine list at Masque is a great mix of wines that stand out by themselves and wines that lend themselves well to food. There are also thoughtful pairings which are designed for every new menu, where there's a lot of scope for trying unconventional/fun pairings and quirky wines, edgy pairings like red wines with seafood, and a lot more."
Fun pairings by Head Chef Varun Totlani would certainly have you savouring your wines with modern Indian cuisine that changes with the seasons and the times. Some of our most memorable have ranged from the Carrot Ghevar Tart to the Buckwheat Mackerel, the signature Squid with Sea Buckthorn, Dry-aged Duck with Makai Roti, Kashmiri Chilli-Walnut Chutney and Peach Ketchup to the Corn Curd with Corn Miso. Cacao and Chocolate with Gondhoraj and PB Doughnuts is another indulgence, which would go so well with the 2016 Kracher Pinot Gris, Burgenland, Austria, with its floral, fruity notes and refreshing finish.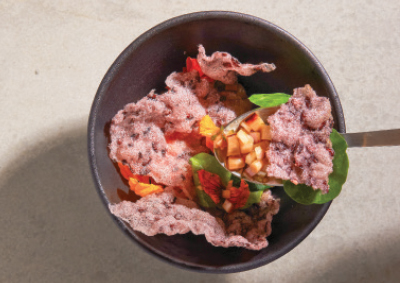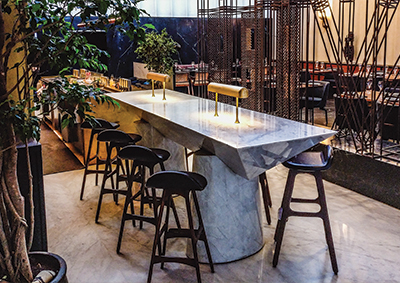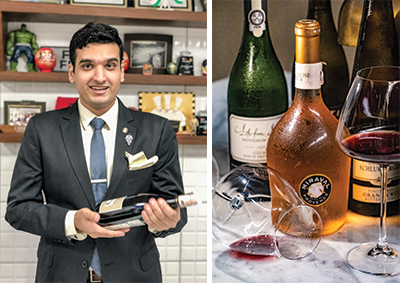 Tresind
There's an air of royalty when you dine at this BKC standalone by Bhupender Nath with the food served assiduously by Corporate Chef Himanshu Saini. The detail to attention is evident in the way the "modernist Indian cuisine" is served and presented to you by extremely efficient waitstaff. We just experienced it at a sister restaurant in Dubai and believe the multi-course Tasting Menu is for the food lover's bucket list, in this lifetime. Then there's the concise wine list from reds to whites, Roses to champagne, and sparkling wines. One that only elevates a diner's meal at Tresind.
Amber Deshmukh, Certified Sommelier, curator of the wine list at Tresind states, "Curating the wine list for Tresind, BKC was exciting and challenging at the same time since the restaurant offers innovative Indian cuisine from all the different cultures and states in India. I was invited to do the menu tasting which helped me understand the ideology and various flavour combinations that went into designing the food menu. I tried my best to do justice to the elements of the preparations by pairing similar flavour components or by contrast pairings. I am sure that this wine list will elevate the whole food and wine experience and make many food lovers thrilled after dining at Tresind."
Thrilled you will be when you order a bottle of the Two Oceans Pinotage – of South Africa's signature red grape variety. The Yellow Tail Merlot is another must-do when picking an Australian red off the list. The Slow-cooked Lamb with Nihari Curry and Khari seems like the right fit for this one, try it and let us know what you think. White wine drinkers must opt for the Allan Scott Sauvignon Blanc – New World from NZ, fresh, zesty and full-bodied. The Sula Blush Zinfandel is a Rose we have nursed happily on a couple of occasions; well-paired with the Butternut Ravioli with Sage Pesto & Palak Patta. If you choose to go a la carte from the Signature Menu, the cedar wood-smoked Tandoori Chicken with a pineapple brûlée will pair well with the Premius Bordeaux from France. Tandoori morels in the Morel Science would also possibly work well with the same. Go for it, we say!
Bring up the rear at Tresind with the Palang Tod – a milk cake crumble orzo pudding with saffron milk & paan and a glass of the Sula Late Harvest Chenin Blanc, the only dessert wine on the list.