THERE is a belief in Amritsar that the best Punjabi food here is not cooked in people's homes, but on the streets of the city.
And this belief is a hundred per cent true. Or so the housewives of the city themselves will tell you. No wonder, then, when it's sunset, they send the menfolk out with tiffin carriers to takeaway places from where they pick up the tastiest grub you can imagine in India.
Nine times out of ten, these are just small stalls on the streets with no names at all. Or with names that are so badly misspelt, that you marvel at the level of literacy in Amritsar.
But forget the literacy. This is Punjab, not Kerala. And all kinds of savouries and goodies are available on Amritsar's streets. From the standard Chole Bhatura and Gulab Jamun to the more ethnic Amritsari Kulcha and Amritsari Fish.
Everything is pretty much gourmet food here. Even the simplest of teas made in bubbling pots and served straight from the fire in chipped glasses. Or from steaming samovars right on the road.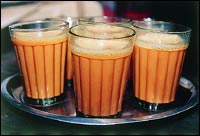 This is the monopoly in Amritsar of Gurmit Singh who has been running the Giani Tea Stall on Queen's Road for the last 58 years. He sits in his shop from 5 in the morning till 10 at night and charges Rs. 2.50 for a glass of tea. Yes glass. Don't ask Giani for a cuppa. He'll think you've lost it.
And likewise the lassi. What is Punjab without its lassi and its kulfi-faloodas! These are also sold off the streets and you will find in the most congested of areas, where breathing space is hard to come by, people stand in orderly queues to buy a glass of lassi or to have a plate of the most gaudy coloured kulfi-faloodas.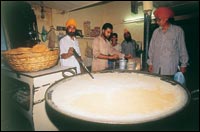 Elsewhere in the country, the food and health authorities might have objected to the use of such colours for foods... but not in Amritsar! The lassiwallah is another Sikh entrepreneur who has been in business for 50 years or more. S. Surjan Singh Milk Bhandar at Chowk Regent Cinema in Amritsar makes the finest, lightest, frothiest lassi in the Punjab, he boasts.
The fact that everybody in the city agrees with him, augurs well for his business. And Chicken Tandoori, marinated in garam masala, curd and brushed with desi ghee before being put into the tandoor, is what the city lives for. Likewise the Tava Chicken and the Mutton Tikka Bada, that are had with rotis and parathas, are famous here.
You get them at most dhabas in Amritsar. Though if you are on the street food trail, the names of the specialists will be brought home to you in Amritsar by the discerning fellow gourmet. Like Surjit Singh, an evil-looking Sikh who dispels your fears the moment he grins, is the authority on Chicken Tandoori in the city. In a small alley between buildings, he marinates and tandoors his chickens and serves them at Rs. 130 for a full bird or Rs. 65 for half. He's been doing this for 18 years and is now talking of expansion and a restaurant in the pipeline. Do not dismiss this as the rantings of an optimistic Sikh.
Surjit has paid handsome money cash down to pick up a place for his project at a government auction of properties, people say.
The BBC and Madhur Jaffrey came down to shoot and write about these places. Small enterprising restaurateurs and men pushing food carts on the street, proudly show you newspaper cuttings of some big chef, some food expert, or cookery book author, who has been to Amritsar and tasted their food and gone on to write about it.
And they will insist that they serve you a generous portion of their best-selling item or signature dish. Eat it then and there you must, under the creator's anxious and admiring gaze, and then deliver your feedback and verdict. He will listen attentively, face breaking out into a huge grin when you acknowledge what he knows best, that nobody does street food in India better than the man on Amritsar's streets.
And then you reach into your wallet and try to pay... and that's a mistake. They get positively hostile. You are a guest in the Punjab.
They recognise you as a stranger. Only they don't treat you like a stranger. They treat you like an honoured guest. And whoever heard of guests paying their way about.
Put away your wallet and be honoured... the food is on the house. And it is so finger-licking good, that you are now embarrassed to ask for a second helping lest the host think you are doing so because the food is free.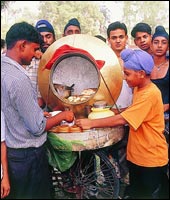 It is foods like the Chicken Tandoori, the Patialawale Chole that is sold from shining copper vessels mounted on bicycles in the crowded Ram Bagh Maidan, the Puri-Aloo Sabzi, the Chana, Sooji Halwa, the Malpua of Lawrence Road, that are hugely popular with the people of this city.
These foods the Punjabi Sikh and Hindu families consume with great delight at night for dinner with home-made parathas, rotis, and perhaps accompanied by a dal and sabzi. Yes, street eats is big business in Amritsar.
Not so much the culture of eating out, though, because while the food is fairly outstanding, the restaurants are not. More often they are just holes in the wall. Or khatiyas placed daringly on the edge of the road and under a tin roof. Certainly not the kind of places where one takes the family eating out at night. Though at breakfast time, and in a new morning light, even the saddest eateries of the night before look cheerful enough, and you will find that families drive up in Mercedes Benzs to have breakfast standing on the road.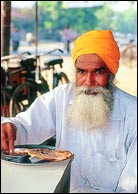 The best breakfast is on Maqbool Road, at a dhaba called All India Fames Kulcha. They mean famous, no doubt, and famous is what the food here is all about. The kulcha is made of aloo and maida. It is given a certain amount of bite with pepper, jeera, anardana, green and red chilli powder, a masala paste. And it is stuffed with potato and onion and baked in a tandoor.
Generous pats of ghee and butter are added and it is served with chole, the small chana, and a special chutney of onion and something sweet. Possibly tamarind. The chole is boiled. On Sunday mornings, 7 a.m. onwards, people come from far and wide to have the kulcha here. This small little dhaba with its wooden tables and plastic chairs, with its firewood tandoor, has been in business for the last 60 years. The brothers Dalbir and Samarjit Singh run the place.
They sell a plate of Kulcha-Chole for as little as Rs. 10. And they use Amul butter. "Some people bring desi ghee from home to be used in their Kulcha-Chole, so we charge them Rs. 6 only," says Dalbir Singh.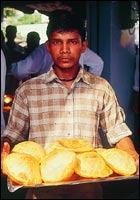 Another breakfast place is Kanha Sweets on Lawrence Road in Amritsar. Sanjay Kamboj, its young and fairly dashing proprietor, recommends the Puri-Chana and Gur-Ka-Halwa to strangers and first-timers at Kanha. Or the Poora, which is like Rawa Kesari, or Sheera, and made of mava and khoa.
From 6.30 in the morning till well past noon, people stream in for the Puri-Chana and Lonji. This is a sweet chutney made of potato, onion and tamarind. Two puris and unlimited chana costs Rs. 10. "Two puris are enough," says Sanjay with confidence. The Poora is a like a Gulab Jamun without the syrup. It costs Rs. 5 for a small leaf-cup brimming of the same. Among the other Punjabi sweets, Kanha also sells a Sooji Halwa for Rs. 5. It is made of almond and pure ghee. And during the winter months, palm jaggery is added to the halwa. "People come from everywhere to eat it," says Sanjay.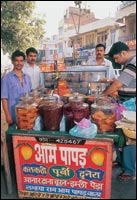 Some of the goodies the people of Amritsar die for are not even sold in dhabas and small streetside eateries. They are sold off carts trundled by young Punjabi men like Ram Lubhaya of Amritsar, who is a most familiar figure in the city, and a welcome sight wherever he goes. He is known as the Aam Papadwalla. He sells seven varieties of this mango mat or papad. It comes from Kanpur, he says, and the seven varieties are made of different kinds of mangoes. The people stop him and buy 100 grams or so of any variety of the Aam Papad. This they will eat on the road itself with a dash of lime and lots of masala. The Aam Papad look like rolls of leather. They cost Rs. 100 a kg, sometimes more. And Ram Lubhaya also sells imli chutney, churan, aanar dana and other tangy goodies from off his cart.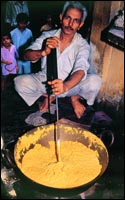 Then there's Amar Chand & Sons, the most popular sweetmeats merchant in Amritsar, and his little dukkan is in Guru Bazar on the way to the Golden Temple. "Everything here is made in pure desi ghee," says Avneesh Sharma, the smart young man running the show. The Besan Ladoos are most popular. They are made of besan, sugar, pure ghee, cashewnuts and almonds. And they come in two sizes. You can keep Amar Chand's Besan Ladoos for four months and the taste won't change one bit. The ladoos, at Rs. 120 a kg, get exported to England, Canada, the US and wherever there is an Indian population of Sikhs and Punjabis. In Amritsar, their biggest customers are Jains. The Jains also buy the Badhana, which is made of pure moong dal, besan, ghee and sugar.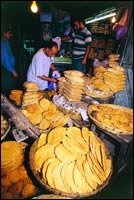 You cannot do the street food trail in Amritsar and not visit Gurudas Ram Jelebiwala in the Katra Ahluwalia area of Amritsar. Another hole in the wall with what looks like a well dug out in the centre of this shop. The jelebis are made from 5 in the morning and at 10 by night, Amritsar still hasn't had its fill of this delicacy. People come for the jelebi and the gulab jamun at Gurudas Ram's. The jelebis, made of maida and sugar syrup and little else, cost Rs. 7 a kg. Rajesh Sharma, who is the halwai here, and who sits from morning to night churning out the jelebis, says that the shop has been in business for 90 years. Which is not hard to believe, because it looks that old.
And a visit to the dhabas of Amritsar will conclude the gourmet trail of the city's street eats. The dhabas have been where they are for decades and some are now almost institutions in Amritsar. They serve good, wholesome and sumptuous vegetarian and non-vegetarian meals. Some of the post popular dhabas are Kesar Da Dhaba near Passian Chowk, Kundan Dhaba opposite Hall Gate near Chitra Cinema, and Bharawan Da Dhaba near the Town Hall. All these are vegetarians. The ones serving non-vegetarian food are Friends Dhaba on Queen's Road, Amber on Lawrence Road and Sheetal Glass House also on Queen's Road.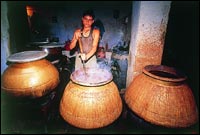 At the dhabas, the cooking is done in front of the diner. And it is done in advance, but the final touches, the tadkas, are given to the dishes in front of the diners. Kesar Da Dhaba, which was founded in 1916, offers a special Urad Dal-Chapati dish for Rs. 10. "It is the best-selling item here," says Ashwini Kumar who runs the dhaba. They also sell a thali for Rs. 37, two parathas, one dal fry, chana masala and raita, all made in ghee. The a la carte menu includes Shahi Paneer, Palak Paneer, Malai Kofta and other Punjabi fare. Kesar Da Dhaba attracts diverse clientele. The rickshaw-puller and the millionaire, both come for the heavy thali. And nobody can resist the Kesar Phirni at Rs. 5. The dhaba is open from 5 in the morning till 11 at night. Which seems to be the hours most people spend in eating in Amritsar anyway.


---